June 29, 2020
SmithGroup's Sacramento Office for a Construction Pro Showcases the Client's Expertise
While adapting two buildings as one new Sacramento workplace for DPR Construction, the architects created a showcase of the builder's best practices.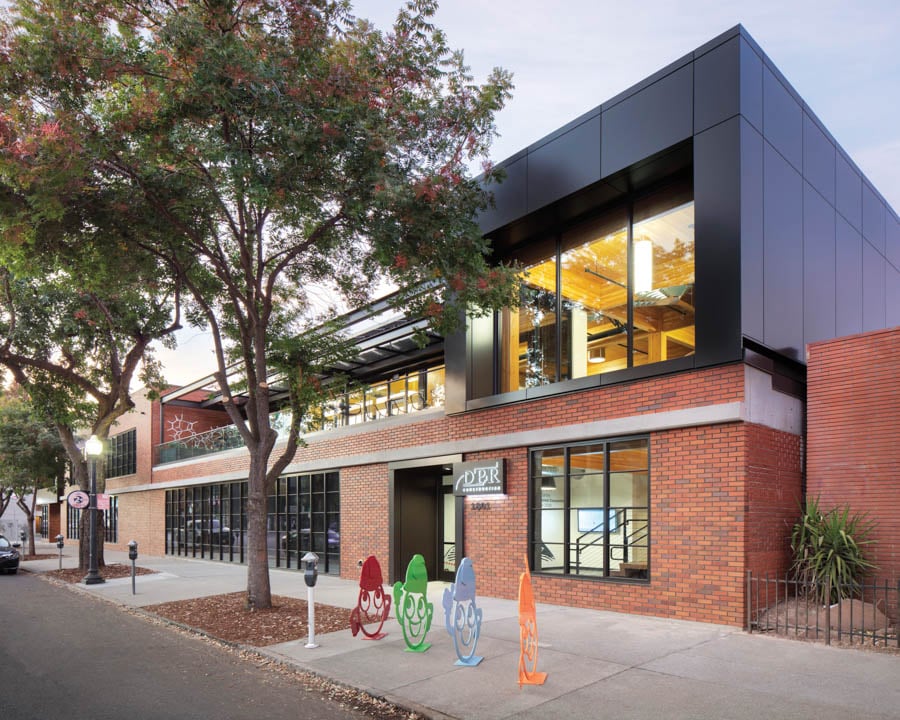 In the Sacramento, California, office that SmithGroup designed for a global construction company, some of the most innovative features are those that you might not necessarily see.
Subtle design choices enhance rather than diminish their impact, according to the client, DPR Construction. "Occupant comfort, materials transparency, employee health—with clients demanding those benefits from their own buildings, we wanted ours to reflect them," says DPR project manager Marshall Andrews.
Cladding the final structure in a uniform brick skin, SmithGroup combined two lowslung, unassuming buildings into one without really changing their individual foot-prints. The firm then built a cross-laminated timber (CLT) addition on top, creating a terrace and glazing on the elevations that sandwich a largely open-plan office space.
To the untrained eye, SmithGroup's intervention seems minor. But that light touch represents the sum of industry intelligence that the builder and architects have collected since first collaborating on a Phoenix headquarters nine years ago. "They wanted to achieve a net-positive energy building then," recalls SmithGroup principal Drew Padilla.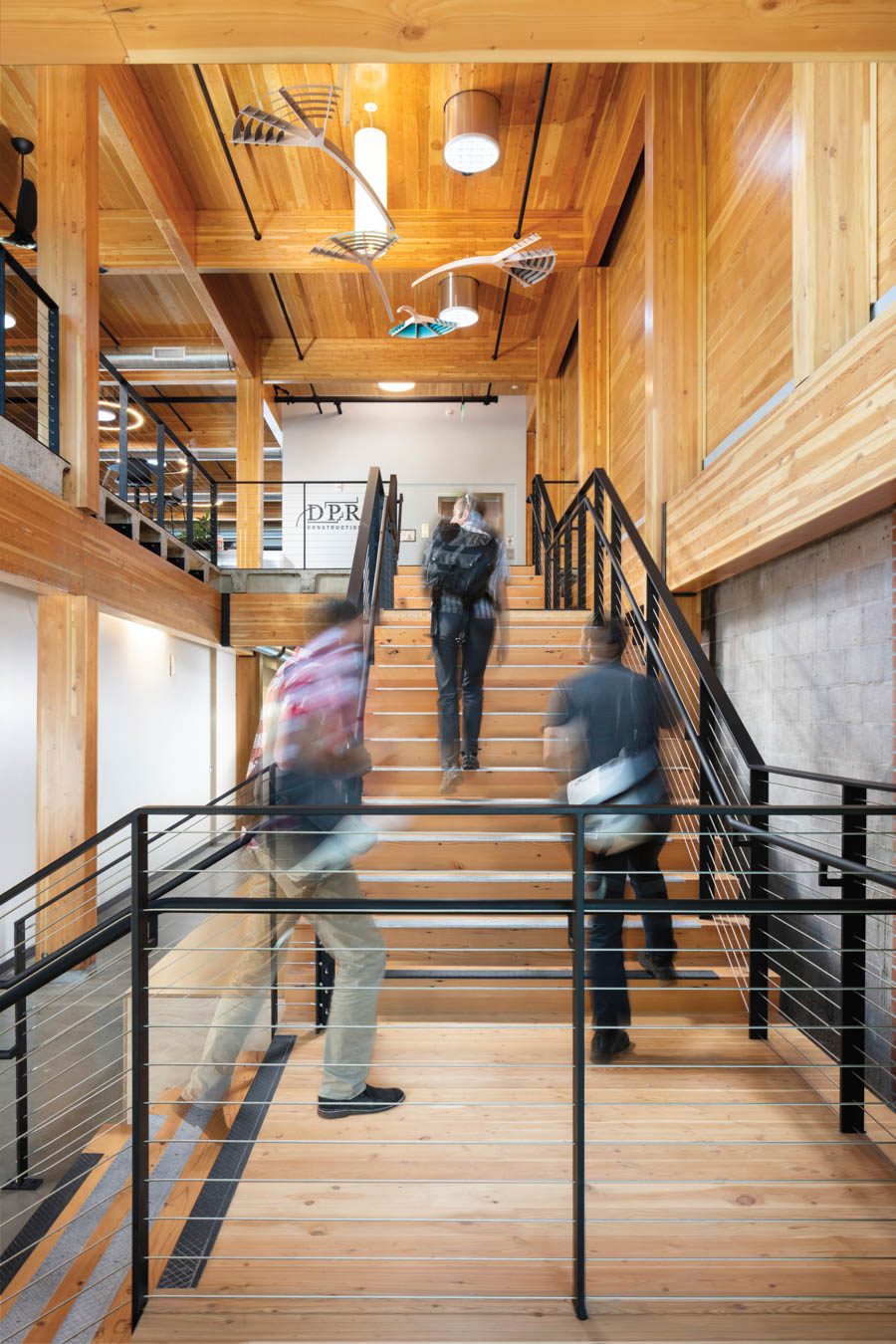 Thanks to that experience, the firm understood how to deliver a design that lets the best buildable practices and solutions take the lead. The 28,833-square-foot Sacramento office is on track to earn LEED Platinum and WELL Building certifications as well as the International Living Future Institute's Zero Energy certification.
USING WHAT'S THERE One obvious way to reduce the project's embodied carbon was to stick with its existing shells rather than building something new. The pair of 1950s-era structures had previously been used as vehicle testing sites. Aside from the new brick-and-aluminum facade, the chief intervention was the addition: Built with an innovative framework of CLT instead of steel, it's the first such load-bearing timber structure Sacramento has ever seen.
The 5,600-square-foot new construction on top of one building contains a reception area, a kitchen, and flexible meeting and workspaces for 48. Throughout, CLT constitutes support columns, ceiling beams, walls, flooring, stairs, and a shear wall. Only the column footings are concrete piles. "The challenge was that local inspectors didn't know what they were looking at," Padilla says. But since CLT is inherently fire resistant and has its own thermal rating, authorities approved it in this application.
In the second building, the team adapted its 3,000-square-foot basement for use as a geothermal heat sink. Drawn through a maze of underground walls, air is precooled or preheated through heat exchange with the earth and conditioned before it is forced into the space upstairs. DPR's Andrews had three engineers separately validate the concept. "There was just no better way to use the basement, since you can't occupy it," says SmithGroup designer Andrea Gulyas.
LEAVING ROOM FOR CHANGE The most unusual step was deliberately programming empty space: SmithGroup analyzed how DPR uses its offices and found that although desks are allotted a big chunk of the square footage, staff occupy them only 30 percent of the time. "Instead we're on job sites, conducting interviews, or all gathered in a single meeting room. That was an eye opener," says Andrews. With that in mind, the architects conceived a flexible event-friendly space with mobile workstations, two-thirds of which are unassigned—making it easy to convert the second and ground floors if DPR decides to loan or lease the building. "This is the first time an agenda like that had driven the program," says Gulyas of these futureproofing efforts.
FINDING LOW-EFFORT ALTERNATIVES Because the architects were working with such a data-driven client, even popular concepts such as plant walls were closely scrutinized. SmithGroup found that lush feature walls can cost upwards of $50,000 annually to maintain. Instead the team installed a zero-maintenance seed wall with help from landscape company Miridae, artist Micah Crandall-Bear, and fabricator Marc Foster. As DPR harvests the seeds for reforestation, new ones replace them, and the process is repeated. Plants have been added in specially designed planters around structural columns, which Gulyas says are a low-water and low-maintenance alternative to green walls.
There were other ways to add greenery: The outdoor terrace visually connects people in the office to life on the sidewalk below. Beyond an extra gathering space, it provides the staff with a pleasant view of the block's ample tree canopies, an apt perk in the so-called City of Trees, where they cover nearly a quarter of the urban landscape.
You may also enjoy "Can Indigenous Technology Point the Way to a More Sustainable Future"
Would you like to comment on this article? Send your thoughts to: [email protected]
---
Register here for Metropolis Webinars
Connect with experts and design leaders on the most important conversations of the day.