November 19, 2021
FUTURES Explores the History and Prospects of Innovation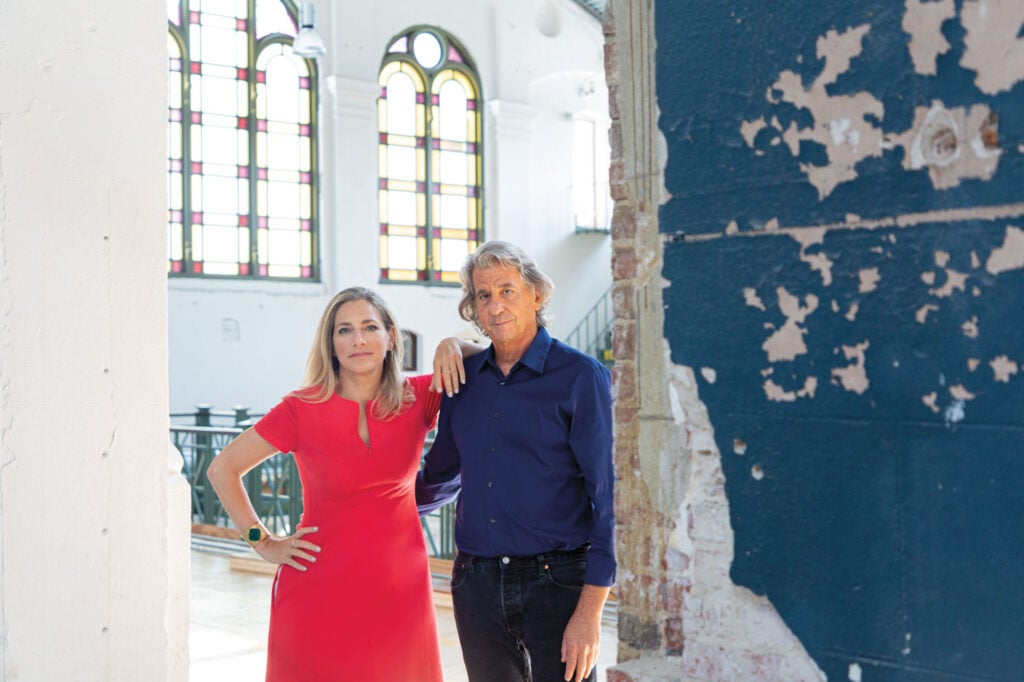 This fall, after a $55 million renovation, Rockwell's interior design, exhibition design, wayfinding, experiential graphics, and technology installations for FUTURES have helped revive the great building as part of the commemoration of the Smithsonian's 175th anniversary. On view from November 20, 2021, to July 6, 2022, the exhibit showcases 150 artifacts (including speculative designs, interactive installations, and several technological inventions and experiments) in the AIB's 32,000 square feet of newly renovated spaces. "We knew from the beginning that we wanted a hopeful exhibition," says Goslins. "We have so much help these days imagining what could go wrong and not as much about what could go right."
Some objects, like Alexander Graham Bell's 1876 experimental telephone, have been commandeered from historical collections of the Smithsonian's other 19 museums. Others are making their public debut, such as futuristic machines like Alphabet Inc.'s crop-monitoring Mineral rover and the site-specific artificial intelligence and augmented reality–based art installations by architect Suchi Reddy and artist Tamiko Thiel.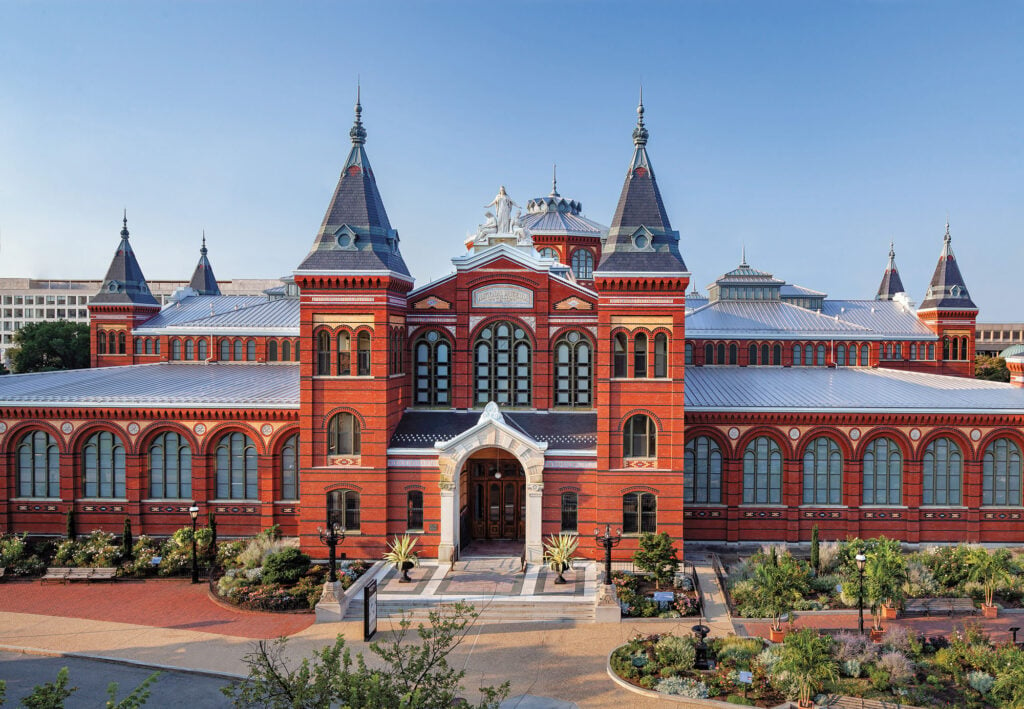 While designing the exhibition, which included spending months in the capital studying the building, Rockwell was also completing his new book investigating the connections between theatrical design and architecture, titled Drama (Phaidon, 2021). Some conceptual overlap is appropriate. "It's such a unique, beautiful unicorn on the Smithsonian campus," Rockwell says.
"It's not a blank canvas," adds Goslins, noting that "it has this strong 19th century personality, with 984 windows, soaring arches, and a terrazzo floor made of prehistoric granite, with fossils that are tens of millions of years old."
None of this could be touched by Rockwell's interventions. "We couldn't drill into the floor or attach anything to the walls or hang anything from the ceiling," the architect says. Instead, he and his team brought traditional World's Fair–inspired structures into the 21st century by constructing freestanding, state-of-the-art pavilions inside each of the building's wings.
"We started out designing the show not in how we wanted it to look, but how we wanted to experience it emotionally," Rockwell says. The building's decentralized circulation route begins in the North Hall, where a diagonal series of low plinths covered in recycled newspaper allow the visitor's mind to wander. An LED sign in the distance illuminates the title of the show, with just enough space between the E and S to allow one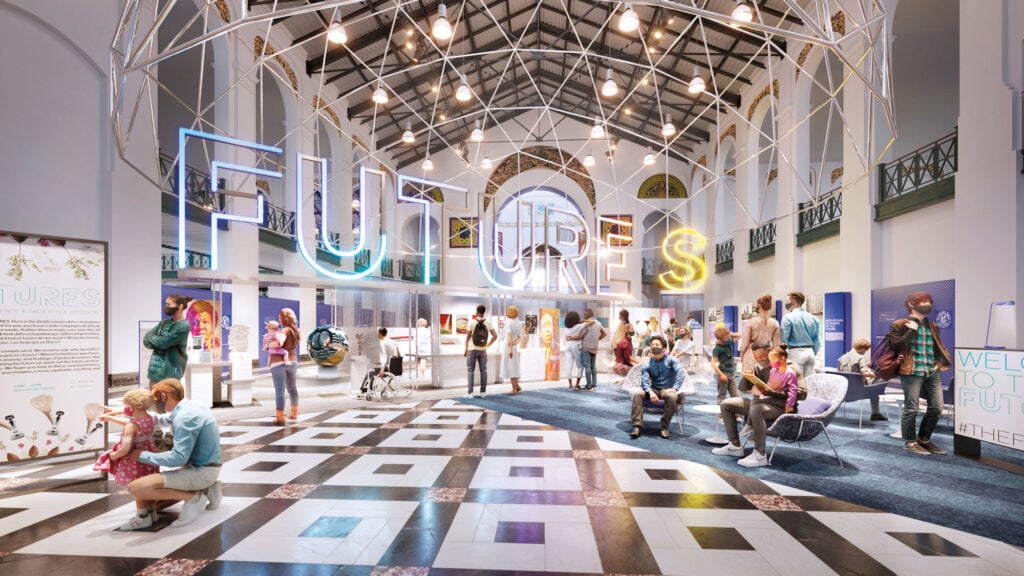 to literally walk through the future. But from there, it's up to visitors to chart their own path. "We wanted to create circulation that encourages investigation," he says. And like progress itself, "it's nonlinear."
In the South Hall's timber-constructed Futures That Unite pavilion, projects address how people can better relate to one another for a more inclusive world. Works include a bespoke artificial limb fabricator by Baltimore start-up Danae as well as Ai Hasegawa's (Im)possible Baby, a speculative design project aimed at sparking dialogue on emerging biotechnologies that could enable couples of any gender to have genetically related children.
To bring such disparate ideas together, Rockwell's team thought about rituals of gathering. The result is a pavilion featuring a flexible mix of Japanese joinery and balloon framing that is anchored with bold hues of renewable carpeting manufactured by Shaw. "We did a lot of sketch models back and forth with curators to zero in on how material could reinforce the story," Rockwell says.
The BIG-designed Virgin Hyperloop Pegasus makes its first public appearance in the West Hall's Futures That Work pavilion, serving as one example of an equitable future where zero-emission transportation is both possible and available.
Rockwell conceived of a set of solar voltaic PVC films that frame the pavilion like stage curtains, and objects are situated among recyclable dichroic resin vertical displays. "We created a low [self-illuminating] wall that offers a material solution," Rockwell explains, highlighting a winding path of mycelium-brick plinths for innovations like Hypergiant's Eos Bioreactor, which beats the carbon capture of a tree by a factor of 400.
The East Wing's Futures That Inspire is made of 12-by-12-inch steel wire frame cubes with integrated LEDs. "It's all about play and adventure," Rockwell says of the structure, part building block and part theatrical light rigging, which recalls Bell's phone with a show of the Bell Aerospace rocket belt, better known as the jetpack, and the Bell Nexus autonomous electric taxi, better known as the flying car. "That's something everyone's fantasized about all their lives," Rockwell says.
The proof of progress seeks to create a moment, as Goslins puts it, "to hold space for people to think about the future they want and not just the future they fear." As for the future of the AIB itself, only time will tell. When FUTURES closes next summer, AIB may close again too, or it may be folded into the recently announced National Museum of the American Latino or the Smithsonian American Women's History Museum. Whatever be the building's fate, let's hope its optimism endures.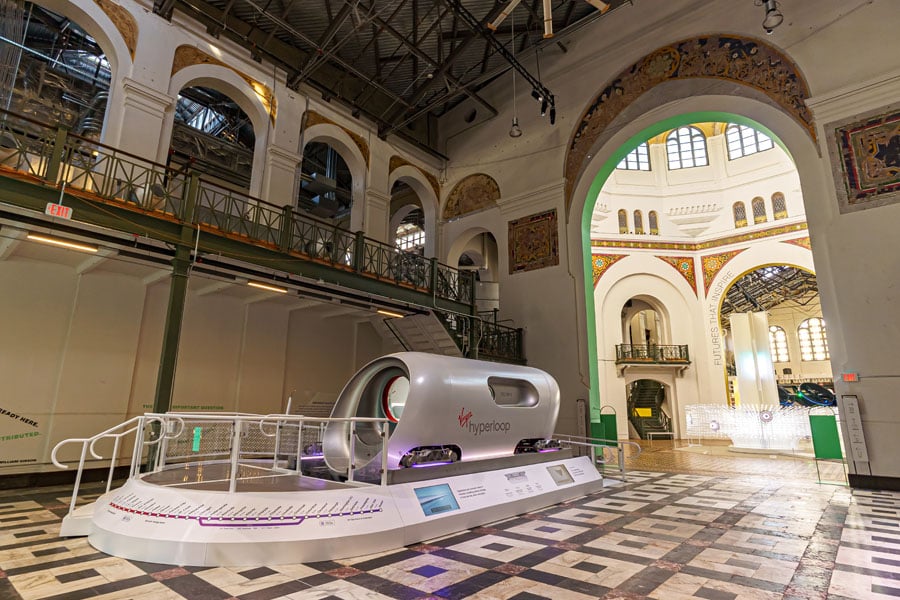 Would you like to comment on this article? Send your thoughts to: [email protected]