October 7, 2019
"Southern Exposure" Uncovers the Proud Architectural Legacy of Chicago's South Side
In his new book, the journalist and photographer Lee Bey directs readers to some of Chicago's greatest architectural treasures, nearly all of them hiding in plain sight.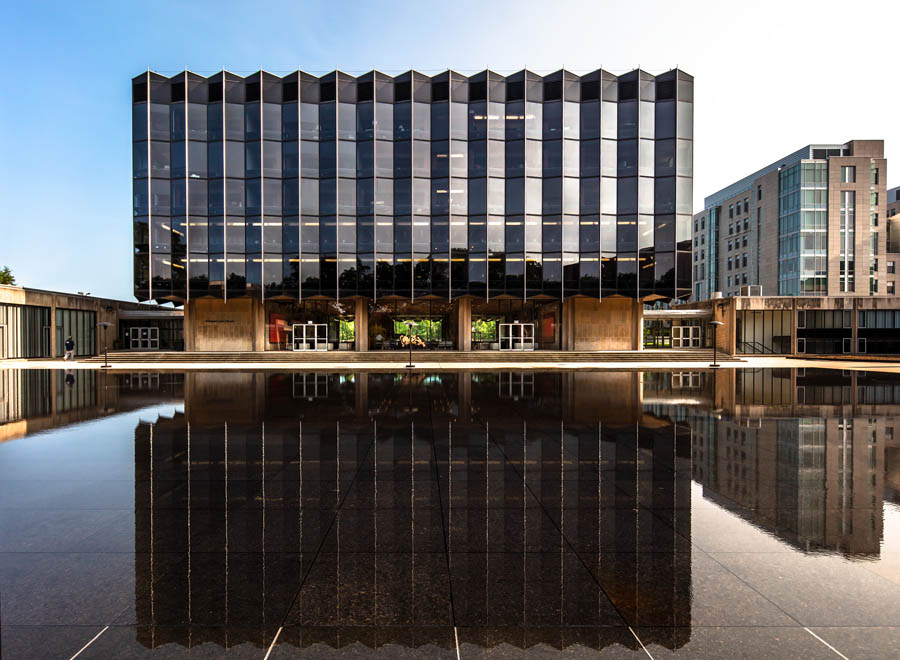 For a landmass the size of Philadelphia, and twice as large as Brooklyn, Chicago's South Side is all too often reduced to caricature. Simplistic accounts of the area's woes elide the billions of dollars drained from black households by historical practices of redlining and disinvestment. Despite the unearthing of evidence that attests to these injustices, the stigma persists: Unsympathetic observers feel justified in perpetuating stereotypes that occlude a deeper understanding of the South Side, a place of tragedy and resilience. And, as it turns out, great architecture.
It's a proud legacy hidden in plain sight, now made visible in Lee Bey's new book Southern Exposure: The Overlooked Architecture of Chicago's South Side (Northwestern University Press). As Bey, a native South Sider, former Sun-Times architecture critic, and deputy chief of staff for planning and design under Mayor Richard M. Daley, captures in each page of the book, Chicago's elected officials and cultural arbiters have perpetually ignored countless structures that would be fawned over had they been built in wealthier, white North Side communities. As such, his thorough photographic documentation reveals a city that has frequently endangered (and at times condemned to destruction) countless iconic sights throughout the South Side.
The oversights can be pitifully obvious. For example, both the North Side's Carl Schurz High School and South Chicago's James H. Bowen High School were built in 1910 by the same architect—one Dwight Perkins, an architect of local repute; yet, only Schurz has been honored as a city landmark and added to the National Register of Historic Places for its thoughtful, large-scale Prairie School design. There are smaller omissions as well: In 2008, Jeanne Gang, whose Aqua has become one of downtown Chicago's most beloved high-rises, designed a light-filled, glass-and-granite community center in Auburn Gresham. According to Bey, it's a "clever little building," unpretentious but still inspiring, left "out of sight and out of mind" as it serves the working-class black community.
Bey's diagnosis of the continued omission of so many architectural gems builds upon a growing body of research that demonstrates how the city government left its black communities vulnerable to predatory housing developers, among other exploitative actors. In its tour of neighborhoods like Woodlawn, a low-income black community next to the University of Chicago, Southern Exposure reveals the blotted landscapes that resulted from this abandonment. "The South Siders would have stood a better chance against a stick-up man on the street," Bey writes, a recognition of the legal regime which has ferreted wealth out of black households for generations.
Bey is catholic in his selection process, giving the book a generous, wide-ranging perspective. It's a wise approach: While the many churches, homes, apartment buildings, and large commercial structures that predominate deserve obvious inclusion, it's the more unusual sights that stand out most. One particular highlight is Chatham's Pride Cleaners, featuring a sharply pitched roof and a playful Pop Art sign, "PRIDE" spelled out on individual, surfboard-shaped neon signs, which, when lit up, "would twinkle and flash with the exuberance of a Las Vegas marquee touting a Sinatra engagement at the Sands."
The building is emblematic of Bey's often-personalized approach to the history he documents, as well as the fate of many of the architectural gems left to decay in the absence of a muscular response from the preservationist community. It was a personal favorite of Bey's father, whose impact on his son hangs over the book and informs Bey's passion for architecture; for one 1960s teenager, the roof proved useful as an airborne ramp to bike off of, "the thrill ride of going airborne off the roof [lasting] for months." These details bring buildings like Pride Cleaners to life, making its continued lack of inclusion in the city's landmark process even more damning.
At times, the book's text gallops along at a heightened pace, rushing from one building to another to ensure that each gets their due. One wishes that Bey had apportioned more space to give each building a fuller backstory, an absence which is felt all the more keenly by the non-existence of a "further reading section" at the book's end. Still, Bey's writing is crisp, and the brief introductions leave ample room for a comprehensive overview and a careful selection of Bey's photography for each structure.
Initially staged as an exhibit at the DuSable Museum of African American History (it numbered among the 2017 Chicago Architecture Biennial's many satellite events), Southern Exposure caught the attention of critics and the public alike. Should many of these structures soon find their way towards landmark designation, as Bey frequently calls for, his book will surely cement their selection. With any luck, Southern Exposure will serve not as a time capsule, documenting too many buildings whose fates were ignored in the ongoing marginalization of the South Side, but instead act as a living guidebook to the enduring legacy of an area that is integral to understanding the city's architectural greatness.