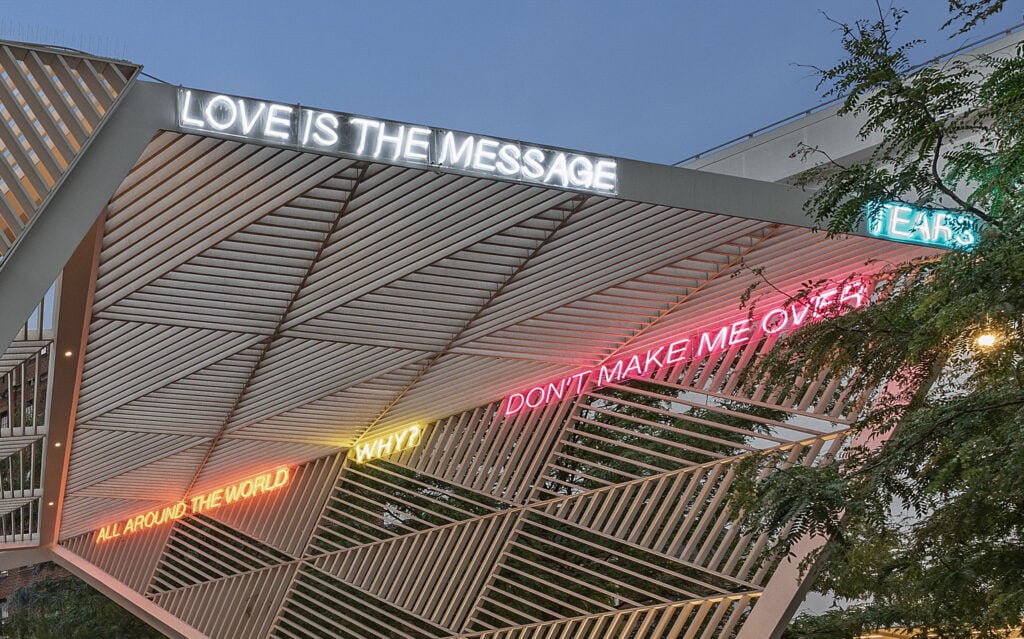 June 28, 2022
Songs of Activism and Solidarity Adorn New York City's AIDS Memorial
Now in Manhattan's West Village, Twelve LED texts adorn the memorial's Studio a+i–designed 18-foot steel canopy, each reading the title of a hit song that came out between 1976 and 1996. Struggle for human rights, a systemically ignored epidemic, and activism towards civic and social recognition defined the period, but the project's goal is to underline the importance of the camaraderie formed within the community through collective celebration.
Evans challenges the notion against an artwork dedicated to the legacy of AIDS activism must be solemn. "This work has made a space for memories of good times, joyful moments, love, and community, as well as loss," he says. Expressions such as "Don't Leave Me This Way" and "Never Can Say Goodbye" dot a site across from where a generation of youth passed due to AIDS-related complications at the bygone St. Vincent Hospital.
The song's semiotic potential has long intrigued the memorial's executive director Dave Harper. When he approached Evans, the artist had been working with the multitude of meaning in text since his MFA thesis work in 1989 at Nova Scotia College of Art. Text-based art's role, as Harper notes, was significant in disseminating information and breaking the stigma during a time of immense ignorance and prejudice about AIDS. From the AIDS Coalition to Unleash Power's (ACT UP) "Silence Equals Death" posters to banners and guidelines created by artists, words changed the course of research and discourse around the epidemic. "The installation is reflective of a very complex era when there was so much anger but also art and music were being made," he says.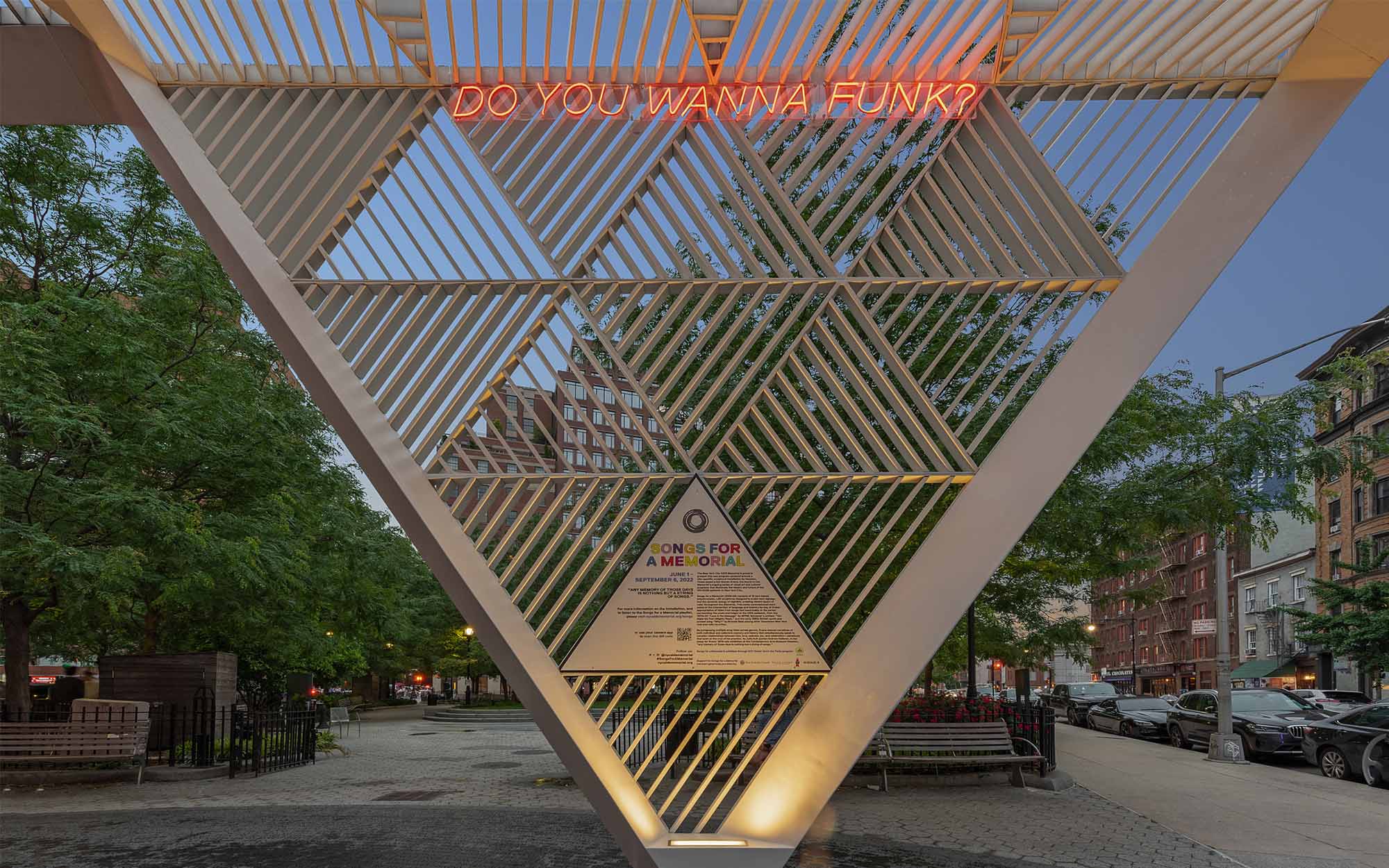 Evans who is also the executive director at Houston's photography biennial FotoFest envisioned the installation of lyrics such as "Love Is The Message," "Got To Be Real," or "I Will Survive," as friezes crowing various parts of the triangular structure. Following sunset, the words start beaming in neon shades of purple, red, or blue.
The radiance within a nocturnal setting of course also celebrates the legacy of nightlife and calls the attention of passersby, whether they are familiar with the era's tunes or "someone from Gen-Z who may be familiar with 'It's Raining Men,' but not know it's a Weather Girls song," says Harper. The community will unite regardless of age or taste in music on June 29th when New York's iconic drag queen Lady Bunny and DJ Lina Bradford host a silent disco celebration under the installation of anthems that has defined solidarity. "Soundtrack of my life," Evans calls these tunes echoing the memorial, "and this body of work is about collective and individual memory, history, and identity."
Would you like to comment on this article? Send your thoughts to: [email protected]