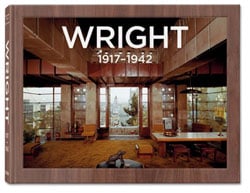 May 28, 2010
The Frankophile's Library
With all the hoopla surrounding last year's 50th anniversary of Frank Lloyd Wright's death and the opening of his landmark Guggenheim Museum, readers may have overlooked a spate of new monographs about the American master. Among the most noteworthy are the second and third volumes of Taschen's exhaustive three-volume Complete Works, covering the periods 1917–1942 […]
With all the hoopla surrounding last year's 50th anniversary of Frank Lloyd Wright's death and the opening of his landmark Guggenheim Museum, readers may have overlooked a spate of new monographs about the American master. Among the most noteworthy are the second and third volumes of Taschen's exhaustive three-volume Complete Works, covering the periods 1917–1942 and 1943–59, respectively (Volume I, covering 1885–1916, is due out in August), and a trio of titles by Rizzoli—Frank Lloyd Wright: From Within Outward, an elegant catalog of last year's Guggenheim exhibition; Frank Lloyd Wright, The Heroic Years, which focuses on the years 1920–1932, a bleak but exceptionally creative period in Wright's life; and Frank Lloyd Wright: American Master, a handsome overview of his career, featuring hundreds of new photographs.
There is, of course, no dearth of books about Wright. Amazon lists no fewer than 2,376 titles. While these five volumes may not blaze any new trails, each of them is well organized and finely crafted, and together they provide a rich, multifaceted picture of one of the titans of American architecture. Regardless of how one views Wright's work, anyone perusing these books cannot help but be struck by the extraordinary scope and astonishing abundance of his creative output. From his modest Usonian houses for the middle class to his grand estates for corporate titans; from his inspiring and innovative buildings for work, worship, and culture to his grandiose schemes to reinvent the modern city, Wright was constantly expanding and refining his architectural vocabulary.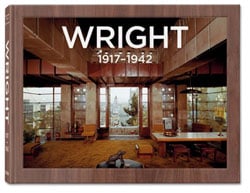 The Taschen set, authored by Bruce Brooks Pfeiffer, the director of the Frank Lloyd Wright Archives in Arizona, will no doubt become an indispensable addition to any serious Frankophile's library. Lavishly illustrated with original drawings and historic photographs, the massive books (each one measures 12.5 by 16 inches and weighs about 13 pounds) describe every project, built and unbuilt—about 1,100 in all—in Wright's seven-decade career.
If you are looking for a critical assessment of Wright's work, you won't find it here. The Taschen tomes are by their very nature an homage, but Pfeiffer avoids the trap of waxing poetic about his subject. His descriptions are concise, clear-eyed, and fact-based. Major works like the Imperial Hotel in Tokyo, Fallingwater, and the Guggenheim receive more extensive treatment. Pfeiffer, frequently quoting Wright himself, provides detailed and often fascinating accounts of how the architect approached the design and construction of these buildings, and multiple drawings show how his designs mutated over time.
In Volume II, for example, we see Wright wrestling with the design of the Imperial Hotel, which was to be built on a muddy site in an earthquake zone. Keenly aware of the ever-present danger of a major temblor, he rejected traditional Japanese building materials in favor of brick and reinforced concrete. "That mud seemed a merciful provision—a good cushion to relieve the terrible shocks," Wright wrote in his autobiography. "Why not float the building upon it? A battleship floats on salt water." Determined to build a flexible structure "instead of the rigid foolish one," he devised a complex system of cantilevered concrete slabs. "Construction was needed where floors would not be carried between walls because subterranean disturbances might move the walls and drop the floors. Why then not carry the floors as a waiter carries his tray on upraised arm and fingers at the center—balancing the load?" Wright did not have to wait long to learn whether his innovative design was successful. On the day the hotel was to open, September 1, 1923, Japan was struck by the worst earthquake in its recorded history. Much of Tokyo was leveled and 100,000 people were killed. The Imperial Hotel survived unscathed.
The section on Fallingwater (1935) shows how Wright's design evolved to take full advantage of the site, a wooded glen punctuated by a dramatic waterfall. His client, the Pittsburgh Department Store magnate Edgar J. Kaufmann, had anticipated that the house would be situated downstream, providing views of the cascade above. But Wright insisted on placing the house directly over the falls. "No, not simply to look at the waterfalls but to live with them," he told Kaufmann.  Despite the complex nature of the three-tiered design, Pfeiffer writes, "the overall atmosphere of Fallingwater is one of repose, and it ranks as one of the most successful integrations of architecture and nature."
The highlight of Volume III is, not surprisingly, the Guggenheim, which turned out to be the most challenging project of Wright's career. It took 16 years from the time he received the commission in 1943 until the museum was finally finished in 1959. Wright never lived to see it—he died six months before the official opening, on April 9, 1959, at age 91. During that long gestation period Wright produced six complete sets of working drawings as the budget for the project rose from $750,000 to $2.5 million.
Wright faced persistent criticism that the unconventional design of the museum, with its bold helix form and spiraling interior ramp, would overshadow the art. In a letter to the Guggenheim, he passionately defended his vision: "No, it is not to subjugate the paintings to the building that I conceived this plan. On the contrary, it was to make the building and the paintings as an uninterrupted, beautiful symphony such as never existed in the world of art before."  Pfeiffer, in a rare lapse into hyperbole, agrees, calling the Guggenheim "one of the greatest creative acts ever achieved by man. It stands, without doubt, as the great exemplar of interior space, as a fluid, moving, emotional, and intelligent entity."
One of the pleasures of the Taschen series is discovering unbuilt and little-known projects. Among the most unusual is the V.C. Morris House, in San Francisco (1945), a cylindrical-shaped structure built into a cliffside overlooking the sea. We can all be thankful that another project, a "Sports Club and Play Resort" for the Huntington Hartford Hotel in Hollywood (1947), was never developed. The design, three fungus-like disks splaying out from a central mass perched on a hilltop, looks as if a B-movie spaceship had landed in the Hollywood Hills. Then again, perhaps Wright knew something we don't.
For those who didn't have an opportunity to attend the Guggenheim exhibition last year, From Within Outward provides a superb account of the show. The theme, as the title implies, is that Wright approached design organically, from the inside out. In his view, form not only follows function—as his one-time mentor Louis Sullivan famously said—but they are one and the same. The book contains illuminating if somewhat dry essays on Wright's affinity with religion, his romantic attachment to the concept of the master builder, and the origins of his revolutionary Prairie Style houses. But the most engaging chapter deals with Wright's spectacular design for a cultural center in Baghdad, which he unveiled in 1958, a year before his death. It is an astonishingly complex design—a symphony of overlapping circles, reminiscent of the Guggenheim but far larger in scale—reflecting the quasi-magical character of the ancient city.
According to the author, the architectural historian Mina Marefat, the project was inspired in part by A Thousand and One Nights, a book that enchanted Wright as a child and continued to influence him throughout his career. The curved terraces, for example, suggest the Hanging Gardens of Babylon, and the entire complex is crowned by a statue of Aladdin.  The design represents the culmination of Wright's unorthodox views on urban planning and his lifelong quest to synthesize Western and Eastern cultures.
The project also demonstrates that Wright, despite his resistance to modernism, was in many ways ahead of his time. His design for the Central Post and Telegraph Building, for example, included a number of ecological and technical innovations. The roof was covered with a deep layer of soil planted with greenery and shielded by a trellis; a glass façade was positioned to avoid direct exposure to the sun; and a sunken courtyard was embellished with pools, fountains, and greenery—all features designed to mitigate the extreme heat of Baghdad. It was, Marefat points out, a remarkable model of a green, sustainable building.
The Heroic Years, also by Pfeiffer, focuses on the period between 1920 and 1932, when Wright was mired in a tangle of personal, professional, and financial problems. The thesis of the book is that, without the constraints of having to adapt his ideas to the needs and tastes of his patrons, Wright's imagination was freed to explore more visionary designs, which laid the groundwork for the radical architecture he would build in later years. Although it's true that Wright endured profound hardships during this period—his tumultuous second marriage came undone, he contracted a debilitating tropical disease, and commissions were few and far between—it could be argued that Wright dealt with far worse at other periods in his life. In 1912, for example, a servant at Taliesin, the architect's beloved home and workshop in Wisconsin, ran amok, setting fire to the complex and killing seven people, including Wright's lover (who happened to be the wife of one of his clients) and her two children.
While most of the designs from this period were never built, some important works did come to fruition, including the majestic Imperial Hotel, the elegant Holyhock House in Los Angeles, and a series of ornately textured concrete-block houses. The book is amply illustrated with rare photos and many exquisite drawings, some of which qualify as works of art in their own right. It also includes material from the unpublished autobiography of Wright's third wife, Olgivanna, which provides an intimate account of this tumultuous period in his life.
If one had to chose a single book about Wright to include in one's library, American Master would be a good choice (and with a list price of $30, it's a bargain as well). Although small in size (9.5 by 6.5 inches), the volume is packed with superb new photographs by Alan Weintraub interlaced with succinct text by the architectural historian Kathryn Smith. The book covers more than  a hundred projects, ranging from well-known masterworks like the Frederick Robie House in Chicago and the Guggenheim to little-known projects like the Davis House, an odd, yurt-shaped structure in rural Indiana.
In her introduction, Smith argues that Wright's best works rank among the most important buildings in history. In her estimation, Wright was a transformational figure whose influence will be felt long after his buildings have crumbled: "Like Picasso, Einstein, or Freud, he was a rare individual who permanently altered the fundamental way we perceive our world."
The book contains perceptive essays on the crucial role of nature in Wright's early designs ("The straight line of the horizon became the sheltering roof, the trees and flowers formed patterns in the art glass windows, and the leaves contributed their autumnal palette to the plaster surfaces") and his skill in yoking Western technology with Eastern sensibilities, as evidenced by the Imperial Hotel and Fallingwater ("The house appears to grow out of its site, at the same time its commanding presence declares itself a man-made object. It is both organic and industrial.") But the real star of this volume are Weintraub's beautifully composed and technically flawless pictures, which may rank among the finest collections of architectural photographs to be found under one cover.
.
Related: George Beane reviewed a pair of recent Zaha Hadid monographs, both titled "Complete Works." Our executive editor commented on the Guggenheim's From Within Outward exhibition. Read all our Frank Lloyd Wright–related blog posts here.