June 8, 2018
This American Manufacturer has Internationalized the Design Process
With footholds in Europe and Asia, Haworth is truly a global company, one that has mastered the logistics of collaborating across continents and markets.
---
"Global" is a mission and a mind-set at Haworth.
Starting with an outpost in London in the 1980s, the 70- year-old office furniture company has continuously expanded its presence worldwide over the decades, intentionally decentralizing its operations from its headquarters in Holland, Michigan. Haworth is now an eclectic constellation of manufacturing plants, design labs, and research projects in and across the Americas, Europe, Asia Pacific, the Middle East, and Africa. Its award-winning office solutions can be seen in showrooms from Bangalore to Barcelona.
"Haworth has made several pioneering moves in its global expansion," says Paul Nemschoff, vice president of global strategy and marketing. It was the first furniture company of its kind to establish a manufacturing plant in China and then India; it has strategically acquired innovative companies such as the German seating company Comforto and storied Italian brands including Castelli and the Poltrona Frau Group.
The goal is to be where its customers are, explains CEO and president Franco Bianchi. Haworth's regional design teams are charged with shaping products in response to their market's needs—and not crafting exports.
"Over the years, we have evolved into a networked organization," Bianchi says, affirming that autonomy and localized innovation remain core tenets of its operations. "In some cases, yes, we may lose on efficiency by not forcing everyone to align under the same procedures, but we gain in ingenuity, speed, and customer and market relevance."
The commitment to creative diversity is even coded in the company's design manifesto, says Mike Warsaw, vice president of design and innovation. In a document titled "Haworth's Design Point of View," Warsaw writes: "[T]he quality and character of creative outputs does not begin and end with their creator. They are the result of multiple contributors who may or may not have 'design' experience or expertise."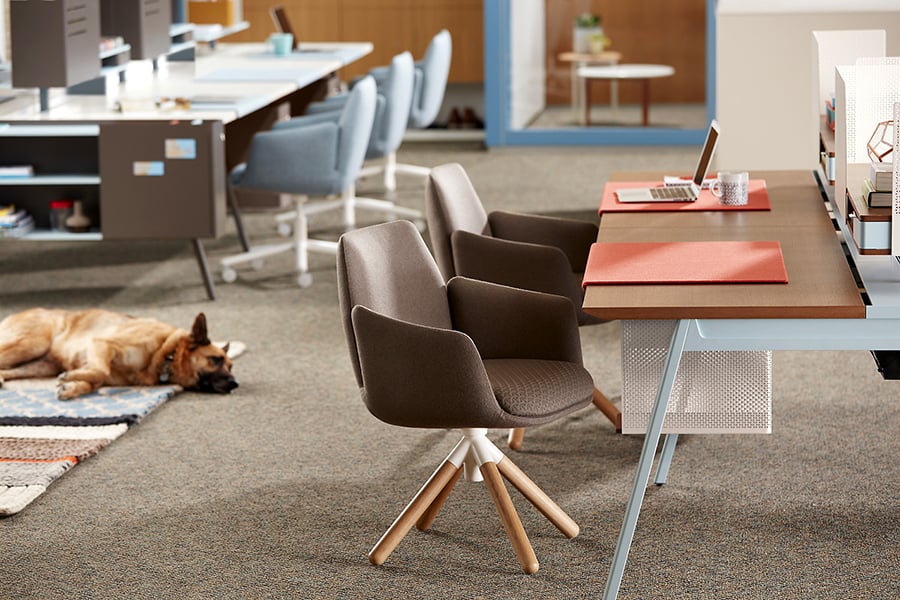 ---
Indeed, Haworth takes this multiplicity to heart when it comes to product development. Its in-house design team routinely collaborates with external designers. Beyond the usual client-supplier relationship, Haworth's designers shape products with external teams. Celebrated Spanish architect-designer Patricia Urquiola, for instance, has infused Haworth's product lines with her genius for color and texture and her signature playful approach. Haworth's in-house designers take her inspiration and translate it into various market specific applications. In a filmed interview for NeoCon, she lauds the "crossover of ideas" as the secret sauce for their years-long collaboration. "That is really the practice of open innovation," echoes Warsaw.
The company's designers and engineers are particularly adept at translating products to suit the tastes, measurements, and legal requirements of each market. Their attention to local nuance extends to calibrating default settings according to each market's cultural preferences. Knowing that Americans and Chinese like to sit leaning back on their office chairs, for instance, Haworth's Fern task chairs ship preset with a 3- to 4-degree recline. This is in stark contrast to Japanese workers, who tend to sit in front of the seat, leaning forward, and rarely use the backrest. There, Haworth's chairs arrive out of the box tilted forward.
Haworth is also attuned to design factors that buyers in each market value. "What's interesting is that from north to south within each country, it could be quite different," adds Nicolai Czumaj-Bront, the design lead for Europe.
The logistics of collaborating across continents can be tricky, but it results in better products, says Czumaj-Bront. "You not only have the different time zones and different cultures but also different ways of working—and languages! It makes for a very interesting dynamic," he says. "Sometimes it's nice to have every-one in one location when you're doing development but the good thing about having people in different places is that you have more diversity in terms of experiences and ideas and possibilities."
But perhaps the biggest mirror of Haworth's global mindset is its staff. From an Italian CEO to designers and engineers who get to live in various markets, it supports the ambitions of employees who wish to develop expertise abroad. "It's rare for a company to do that," says Jennifer Celesia, Haworth's London-based director of marketing and communication, who previously worked from the company's Shanghai and Singapore offices. "It's trying to promote more cross-pollination, and it's really a pleasure to be able to do that."
---
Fern Chair
North America x Europe
Haworth's award-winning ergonomic task chair is the result of an intensive five-year collaboration between Berlin-based industrial design studio ITO Design and the company's design studio in Holland, Michigan.
ITO Design brought a design concept to the Haworth design studio, which then developed the product for the global market—and that meant creating a chair for every type of sitter, scenario, and spinal anatomy possible. It would have been a near-impossible task if not for Haworth's market intelligence—5.5 billion data points gathered by in-house researchers and the Human Performance Institute at Western Michigan University—about how people sit around the world. Validated by rounds of field tests globally, Haworth delivered on the promise of a fully adjustable office chair minus the clunky levers and knobs of other machinelike chairs.
Launched in 2016, Fern was celebrated as a groundbreaking model that seamlessly adjusts to the sitter's posture via a flexible Wave Suspension System in the back support.
Fern is now manufactured at Haworth's global plants, where designers adapt Fern's template using the materials, measurements, and standards of their particular market.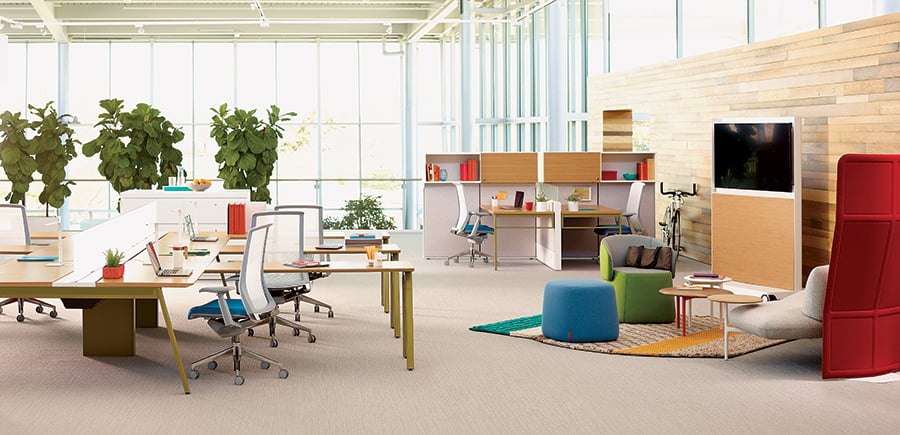 ---
Intuity System
Asia Pacific x North America
Intuity was born in Australia, raised in the U.S. and Europe, and then deployed all over the world. The desk and benching system is a versatile and eco-friendly solution to the ever-evolving space requirements of all types of offices, from start-ups to big corporations.
Developed in Australia by Bang Design for the Asia Pacific market and finessed by Haworth's development team in Shanghai, the modular system proved to be very popular and was soon introduced to Europe and North America. Company designer Steffen Lipsky explains that Intuity's core simplicity made it easy to translate, requiring just a few tweaks in measurements and finishes to suit regional requirements. This inherent "design restraint" also proved to be attractive to buyers. Presented with a kit of parts, customers can choose and recycle parts as their office configurations change. Each unit can be dismantled and reconfigured—almost like LEGO blocks for the office. Intuity also bears Haworth's company-wide mandate to lower its eco-footprint. After a unit's expected lifetime of ten years, buyers can return worn-out table legs to Haworth in exchange for a discount on future purchases.
It's Haworth's take on the "little black dress," says Lipsky. Stylish, but not overly so.
---
Textiles and Finishes
North American x Europe
Color is a conundrum and an opportunity for furniture manufacturers. As a manufacturing-focused brand, Haworth wasn't always so savvy with color. "We've done grays very well," jokes Liz Johnson, a senior industrial designer at Haworth's material finishes department, describing the safe palettes typical of commercial contract furniture.
Things got significantly more colorful when Haworth started working with the internationally recognized Spanish architect-designer Patricia Urquiola. A genius of color and materials, Urquiola introduced more vibrant hues to the company palette. She and Johnson have since added 12 colors to Haworth's monochromatic scales and in effect warmed up its entire look. "It changed the whole dynamic of our furniture," says Johnson. "Because of that, we added more variety to give our customers choice and are more globally desired." Johnson adds that they've observed that the preference for warmer, subtler colors resonates everywhere. Even pattern-loving Americans and Asians are embracing softer, subtler colors and textiles with unique weaving techniques prized in Europe. "It's a global connector," she says.