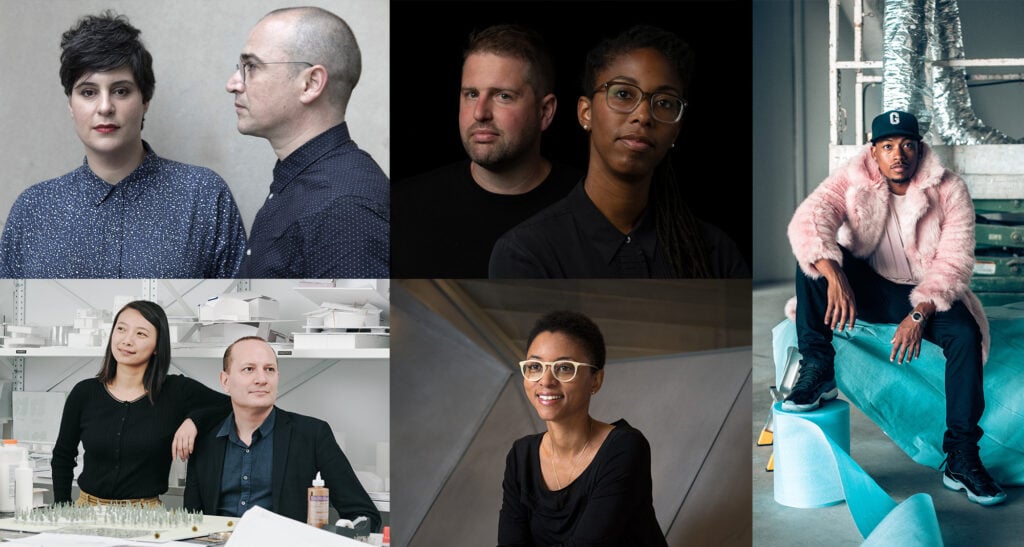 March 4, 2022
BIPOC A&D Practitioners are Winning Awards—But Representation is Just the First Step
Currently at work on a monument to Harriet Tubman for the city of Newark, New Jersey, Cooke John has thought deeply about belonging. Instead of replacing the previous monument of Christopher Columbus with another statue, she saw an opportunity to truly invite observant circumambulation. Proposed as a series of wrought iron profiles that coalesce in the shape of the North Star, the memorial will convey how the Underground Railroad was a resolute network of many people working together. Cooke John's perceptual considerations resonate with the subtly interactive installations of Dream the Combine, which revisit common or industrial materials like steel, mirrors, and scrim to circumscribe interstitial space and draw people together, as seen in their 2018 installation for MoMA PS1's Young Architects Program.
To that end, Dream the Combine readily acknowledges the binaries of race, culture, and gender in their partnership to point out that there is no singular public. "[Our identities] are realities that we bring to the table that shouldn't be subsumed in the service of compromise, these are differences that make a difference," Newsom says. "It's not about a melting pot. For us to really think about how we are going to be together with the complications of our past, our history, our lineages—that is what's exciting about collaboration."
As one of five curators for the 2023 edition of Counterpublic, Carruthers and Newsom have turned their attention to the historical geography of St. Louis by inviting artists to consider the city's establishment at the confluence of two rivers, which involved the mass leveling of pre-Columbian mound constructions.
Barnes is also concerned with American history as we have received it. Lineages of Blackness have existed in classical architecture since antiquity, hiding unacknowledged in plain sight, and for Barnes, the suggestion from a fellow professor at the University of Miami that the porches of southern homes echoed the porticos of Roman villas was enough to begin his current project Anatomical Transformations in Classical Architecture. Beginning with thorough field work, Barnes proposes that there is an underlying language of Black phenotypes present in drawings, mosaic production, and other building techniques that explain the North African influence in cathedrals and palaces across Italy. An "accidental academic" and practitioner at heart, Barnes intends to fabricate an alternative classical order capable of honoring Black bodies.
However, Barnes is particular about his experience of Blackness being one emerging from the southern United States, from 1950 to the present. "My perspective of Blackness in architecture and design is incomplete, there are so many other voices that lend to that puzzle that have not had my opportunities," Barnes says. "Multiplicity between the diasporas is what makes Blackness compelling, to give a more holistic vision to what it means to be an enslaved person, and still materialize shelter, built forms, chairs, etc."
Coming off the opening of the Amant Foundation in Brooklyn and Jan Shrem and Maria Manetti Shrem Museum of Art at the University of California, Davis, SO-IL has brought a thoughtful porosity to the vocabulary of arts institutions. Their recent buildings have incorporated a rolling canopy, or a soft veil-like ceiling that gradually transitions viewers inward—Liu calls this motif an "expanded or inhabitable edge." [In keeping form, this was my intro to SO-IL's quote… I think their idea of "edge" is important as Liu ties it to the multiplicity of identity. Or would you like me to highlight a different facet of their practice?]
"Florian and I always thought that we were not Americans, and with the award named what it is…it's an honor to be recognized for contributing to the culture of a place we now call home," Liu notes. SO-IL hopes to continue its burgeoning practices of commissions and projects in the United States.
Theoretical practices, like that of Design Earth, meaningfully question how one should even build during the climate crisis. Their projects actively consider the landfills, oil fields, and human refuse that continue to build up. While new structures and possibilities for community are indeed exciting, Design Earth reminds us of the growing and harmful byproducts of development.
Fellowships like the USA, then, are an opportunity for institutions and other organizations to go deeper and look beyond who is already represented to truly broaden narratives of color and the awardees of this year's United States Artists architecture and design fellowships point to expansive transparency within the field. As far as the discourse goes, representation is just the first step—the next is understanding how to truly value the different perspectives and resources being brought to the table.
Would you like to comment on this article? Send your thoughts to: [email protected]