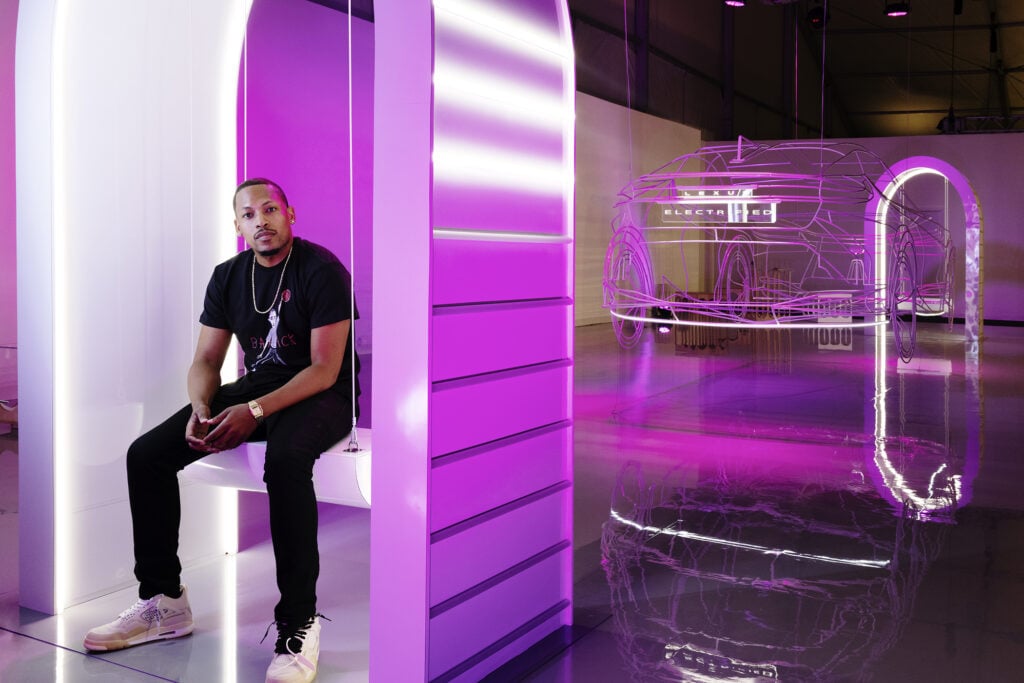 December 23, 2021
For Germane Barnes, Mobility Echoes Beyond Movement
A sharp division from South Beach's glamour-ridden bustle of posh hotels and landmarked art deco buildings, Liberty City has been a critical source of research for Barnes's Community Housing & Identity (CHIL) Lab at the University of Miami School of Architecture. Through his assistant professor post, he currently works with four students on projects on community development, urban injustice, and environmental decline. They mine the histories of neighborhoods such as Liberty City, Overtown, or Opa-Locka where racism and substandard infrastructure are tightly intertwined.
Passing through new, rapidly erected three-story social housing buildings (built four feet higher than ground level for risk of impending flooding), Barnes pauses by a quarter-mile-long concrete wall. Its crumbling yellow facade transforms into a city park on the other side where the ground level is elevated to match the wall's height. While today the area is known as Liberty Square, the site was a segregation wall built in the early 1930s to block Black residents' access to the other side of Miami. The original 12 feet high structure was a solution against complaints from white residents when the Black population began moving to the neighborhood due to inhumane living conditions in Overtown's shotgun houses.
Knocked down from its original height during the late 1960s, the site has been turned into an open plaza alongside a hectic highway. Similar to Berlin Wall or the Israeli West Bank Barrier, the concrete curtain is a sign of human failing on an architectural level. Today, the neighborhood is significant for sites such as the Hampton House where Mohammed Ali, Malcolm X, or Sam Cooke sojourned upon being refused accommodation in Miami Beach. While its iconic beach scenes were shot in Miami Beach, Liberty City was the backdrop for 2016's Academy Award-winning Black gay love story Moonlight. In fact, Barnes uses this distinction to crystalize his depiction of mobility in and outside of a border: "Someone like myself or the film's screenwriter Tarell Alvin McCraney, who is from this neighborhood, is today free to swim at South Beach, but our grandparents would be denied access and could only use all-Black Virginia Key Beach."
While Liberty Square is not a direct subject in Barnes's Lexus project, he could not make the statement he delivers around movement against built barriers without his research around the site. "Cars have a bitter connotation for Black Americans for representing segregation," he explains. "When a highway such as I-95 splits a neighborhood, marginalized communities left on one side heavily depend on vehicles." Mobility and access, however, are political statements, as Barnes underlines with his take on the car. The ethereality of his nonfunctional car design raises questions about authenticity in the American Dream and its promises of potential and advancement. What symbolizes this dream more than the car?
Barnes's answer thrives on collaboration, not only through his work with local community centers but also in the production of ON/. His students at CHIL Lab worked on a detailed Autodesk version of Lexus's signature model, each lending a specific skill set such as digital rendering or fabrication. The architecture department's other lab, Responsive Architecture and Design (RAD) Lab, led by his colleague Indrit Alushani, was instrumental in polishing the Rhinoceros file before submitting it to the Portland, Oregon–based manufacturer, Matchless. "I have friends whose research heavily focuses on Liberty Square, so I returned to them multiple times during conceptualization," Barnes adds.
Collaboration expanded to viewer participation during the fair. Archway swings, as well as a suite of furniture, accompanied the main piece. The installation's lighting was controllable via a global interactive, digital program, which according to Barnes, gave those who could not be there in person a way to participate. In-person involvement, on the other hand, meant swaying on one of the swings against the immobility of the car's steel frame. This human-made kinetic energy, embodied by the wind hitting on one's face, not only alluded to a sense of potential but also subtly tapped into the urgency of green manufacturing. The arched form echoed across the chairs and a table as an homage to the prevalence of Art Deco architecture across South Beach.
Miami already floods regularly, and that risk will increase in the near future, and neighborhoods with lower elevations are likely to face the most devastating results. In Liberty City, which at 10 feet above sea level is one of Miami's drier neighborhoods, gentrification and displacement are a threat as developers and the wealthy seek safety inland. "Water rise is real, and architecture and cars have bad effects on the environment," Barnes summarizes. He notes that the invitation from an electrified car manufacturer was significant for offering a carbon-neutral context to his statement on social injustice. "Social and climate resilience is most urgent in vulnerable communities simply because they're at risk." 
Would you like to comment on this article? Send your thoughts to: [email protected]