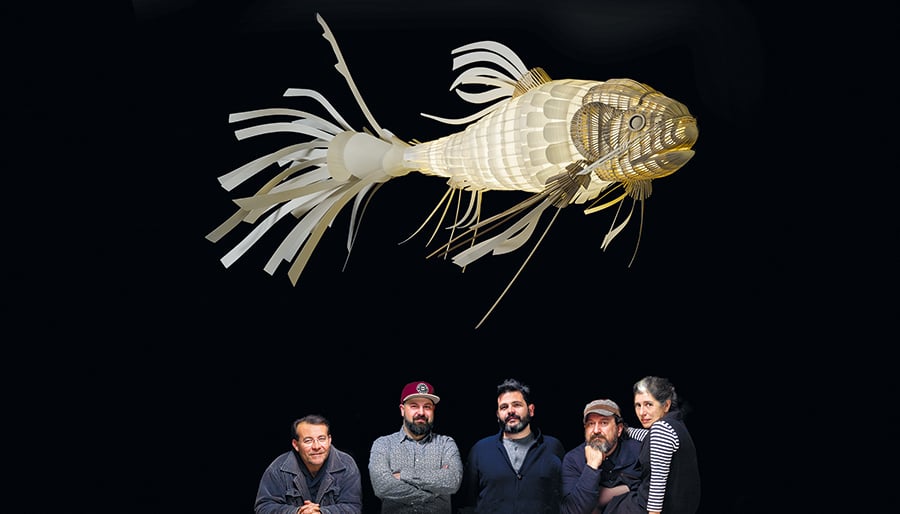 July 16, 2019
Design Cities 2019: Valencia, Spain
A Valencia studio's products draw upon the region's cross-disciplinary creative networks.
---
For LZF Lamps, a Valencia lighting manufacturer, happenstance has played a decisive role since the beginning. The company was founded in 1995 by Mariví Calvo, a Valencia artist, and Sandro Tothill, an Australian musician and transplant with a taste for adventure. The pair fell in love, and while putting together their first apartment, they came up with the idea of making light fittings with wooden veneers. "There were some lying around the house and we were struck by their translucence," explains Tothill. "We started playing with them, reinforcing the veneers with a special type of resin that Mariví had been using in her artwork." Since then, natural wood has become the signature element of LZF lights, supported by fine craftsmanship and imaginative design that pushes the material in unexpected ways.
Every product in the collection has a story to tell. To develop them, Calvo and Tothill have drawn in a rich cast of actors from outside the company. Artisans who craft fallas—the giant, often grotesque effigies burned during Valencia's most famous fiesta—have participated. So have musicians, comic book artists, and local creative studios such as Masquespacio, which directed Telling Tales, a richly visual campaign for LZF inspired by Hitchcock's Rear Window. This multimedia approach, says Tothill, keeps their products looking fresh and varied.
Koi, a giant light-sculpture in the form of a carp, is the star of LZF Lab, a program that invites artists and craftspeople to carry out complex projects. Koi has its roots in Barcelona studio Inocuo the Sign, which, inspired by the interlacing wooden skin used in LZF's Armadillo lamp (designed by Luis Eslava), imagined the koi character for an animated film. It ultimately took shape in the physical world as a sculptural light thanks to local craftsmen who used a traditional method to weave thin strips of wood, creating its scaly form and willowy tail.
Does the intimate, convivial creative scene in Valencia nurture serendipitous collaboration? "I am not sure," Tothill muses. "I have never worked anywhere else. The thing is, if you are a genius you work alone. If not, you work with other people."
You may also enjoy "Design Cities 2019: Fukuoka, Japan."
Would you like to comment on this article? Send your thoughts to: [email protected]