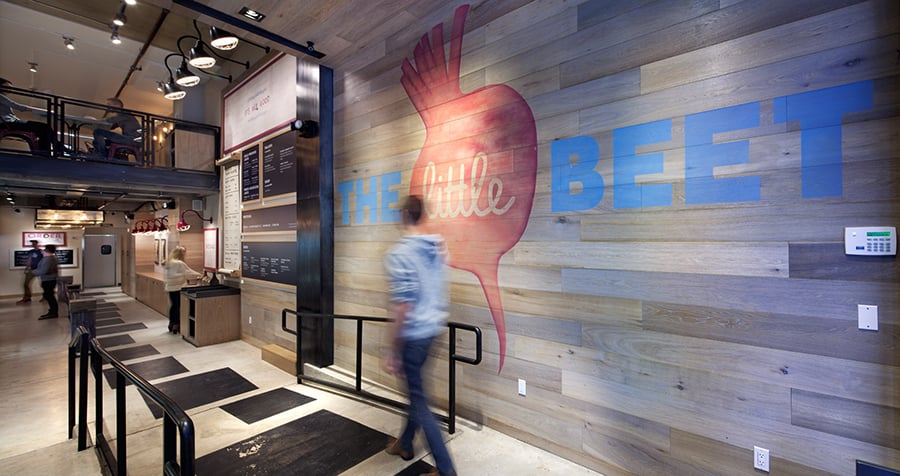 January 30, 2018
A Seat at the Table: How Millennials are Changing the Design of Dining
Faced with consumers who value authenticity, quality and storytelling, designers have to think about the full user journey, which starts before a customer enters and continues after they leave.
Whereas casual dining in the 1990s emphasized the mass-produced—"fast" and "cheap" being the operative words—recent years have seen a shift toward experiential hospitality. Technology has given rise to a much more informed, well-connected consumer who places value on authenticity, quality, and storytelling. The restaurant of today is not just a pit-stop destination, more often than not it represents an entire lifestyle brand. As American dining continues to evolve, designers have to think about the full user journey, which starts before a customer walks through the door and continues well after their visit.
On October 19 at the New York offices of ICRAVE, Metropolis's director of design innovation Susan S. Szenasy led a conversation about how restaurant design needs to respond specifically to the millennial consumer. One of the main questions emerged around the need for restaurants to make smarter use of their physical spaces. You can have a great concept and even a great space, but all the elements have to coalesce into a great customer experience. For managing director of Yo! Sushi Scott Steenrod, who is translating the British chain's signature sushi-on-a-conveyor-belt experience for American audiences, it comes down to two essential factors. "First, you need an element of simplicity and intuition," he explained. "Second, you have to build in opportunities for customization." Today's consumer has higher expectations and a greater willingness to try new things. Creating a space that is approachable yet allows for a personalized experience is crucial to staying relevant in today's restaurant industry.
Even established brands like Yo! Sushi have to constantly question the way they frame their story and how it is being communicated to consumers. Social media has radically changed the storytelling potential of brands. The more successful campaigns find ways of integrating brands into consumers lifestyles. "I'm much more interested in the everyday than the once-in-a-lifetime," said Elizabeth von Lehe, director of strategy and concept design at ICRAVE. This is something that David Mandelbaum, CEO and Founder of PANATEA thought about before launching his brand in 2014. After a trip to Japan, he and his wife fell in love with the ceremonial art of preparing matcha tea and decided to find a way of updating the ancient ritual and making it accessible for today's fast-paced lifestyle, which they achieved by creating a line of instant matcha. Mandelbaum is mindful of the way high-quality imagery, a clear narrative, and a solid product work together to elevate brands. "People want to self-create and beautiful brands allow them to curate that vision," he said. The influence of social platforms extends beyond the virtual to impact the way designers think about physical space as well. As Greg Merkel, Creative Director of Design and Build at ICRAVE noted, "there is a new program to consider—the Instagrammable moment is becoming increasingly important."
"I don't know that restaurants have found the right balance between technology and the human experience," said Jeff Witten, CEO of CoinOut a payment system that allows users paying in cash to store any change from their transaction in a digital wallet. His app was developed with the intention of "building continuous, seamless innovation around cash," that may disrupt the way restaurants think about their business down to the operational level. Throughout the restaurant industry, designers and brands are rethinking physical, digital, and operational touch points to reach more people in more meaningful ways.
The Think Tank discussions in New York were held October 18 and 19. The conversations were presented in partnership with Corian Design, Sunbrella Contract, DXV/GROHE, Staples Business Advantage, and KI.
You may also enjoy "The Ace Hotel Chicago Uses Art to Channel Mies van der Rohe and the Bauhaus."