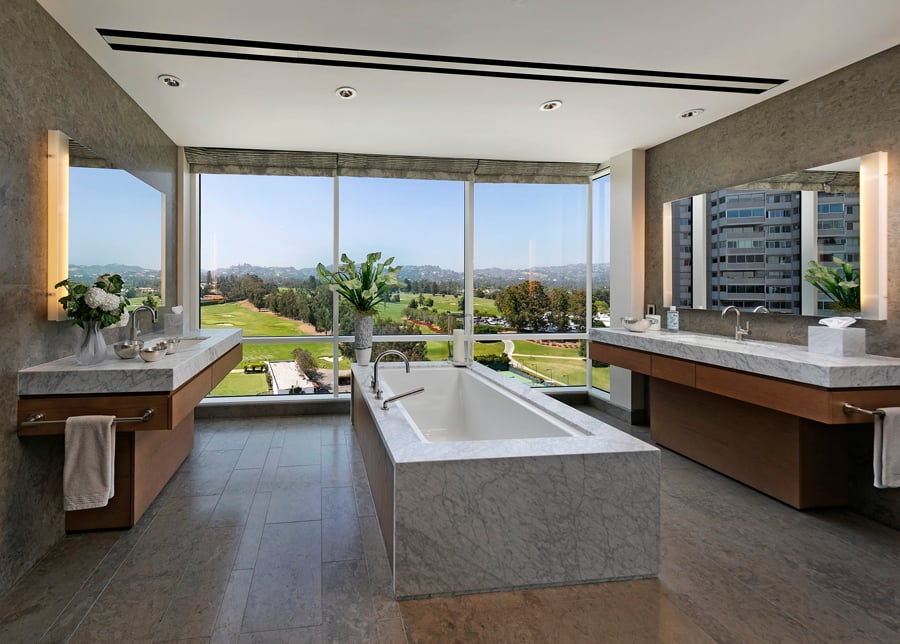 September 14, 2020
Infinity Drain Takes a Design-Centered Approach to Wet Rooms
Seamless, sleek, and smart, wet rooms are the beautiful and functional future of the bathroom.
Sponsored by: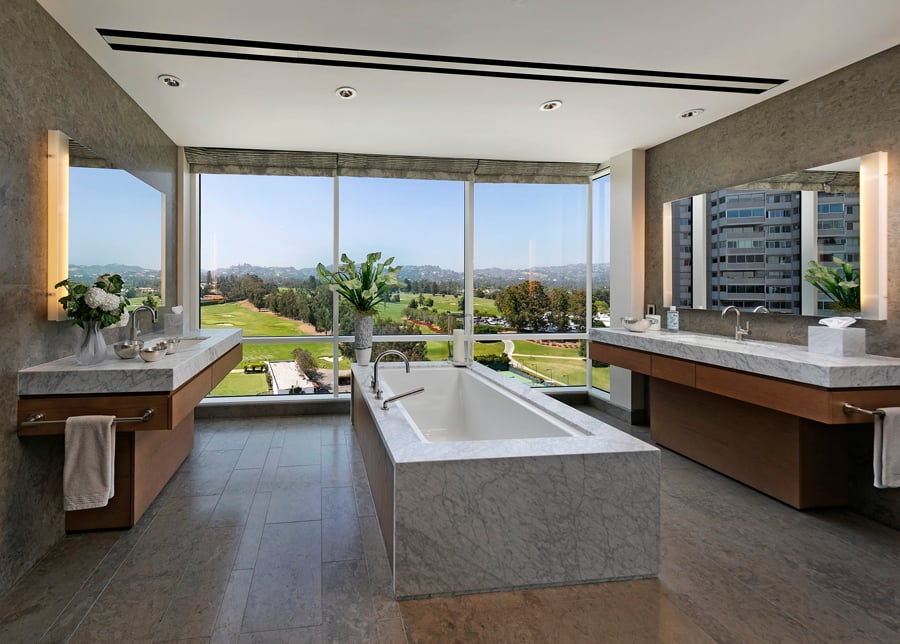 With roots in Japan, wet rooms have evolved from being an efficient solution for small spaces to a hot trend in luxe residential and commercial bathrooms. The concept—water from the shower flows away towards an open linear drain, making the entire bath area a wet room—has gained traction because it incorporates sleek, contemporary materials that also enable designers to gain more functionality in spaces of any size. But the advantages are not limited to aesthetics; barrier free showers made possible by wet-room design are easier to clean and sanitize and are also more accessible for those with limited mobility.
In most wet rooms, linear drains are hidden under benches and wall-hung vanities and toilets, spanning the length of the space. Whether fully open or featuring a single plane of glass enclosing the shower and bath, today's wet rooms often feature freestanding tubs with floor-mounted tub fillers, and concealed wall storage—creating a lavish bathing experience in an airy, spacious environment. The room is equipped with floor-to-ceiling waterproofing materials to properly seal floors and walls before they're tiled.
As a leader in high-end artisanal shower drains for the past decade, Infinity Drain offers award-winning innovative and contemporary options, from hand-polished decorative grates to custom fabrication.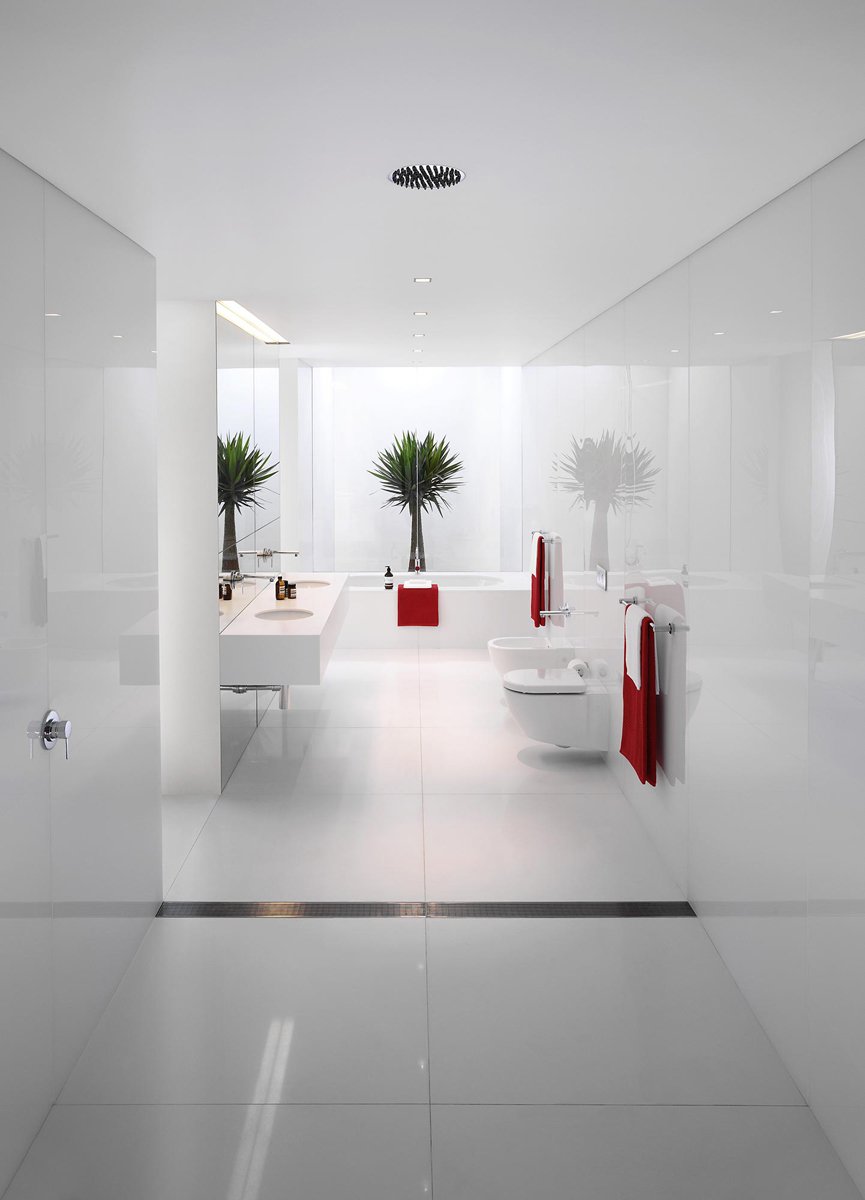 "Linear drains have been around for many years in one form or another, but the best part of our product is its versatility: We've adapted Infinity Drain, which is crafted from 16-gauge 304L stainless or better, to work with all types of modern installations, and it can be used with just about any type of waterproofing," explains Bhash Ramkarran, chief engineer for Infinity Drain in Long Island, New York.
Linear drains allow for easier sloping of the shower floor, providing more flooring options and making wet room installations much easier, he explains. "Since the linear drain extends across an area, the floor is only sloped to the linear edge of the drain instead of a center point, which helps ease the amount of slope and creates opportunities for seamless transitions from the shower to bathroom area. This removes the need to create a 'bowl' in the floor, and allows for the use of larger format tile, stone and slabs," Ramkarran says.
In order to take advantage of this extra design freedom, a good wet room has to start with a good linear drain.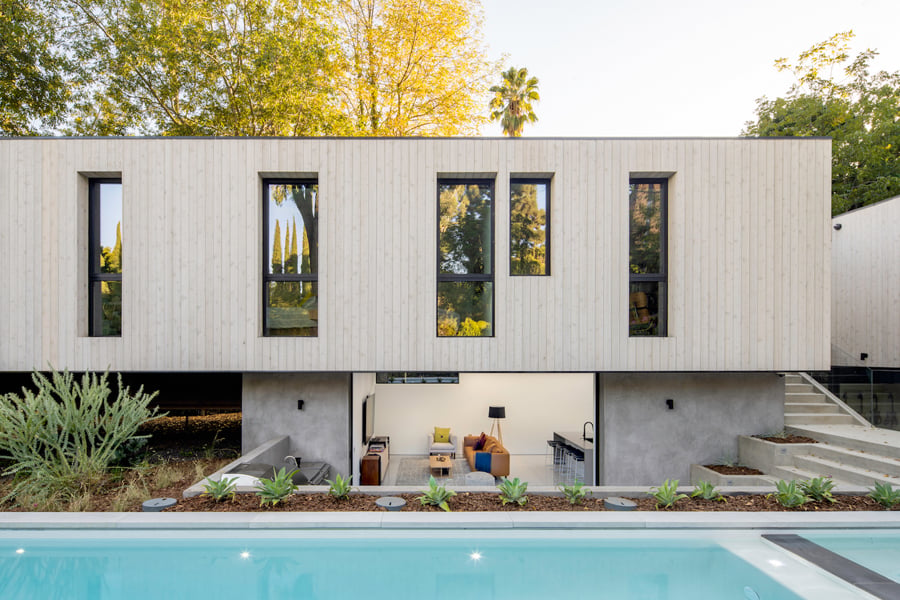 "The linear drain is a crucial part of a barrier-free shower," says Ramkarran. "These types of drains reduce the overall build-up required in the shower floor, which makes a flush transition from dry area to shower area seamless."
At Beverly West, a boutique high-rise in Los Angeles with 35 units, Infinity Drain supplied a custom linear drain that was designed to span the full finished wall-to-wall dimensions in each shower.
The team came up with a drain that was actually a tiled insert cover, which blended in with the finished floor and was created for a double waterproofing installation: One layer for a traditional hot mop, often required in Southern California, and a second layer of bonded waterproofing for added protection and crack isolation for the finished stone.
Believing that the building blocks used to create a gorgeous space are as important as the surface materials, Infinity Drain continues to develop and perfect products that reflect new developments in waterproofing and bathroom design.