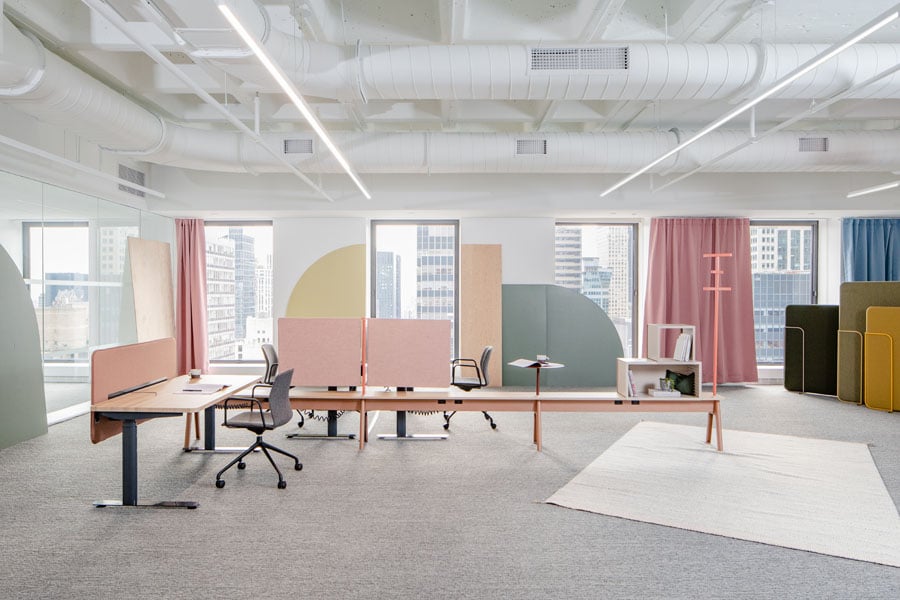 June 23, 2020
NeoCon Spotlight: Flexible Desking Systems for the New-Era Workplace
New releases of desking systems during NeoCon highlight the most versatile ideas in workstations, for the new and varied ways we work now.
---
Like everything else post-pandemic, workstations, especially desking options, have been reimagined. The resulting systems debuting at this year's virtual NeoCon are engineered to respond to various heights, ergonomic settings and work styles, as well as expand and contract with the workforce. Now more than ever, personal comfort must be easily controlled, too. Here are a few standout innovations.
BOK COWORK DESK
---
With three power outlets integrated into its surface, the Bok Cowork Desk further streamlines coworking environments. They can be tapped down to rest flush with the surface. A wider-than-average design allows more physical distance between users.
HISPACE QUICK CONNECT TABLES
---
Teknion's height-adjustable desks feature a streamline profile and a remote-work-friendly assembly time of less than five minutes. The system's mechanisms can be operated easily, thanks to the reengineering of its integrated Quick Connect "Connection Kit" top frame and Slide & Lock leg columns.
M NESTING TABLE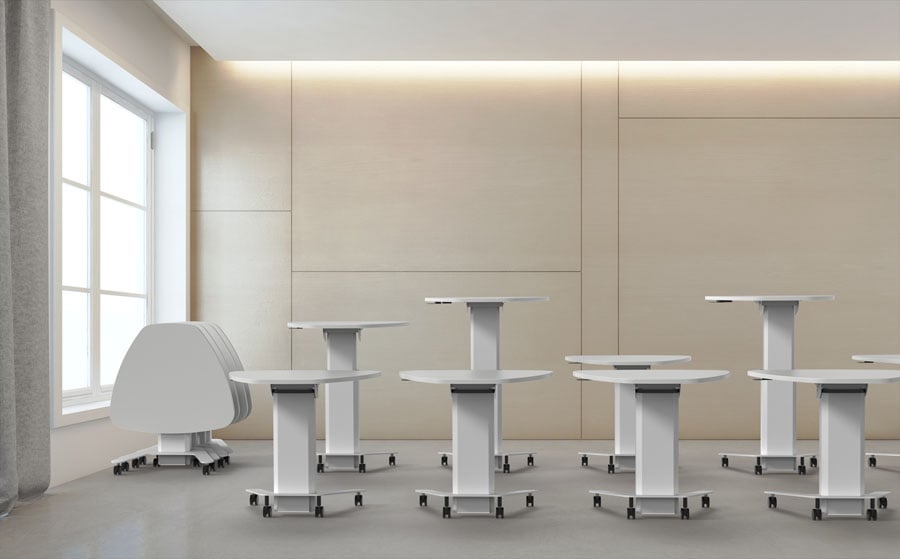 ---
Few options are more versatile than accessing an army of mobile, personal work surfaces. With its sit-stand settings, the space-saving M Nesting Table can add that kind of flexibility at home and in the office—with an ergonomically engineered design. Available on casters, the single-user desking solution has a 90-degree flip-down and adjusts from a height of 28.6" to 45.1" without the use of power.
OLLI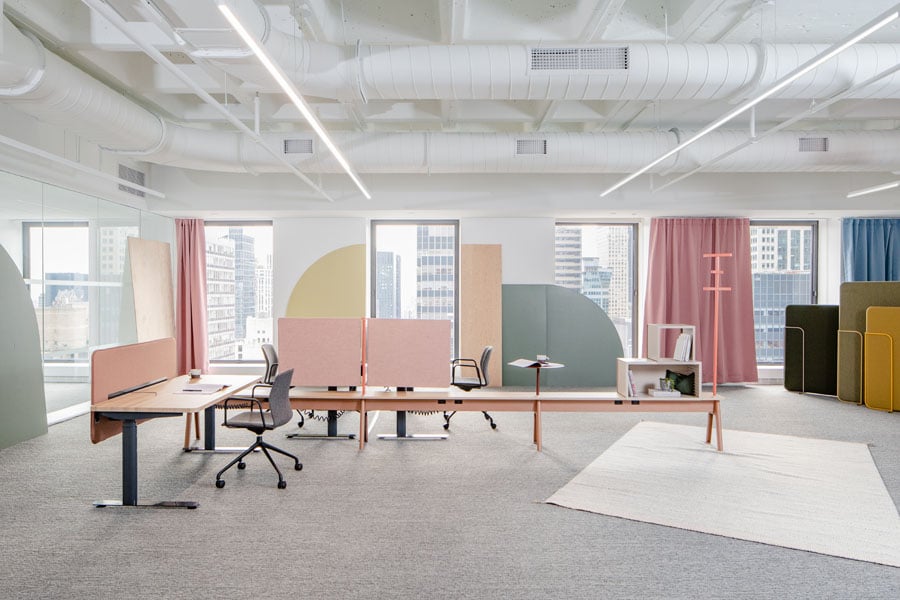 ---
This easily reconfigurable system by Pair accepts the addition of numerous modules for personalization, including coat racks, meeting tables, storage, cushions, and patent-pending privacy screen that pivots—all along an expandable central beam.
BRIEFING
---
Expanded configurations with combined functions enhance this collection's ability to provide a "tailored" environment that supports a variety of tasks from solo work to conferencing. Briefing has been updated with new surfaces for greater control over individual posture and comfort.
SOFT WORK
---
Soft Work, designed by UK designers Edward Barber and Jay Osgerby, occupies an unusual hybrid category as a seating solution that also incorporates workstation-desking features such as tables, privacy panels, trays and power connections. Users can adjust individual backrests in the curved or straight modular configurations along a single track. Debuted in 2018, the system will be now be offered in leather upholstery beginning this August.
You may also enjoy "6 Innovative Textiles and Surfaces from NeoCon"
Would you like to comment on this article? Send your thoughts to: [email protected]
_____________________________________________________________________