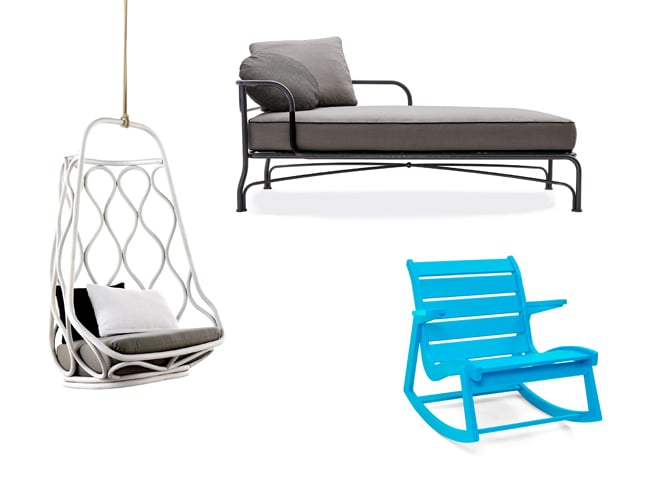 July 8, 2013
Ready for Summer: 15 Bold and Colorful Outdoor Products
Bold and colorful outdoor products are ready for their moment in the sun.
Vibrant colors continue to be in vogue for finishes and upholstery options. Traditional materials such as rattan and wrought iron are being used with a new twist: Minotti's Le Parc collection, for example, looks to European wrought-iron furniture, updated and painted in silver-black (shown) or white, whereas Daniel Pouzet's Swingrest for Dedon uses a new fiber-dyeing technique that produces 11 shades of pink.
Large-scale furniture remains as popular as ever, with designers debuting collections of seating, tables, and complementary accessories. Jaime Hayon's Gardenias collection for BD Barcelona, for example, includes everything from chairs (with or without a pergola) to a watering can with golden handles and spout. Here is our collection of products to bring joy to any outdoor living space.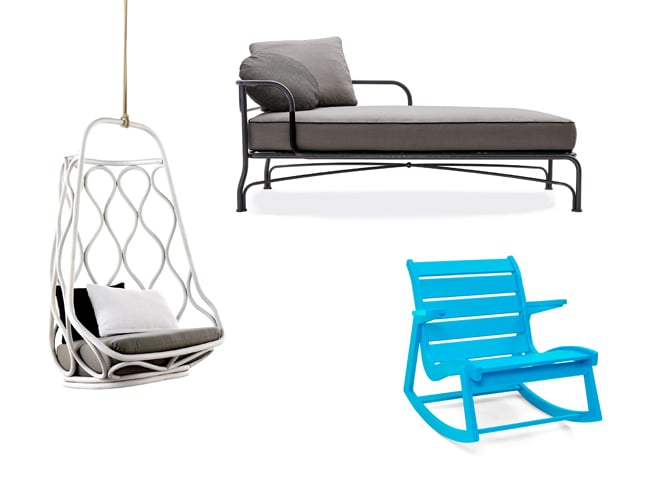 Clockwise from left:
Expormim Nautica Chair
This rattan hanging chair, designed by Mut Design, pays homage to one of the first pieces created by Expormim in the 1970s. The sturdy swing can be used in any sort of space, indoors or out.
www.expormim.com
Minotti Le Parc Chaise Longue
Inspired by traditional wrought- iron furniture, Rodolfo Dordoni's chaise longue is part of a collection that includes sofas, armchairs, ottomans, benches, chairs, and tables, painted in white or silver-black.
www.minotti.com
Loll Rapson Rocker
This low-back rocking chair by Ralph Rapson is now in production in an ecofriendly outdoor version made from recycled material. It's available in nine different colors.
www.lolldesigns.com

Blu Dot Hot Mesh Chair
This stackable chair (left) is made of powder-coated steel, and is available in six finishes. It is also available as a barstool or counter stool.
www.bludot.com
Foscarini Uto Light
Designed by Lagranja Design, this silicone rubber light (right) can be used both indoors and outdoors. Its versatility continues: It can be set up as a floor lamp, suspended, or freely positioned anywhere.
www.ylighting.com

Vondom F3 Collection
Fabio Novembre's F3 (form follows function) collection is based on free-flowing mathe-matical surfaces, so the pieces can be seamlessly combined in various arrangements.
www.vondom.com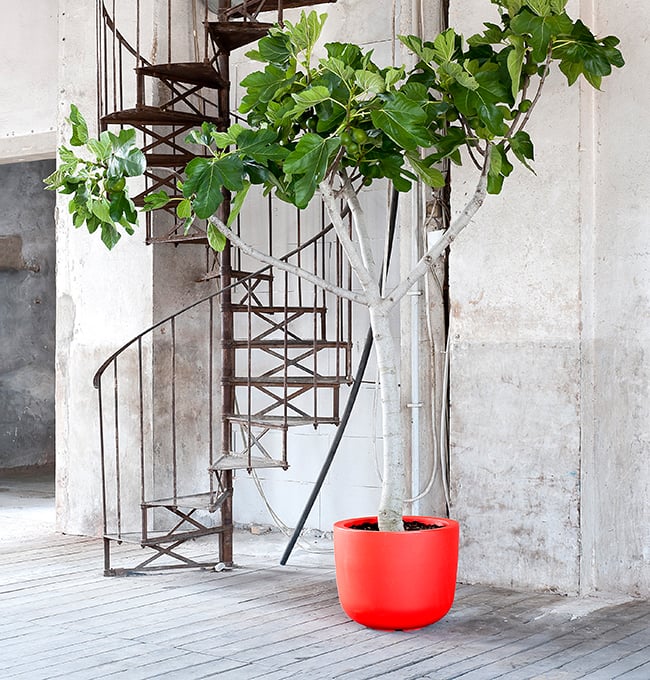 SerraLunga Cup Planter
Naoto Fukasawa shaped this planter more like a cup than a flower pot, suggesting a cozy home for the plant. Made of rotational molded polyethylene, it comes in two sizes.
www.serralunga.com

Weltevree Wheelbench
This mobile bench, by Rogier Martens, is made of oak with a built-in wheelbarrow wheel, to make it easier to move around.
www.weltevree.nl

Design Within Reach Tuuci Baymaster Cantilever Umbrella
This umbrella (left), designed by Dougan Clarke, uses an auto-lift mechanism. It has a marine-grade "Aluma-Teak" frame and a 100 percent solution-dyed acrylic Sunbrella canvas that can stand up to salty, wet environments.
www.dwr.com
BD Barcelona Design Gardenias Vases
These handmade terra-cotta vases (middle) and planters are part of a collection by Jaime Hayon that includes benches, chairs, and an attractive watering can with two golden handles.
www.bdbarcelona.com
Oasiq Capricorn Tea Cart
This midcentury modern–inspired tea cart (right) comes with a teak wood tray that is supported by a powder-coated steel frame. It is available in 12 standard colors.
www.oasiq.com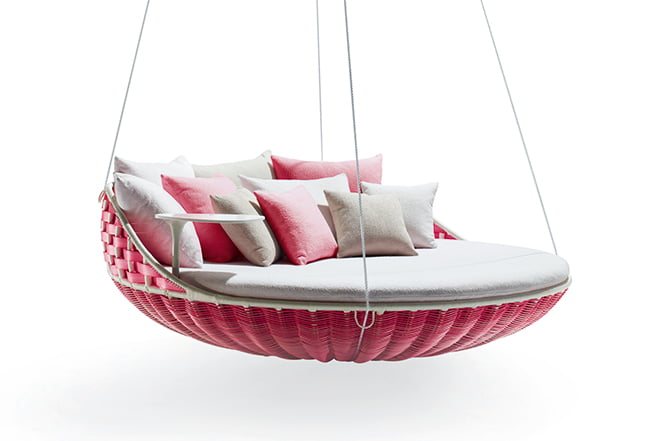 Dedon SwingRest
Daniel Pouzet's sofa swing, available in a limited-edition pink, is meant to evoke a bed of flowers. Woven from Dedon's proprietary fiber, it can be hung from its own rotating stand or a backyard tree.
www.dedon.de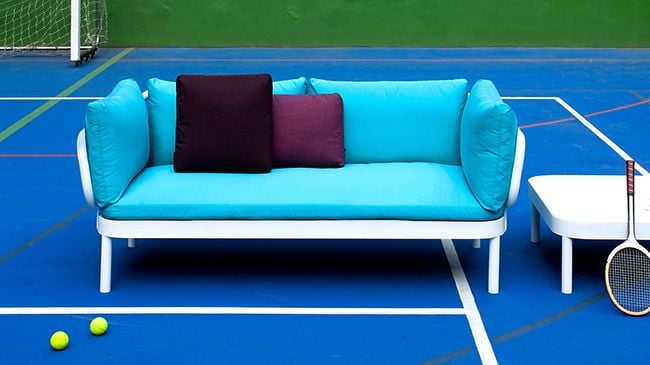 Gandia Blasco Tropez Collection
Reminiscent of sailing boats and handcrafted tennis racquets, this sofa by Stefan Diez was inspired by the world of sports in the 1920s and '30s and is part of an extensive furniture collection.
www.gandiablasco.com

Sunbrella Nautical Collection
Inspired by the classic colors and textures of the nautical lifestyle, these fabrics (left, from top: Hampton Indigo, Beachcomber Dune, Trax Terra, Navigation Marine, Flagship Salt, Bubble Nautical, and Trax Blue) are ideal for marine seating, outdoor cushions, or upholstered furniture.
www.sunbrella.com
Emeco Parrish Chair
Konstantin Grcic originally designed this chair (right) for the Parrish Art Museum in Water Mill, New York. The lounge and side chairs feature tubular metal frames (available in three powder-coated finishes) with four options for the seat.
www.emeco.net