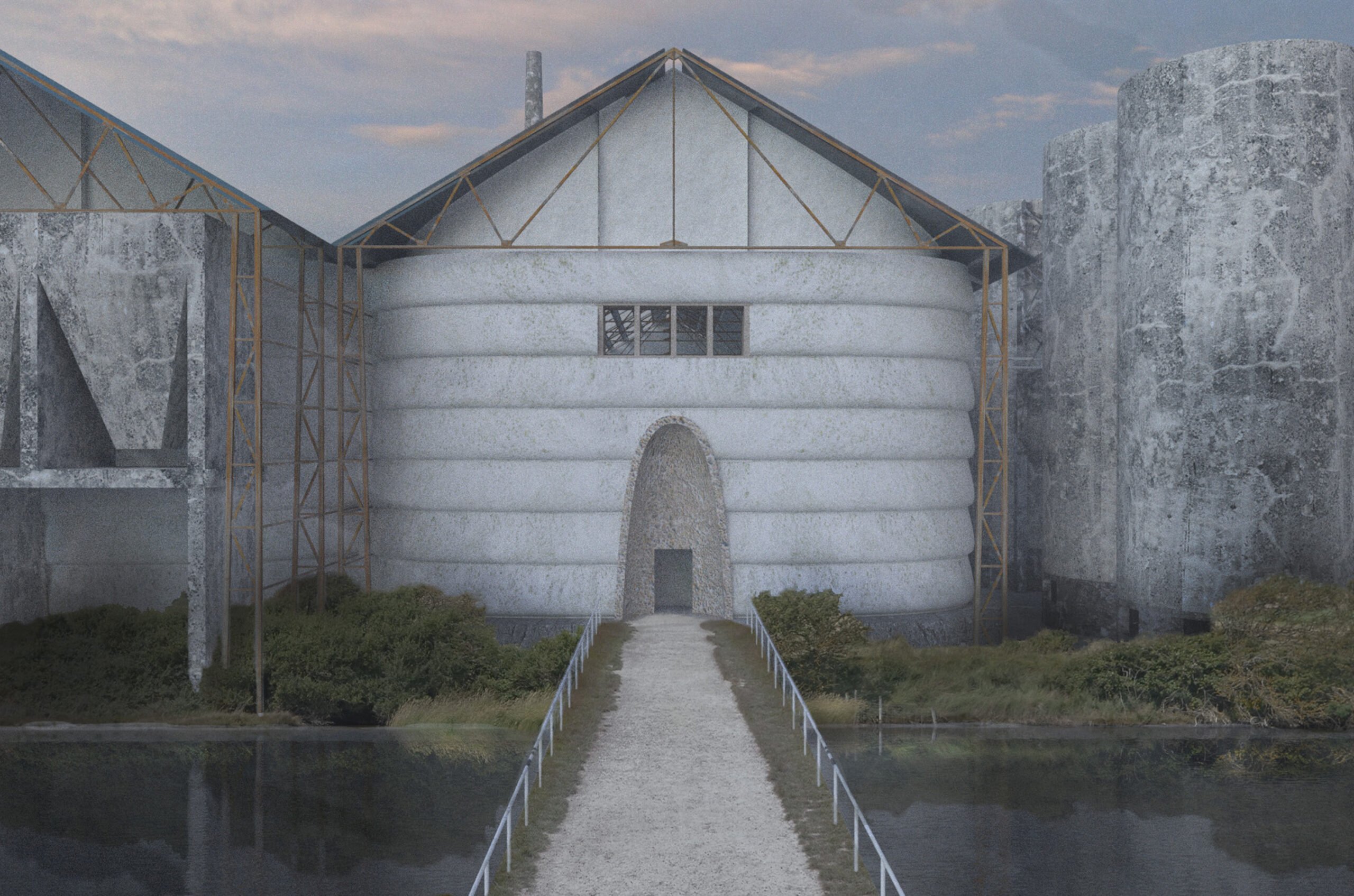 August 17, 2022
The 2022 Role Models Contest Marries Innovative Material Design with Practical Application
Grand prize winner Felix Sagar presented Filter Cake Cob, a chalk-based regeneration system. Using the defunct Shoreham Cement Works building in Sussex county, England as a model Sagar proposes using materials diverted from the local waste stream to rehabilitate dilapidated buildings. This particular solution utilizes "waste chalk filter cake" mixed with straw to make new walls for the derelict space.
The infill strategy requires a precise sequencing of subtraction and addition, a bespoke tailoring to what still stands. In this case, asbestos is removed, the foundation fortified with limecrete, and the walls carefully reconstituted with a concoction of chalk cob applied to the cotton-wrapped beams. Additionally, Sagar proposes turning the renovated space into a technical school for chalk cob construction to educate future craftsmen while stimulating local industry and disrupting waste streams. Though the solution presented here is site-specific, the regenerative process promises broader applications to post-industrial communities.
The prospect of regenerative materials is also present in Grand prize-winning Cocua, by Diana Marcela Romero Millan. The plant matter and its namesake are derived from the pith of the Colombian Arboloco plant––a spongy white tissue lining the rind of plants like citrus fruits. It is an unexplored Andean resource whose manufacturing processes and practical application have not been documented, until now. The project proves this underutilized, bio-based material is a viable plastic replacement.
The vegetation boasts fast growth, short collection cycles, and expedient renewal, which has the potential to increase profit margins for producers. Cocua can be made into simple blockboard material or formed into more complex agglomerated mixtures without requiring toxic binders commonly used in manufacturing for practical applications all the while demonstrating sound-insulating and heat resistant properties.
These innovations have the potential to satisfy a desperate need for––even make lucrative––healthy materials in an industry driven by the bottom line. Ruth concludes, "Students are no longer simply creating something novel in their kitchen sink. They are showing projects that not only experiment with a material but also propose provocative applications using it."
Would you like to comment on this article? Send your thoughts to: [email protected]