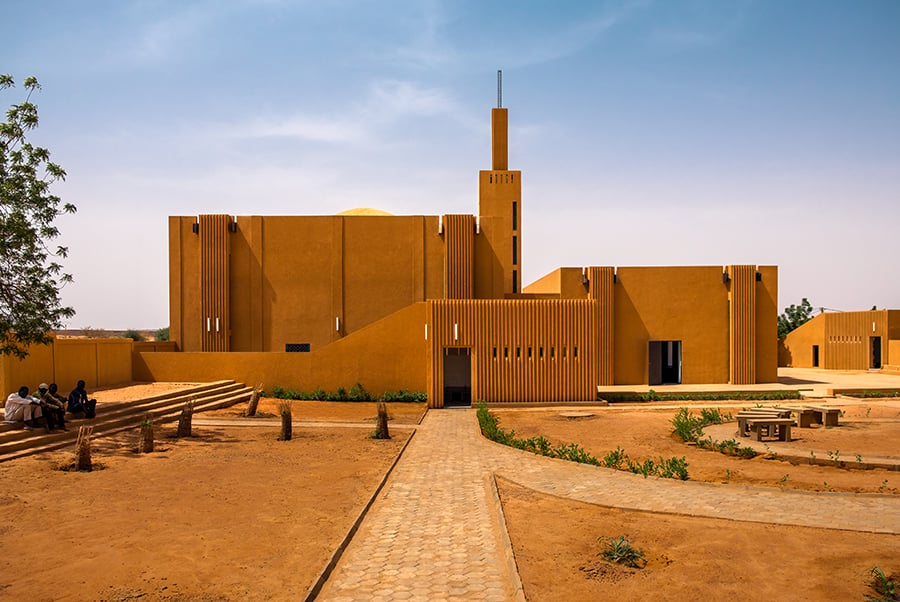 July 11, 2019
Inside the Globe-Spanning Collaborative Practice of Architect Yasaman Esmaili
The Tehran-born, Boston-based designer has participated in multiple community-oriented projects across the world, from Afghanistan to Niger.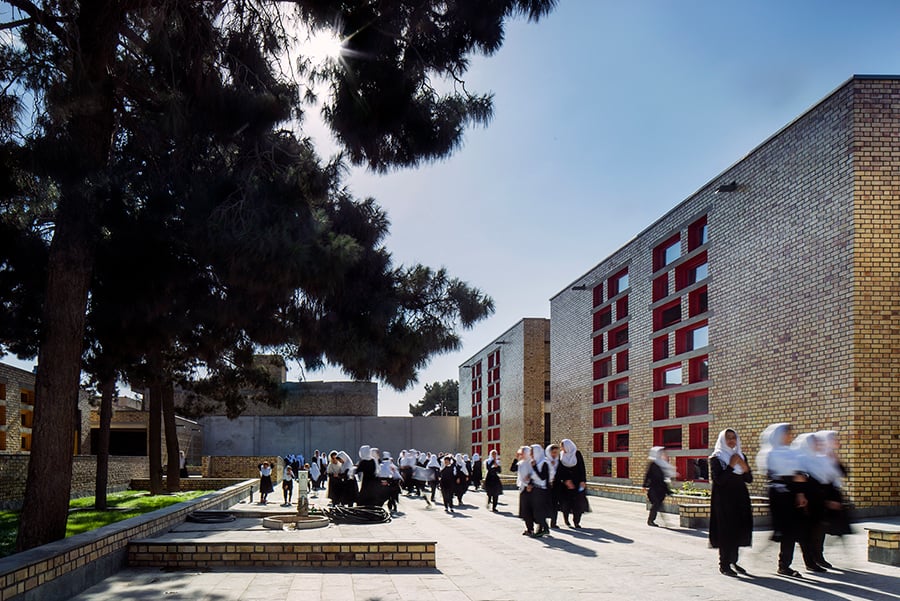 ---
Quickly glancing at the resume of Yasaman Esmaili, one would not necessarily guess she works as an architect. Diplomat or crisis intervention specialist would seem a more realistic bet. Over the past several years, Esmaili took part in three remarkable projects—one in Afghanistan and two in Niger—that saw her and her collaborators deeply engage local communities. She did this while splitting her time between the U.S. and her native Iran. "It was not a deliberate choice," she says. "My work is simply based on the opportunities that I have encountered."
Born in Tehran in 1985, Esmaili received her Bachelor of Architecture from the University of Tehran in 2008. With a full graduate fellowship, she continued her education in the United States at the University of Arizona, earning her Master of Architecture in 2011. Afterward, she went to Arcosanti and worked with the late architect Paolo Soleri, developing digital models of some of the experimental community's buildings. "At that time, the utopia of Arcosanti was already defeated by the capitalistic suburban growth of the Phoenix area," Esmaili recalls. "Yet the presence of such a bold approach in the middle of its opposing energies was very impressive." Esmaili says her first-hand experiences in Arcosanti, with its utopian beliefs and contemporary failure, had a great impact on her. She kept the faith that architecture and community could go hand-in-hand to create a public good.
She got the chance to put that idea into practice when she continued to the University of Washington (UW) in Seattle for a Master of Science in Architecture degree. While studying there, Esmaili was part of a team—led first by Bob Hull and later, after Hull's death, Elizabeth Golden, assistant professor at UW—that was formed to design the Gohar Khatoon Girls' School in Mazar-i-Sharif, Afghanistan. The international, interdisciplinary team worked closely with the local community and authorities in Mazar—albeit largely remotely, via Skype calls and on-the-ground builders—until the project opened in 2015. Even before that, Esmaili was on to her next project: she and three design team members from the Gohar Khatoon Girls' School project—Elizabeth Golden, Mariam Kamara, and Philip Sträter—set up a separate platform called united4design and started working in Niamey, the capital of the African country Niger.
---
That project came about through one of united4design's partners, the Niamey-born Kamara, who offered to facilitate the project. The city faces a housing shortage, one due partially to the preponderance of traditional low-rise adobe buildings. In response, united4design devised a multifamily prototype which offers greater density while still referencing pre-colonial regional typologies. They achieved that balance with modern compressed earth blocks (CEBs), concrete, and adobe construction techniques, along with only slight tweaks to the traditional layout of Niger residences. Kamara made several initial site visits and assembled a construction team, then advanced the project via video calls and other project management software. The project, dubbed Niamey 2000, was finished in 2015, at almost the same time as the Girls' School in Mazar-i-Sharif.
A second project in Niger followed, also using remote communications and the same construction team, with Kamara and Esmaili leading the design. The western village of Dandaji was planning to tear down its old mosque and replace it with a new one. Working closely with local representatives, Kamara and Esmaili developed a proposal to build a new mosque but keep the old building and transform it into a library and gathering space. By combining secular and religious features, the project created a lively center for the entire village: men, women, children, and believers and non-believers alike. Baghdad's "Bayt al-Hikma," the "House of Wisdom" built by Islamic scholars in the ninth century, served as an historic reference. As with the two projects before, the "Hikma" in Dandaji was the result of intense negotiations with the community, a process that included training local masons in adobe-enhancing additives and erosion-protection techniques. In 2018, the Hikma project won the silver medal at the Global Holcim Award for Sustainable Construction.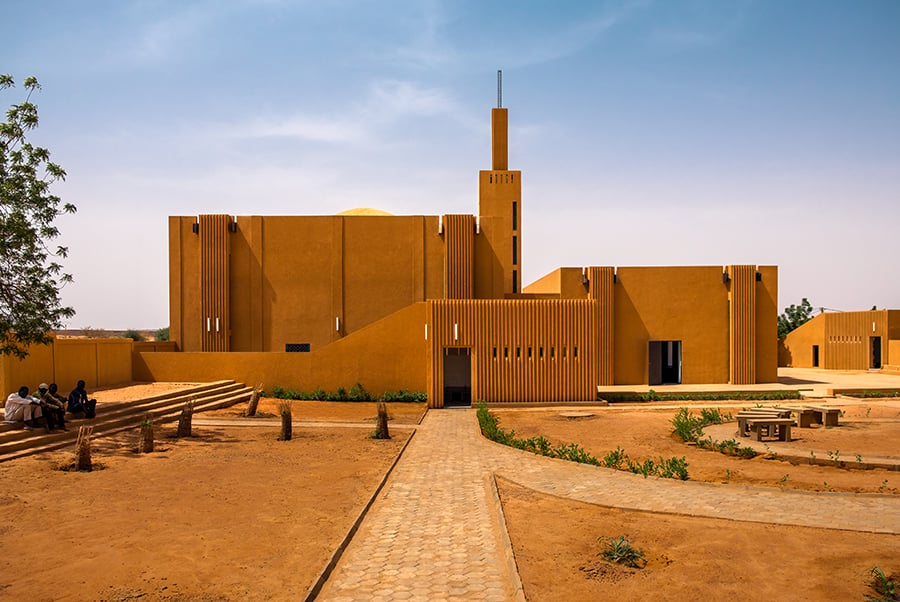 ---
These three projects and her experiences at Arcosanti have come to define Esmaili's approach to architecture. Meanwhile, she has started her own office, called Studio Chahar—a Farsi expression meaning "four" that appears in many Persian architectural terms: in "chaharrah" (the intersection of two streets), "chaharsoo" (the center of the bazar), and "chaharbagh" (a Persian garden). For such a globally-oriented practitioner, it seems interesting that Esmaili chose an Iranian term; does she consider herself an Iranian architect? "Yes I do," she tells Metropolis. "I believe my design process is deeply influenced by the main principals of Iranian architecture as defined by architectural historian Karim Pirnia: to do more with less, to design for the people, to be inward-focused, to look for innovative building solutions, and to focus on localities in the design and building process." To Esmaili, these principles are not just historic references, but an important basis for her contemporary global practice. "They help me [create] resourceful, responsible interventions and interactive spaces that grow with the culture and adapt, instead of imposing my personal vision on the world."
So far, Studio Chahar isn't a physical office. It travels with Esmaili as she splits her time between Tehran and her new U.S. address in Boston. Her current projects include developing earthquake-resistant designs for an Iranian architecture competition and setting up Color My Home, a program for refugee children in the United States. The latter is a collaboration with the open-source online platform Architecture for Refugees. Through architecture and poetry workshops, the program helps children trace their migration routes, helping them reimagine both the homes they've left behind and how they'd like to live in the future. Though Color My Home will not lead to any physical structures, Esmaili says she's still following her chosen path: to foster intense communication between professionals and amateurs around questions of need, design, and intercultural exchange. "Maybe with the experiences from my projects, I could act as a linkage between places that don't communicate often and enough. I am sure that design and art can shift misunderstandings between countries and cultures."
You may also enjoy "DS+R Designs Elevated Walkway for London's Greenwich Peninsula."
Would you like to comment on this article? Send your thoughts to: [email protected]