February 7, 2012
Celebrating The Class of 2012 Game Changers
Photo: Mathias Archambault —Replik In February Metropolis brought together a diverse and lively crowd at Design Within Reach SoHo to celebrate the magazine's 2nd annual Game Changers' issue and the impressive game changing class of 2012. Congratulations to Peter Bilak, Mia Birk,Vishaan Chakrabarti, Tim Duggan, John Edelman, Ruth Finkelstein, Rob Kalin, Laura Kurgan and Sarah […]
Photo: Mathias Archambault —Replik
In February Metropolis brought together a diverse and lively crowd at Design Within Reach SoHo to celebrate the magazine's 2nd annual Game Changers' issue and the impressive game changing class of 2012. Congratulations to Peter Bilak, Mia Birk,Vishaan Chakrabarti, Tim Duggan, John Edelman, Ruth Finkelstein, Rob Kalin, Laura Kurgan and Sarah Williams, Michael Maltzan,  Katie Salen and Mirko Zardini!
Metropolis Game Changers award, designed by Christopher H. Lee and produced by Replik
Photo: Kevin Shea Adams
The object, used to commemorate these stellar individuals and teams was designed by Christpher H. Lee, senior associate at SHoP architects, and produced by Replik, is a game-changing piece of design itself.
As the name Game Changer implies, each award recipient is making waves in his or her area of expertise by intimately engaging with their work and creating an ongoing dialogue around the important issues of our time. The award's design strives to capture this process of physical interaction to establish a specific point of view. Inspired by repeating patterns found in game boards like chess, go, or Chinese checkers, the award uses a repeating triangle background as a basis for creating a geometric canvas. This grid acts like pixels in a 16-bit video game. Capitalizing on the effects afforded by the selected material, a one-inch thick clear acrylic block, a typographic composition is spilt between a back half and a front half, dividing the composition onto two separate planes.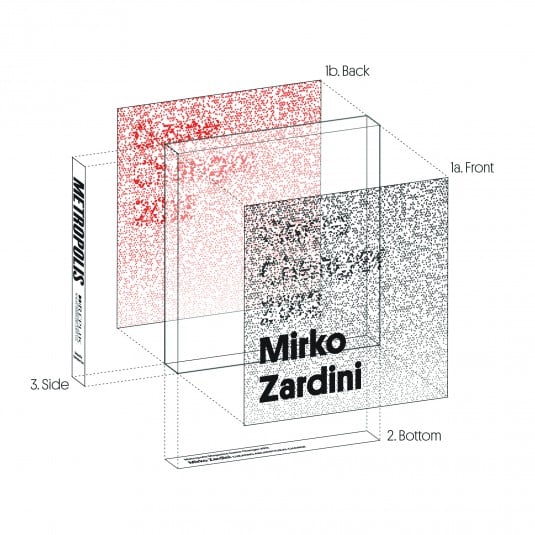 Illustration: Christopher H. Lee
Like an old school Nintendo video game, the award operates on a parallax phenomenon, where an illusion of depth is produced as the layers of a scene slide past at different rates. Unlike in a video game, however, parallax is used here to obscure the original typographic composition until specific points of view reveal the words and numbers, Game Changer 2012. When you view the award at eye level from just the right distance you'll experience the magic of its form and watch as the typographic composition appears. It's worth noting that this solid object with no wires, screens or sensors is also interactive and dynamic. Another aspect of the award that makes it so intriguing is that the viewing distance is so much grander in proportion to its physical size.
Photo: Mathias Archambault —Replik
Montreal-based Replik specializes in architectural solutions ranging from large format laser engraving, to cutting and printing on a vast array of materials including ceramic, glass, marble, mirror, wood, metal—at small to extremely large scales. The techniques used in producing the Game Changers awards are just the tip of the iceberg at Replik, known by architects as true collaborators. During the design and fabricating process, the firm became integral to creating the mysterious effect of the Game Changer awards, experimenting and taking risks along with the designer Lee, and the Metropolis team. The collaboration was solid because everyone involved shared the common goal of creating something truly "game changing".
Metropolis Game Changers awards with their custom wood carved boxes at DWR SoHo
Photo: Kevin Shea Adams
The awards were right at home in Design Within Reach—surrounded by the work of American design icons. While mingling with Game Changers, guests enjoyed Karlsson's Gold vodka, which is breaking into the design scene with UNFILTERED—a new series of initiatives celebrating craft, heritage and creative vision. In addition to curated collaborations, Karlsson's Gold vodka announced an open call for submissions for Unfiltered projects (beautiful, raw, unvarnished projects) giving the public at large the opportunity to see their ideas realized as a part of the creative series. The best ideas will be presented on Karlsson's website at www.unfilteredideas.com where the voting public will decide on which ideas they want to see realized. UNFILTERED 2012 will feature curated collaborations with Rich Brilliant Willing, Sight Unseen and the American Design Club, for starters.
DWR Soho Studio
Photo: Kevin Shea Adams
Rich Brilliant Willing will produce a family of objects that pertain to the ritual of drink making, including a series of vessels such as pitchers, ice buckets and glasses, as well as a serving tray. In addition, RBW will create a mortar & pestle, used for grinding pepper to bring out the flavor of Swedish virgin potatoes as used in Karlsson's Gold's signature drink— Black Gold which was served at the Game Changers event. In addition to Black Gold, guests sipped on Swedish Mule cocktails, which is a play on the Moscow Mule, mixed with Karlsson's Gold vodka giving it a Swedish twist.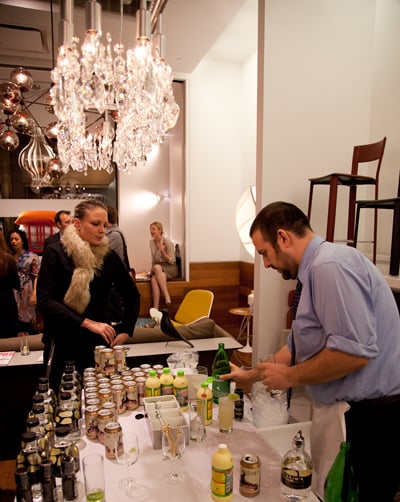 A guest watches as her Swedish Mule cocktail is crafted with Karlsson's Gold vodka.
Photo: Kevin Shea Adams
Guests also enjoyed Defesa wines, Brooklyn Brewery beers, and Murray's cheeses and charcuterie, all generously provided by their respective brands. The event was made possible thanks to support from TUUCI, Axor Hansgrohe, and Affordable Art Fair.
Game Changers John Edelman, DWR president and CEO and Vishaan Chakrabarti, real estate developer, architect, city planner, and educator with their awards
Photo: Kevin Shea Adams
Game Changer Tim Duggan, landscape architect of Brad Pitt's Make It Right Foundation with his award
Photo: Kevin Shea Adams
Game Changer Sarah Williams co-director of Columbia's Spatial Information Design Lab accepting her award
Photo: Kevin Shea Adams