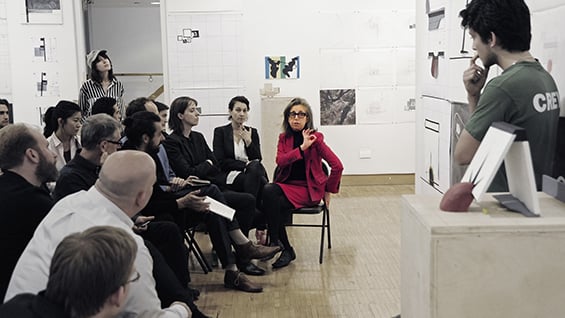 May 3, 2017
Diane Lewis, Architect and Cooper Union Professor, Dies
Lewis, a design "dynamo" who combined practice and teaching, was a central fixture in the New York architecture community.
Yesterday, Cooper Union in New York announced the passing of beloved educator and architect Diane Lewis. A theorist and historian of architecture as well as a decorated practitioner, Lewis will be remembered for her wit, intellect, and efforts to advance the field of urban-centered architecture through critical and inspiring education.
"She was a dynamo, an irrepressible advocate of smart architecture," remembers Susan S. Szenasy, publisher/editor in chief of Metropolis. Lewis was one of the youngest recipients of the prestigious Rome Architecture Prize, earning the award directly following her graduation from  Cooper Union in 1976. Her impressive professional achievements included working for architects such as Richard Meier and I.M. Pei and Partners—for the latter, she led the development of projects like the Jacob Javits Center and the MIT Media Lab. She went on to establish her own firm, Diane Lewis Architects PC, which was notable for works such as the Gauchos Basketball Foundation in Harlem and the residence of the dean of the Columbia University Graduate School of Architecture, Planning and Preservation. In 2008 she was awarded the Smithsonian Cooper Hewitt National Design Award for 25 years of practice.
Lewis had a deep understanding of site, adds Szenasy: "When, in our film Site Specific: The Legacy of Regional Modernism, we revealed the threat of destruction to Paul Rudolph's iconic Riverview High in Sarasota, [Florida,] Diane proposed an ingenious way to reuse the site and the much-neglected building. But even she could not stop the wrecking ball from swinging." But it is her dedication to architectural education that she will be most remembered for. "She had enormous contributions to the pedagogy of the discipline of architecture and to the world of architecture at large," wrote Toshiko Mori—a fellow architect and educator and a longtime friend—in a Facebook tribute. "She was a fighter, courageous, valiant and brave until her last breath. I have so many memories of her, often funny and always intense."
In addition to Cooper Union, she taught at the University of Virginia, Yale University, the Technical University of Berlin, the Harvard Graduate School of Design, the University of Toronto, and many others. Her approach, which encouraged an engagement with concepts of "the architecture of the city," inspired many students through critical studios, lectures, and her many writings. In his statement on Lewis's passing, Nader Tehrani, dean of Cooper Union's Irwin S. Chanin School of Architecture, emphasized her contributions as a committed educator and visionary:

"In an age when few dedicate themselves to teaching as a craft, her focus on creating a transformative space of learning will be a central part of her lasting legacy. Indeed, as much as Lewis was a product of Cooper Union, today we can look back at more than thirty years of her contributions and come to realize that we are, in fact, defined by the culture of her teaching."