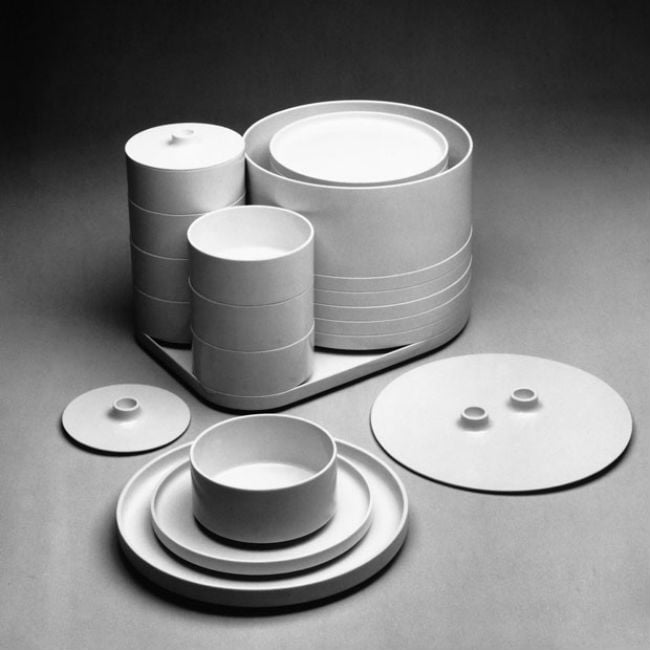 June 6, 2014
Friends, Designers, and Historians Remember Vignelli
Friends, designers, and historians share their memories of the late designer.
Upon hearing the tragic news of Massimo Vignelli's passing, Metropolis reached out to friends, designers, and historians who had known or were acquainted with him. We asked each to share a memory or anecdote that they may have had of the great designer. Here is what they had to say.
---
Alan Heller
Owner and manufacturer of Heller, inc. and frequent Vignelli collaborator
The famous plastic dinnerware Vignelli designer for Heller
Courtesy Vignelli Associates
Barbara [Heller's wife] and I spent about an hour on Thursday [May 22] visiting Massimo in the hospital. He was very frail.
Our relationship started in the late '60's when Massimo, Lella, and I all fell in love. It started with Massimo doing our logo [for Heller, Inc.], in Helvetica of course. Over the last forty-plus years that we worked together, every one of our meetings would start with Massimo drawing my name. Fortunately, my name perfectly fit into the typeface.
We started with the (then) still-in-production dinnerware, and the rest is history. Massimo and Lella have been involved in so much of my development. We talked about everything—art, design, food, Italy, political discussions, sometimes gossip, and the state of design around the world. We shared many intimate dinners at our home, and at a few restaurants. We had a delightful few days at their summer home in Sorrento.
The last few months I would speak to Massimo at least once a week, and we exchanged emails a few times a week. Several times I told him that Barbara and I would bring sushi over for dinner. He said he didn't have the strength to pick up the sushi, which also meant he couldn't pick up his drawing pen.
Massimo was always Massimo. His frail body lying on the hospital bed could not contain him. He would say that the walls were the wrong color—that there was too much clutter! We kissed him goodbye. It was such a bitter, bittersweet goodbye.
---
Graphic designer, design critic, educator, and partner of Pentagam's New York office
The program Bierut designed for the "Vignelli gala" at the Architectural League in 2011. Vignelli had been awarded the League's President's Medal.
Courtesy Pentagram
At Vignelli Associates, at 23 years old, I felt I was at the center of the universe. I was already at my desk on my first day of work when Massimo arrived. As always, he filled the room with his oversized personality. Elegant, loquacious, gesticulating, brimming with enthusiasm. Massimo was like Zeus, impossibly wise, impossibly old. (He was, in fact, 49.) My education was about to begin.
At Vignelli Associates, I was immersed in a world of unbelievable glamour. If you were a designer—even the lowest of the low, like me—Massimo treated you with a huge amount of respect. […] He taught me about typography, about scale, about pacing, about refinement. I learned to think of graphic design as a way to create an experience, an experience that was not limited to two dimensions or to a momentary impression. It was about creating something lasting, even timeless.
It was Massimo who taught me one of the simplest things in the world: that if you do good work, you get more good work to do, and conversely bad work brings more bad work. It sounds simple, but it's remarkable, over the course of a lifetime of pragmatism and compromise, how easy it is to forget: the only way to do good work is simply to do good work. Massimo did good work.*
*Excerpts from Beirut's tribute to Vignelli, which appeared on Design Observer, are republished here with the author's permission.
---
Vignelli Distinguished Professor of Design at the Rochester Institute of Technology (RIT) and head of the Vignelli Center for Design Studies
Remington with Vignelli
Courtesy R. Roger Remington
The Vignelli Center for Design Studies at RIT serves to extend Massimo's contributions to design. Everything we do here in our educational programming is intended to keep his name and work alive. Whether through courses, workshops, exhibits or other programming, that's what is important. Now, in relation to his passing, it is important that we talk about the Vignelli Center in relation to his legacy. It's fortunate that the Center was built while he and Lella could experience it.
There are so many memories I have of him. Fortunately, I had a many opportunities to be with him. I was with Massimo in New York, I was with him in Rochester, I was with him in Italy, I was with him in France. He was always thinking about design and thinking of it in one critical way or another. In fact, last summer at the Master Designer Workshop that we hold annually, I picked him up at the airport. We talked in the car, and he was very much concerned about the difference between design and style. He had been stewing on it during his flight. We discussed that idea all week. He felt that "Design is formally structured and will last forever; style is something that changes. It comes and goes in different periods."
Knowing him required having that kind of dialogue. Conversations were always stimulating because his mind was always working on new ideas. Ever widening topics intrigued him from motorcycles to opera. At the Center we remember him fondly as we often joke that he would look at a new piece of design and always remark, "Yes, it's very good, but it's not the way I would do it."
To his students and colleagues he would also say, "If you're working on a project and if you do it right, it will last forever."
---
Graphic designer, typographer, and co-founder of Sagmeister & Walsh Inc.
Massimo was a true modernist giant in the very best sense. His work actually worked. But, just as important, it was delightful to a viewer and to an audience. He created wonderful projects in branding, in fashion, in product design, in wayfinding and in architecture. Upon our first meeting 15 years ago, he told me how he had just passed one of the then new mid-century furniture stores on Lafayette Street and—seeing his own lamp in the window—entered to inquire. The sales person told him: "Thats a Vignelli. He just died." Now that he actually did pass away, he truly came alive.
---
A graphic designer and former design director at The New York Times, Vinh is currently Vice President of User Experience at Wildcard and co-founder of Kidpost.
Massimo's views on design were so strongly held and stated so definitively that you'd think he was a very grim, self-serious character. But every time I saw him speak, and the few times that I met him, he was always smiling, genuinely, unfailingly—and usually he was laughing, even. I learned a lot (so much!) from his work and his career, but I think I learned the most from seeing that even this paragon of rigorous design theory and practice didn't take himself so seriously that he couldn't just enjoy himself. Thank you, Massimo.
---
Graphic designer, design historian, and director of Paul Shaw/Letter Design
Shaw's book on Vignelli's Helvetica subway signage.
I did not know Massimo very well until the last five years of his life. My favorite memory is of a short conversation we had that initiated the research for my book Helvetica and the New York City Subway System (MIT Press, 2011). During an excellent AIGA NY event involving a double interview of Massimo and Wim Crouwel, Massimo said that he didn't choose Helvetica for the system's signage—a statement that contradicted the impression left by Gary Hustwit's movie Helvetica. Curious as to the real story, I called Massimo up to ask him why he didn't choose Helvetica, and to know what he actually chose instead. To my disappointment, he said he didn't remember. And then, to my surprise, he asked me to find out what happened—and to let him know! I was disarmed by his honesty and honored by the trust he put in me to find out the truth of what happened in his life. That was the beginning of our professional friendship.
---
Jan Conradi
Professor of Graphic, Design Department of Art at Rowan University, and author of Lella and Massimo Vignelli: Two Lives, One Vision (RIT Press, 2014)
I interviewed Massimo Vignelli dozens of times over a 25-year span and each conversation illuminated something new. His ability to observe, appreciate (and critique) the world was well-honed, as were quips and questions that made his thinking clear. Once we talked about the fact that many of his favorite people came from the American heartland. That realization launched him into a poetic ode to the midwest, evoking Carl Sandburg and the broad shoulders of the industrious midwesterners—the "real Americans," as he called them. When our session ended, we sat for a minute, pondering until he grinned. "That was a great conversation, wasn't it?" Yes, Massimo, it was. I will miss our wide-ranging conversations, He was a great designer in part because he connected design and life with infinite optimism.