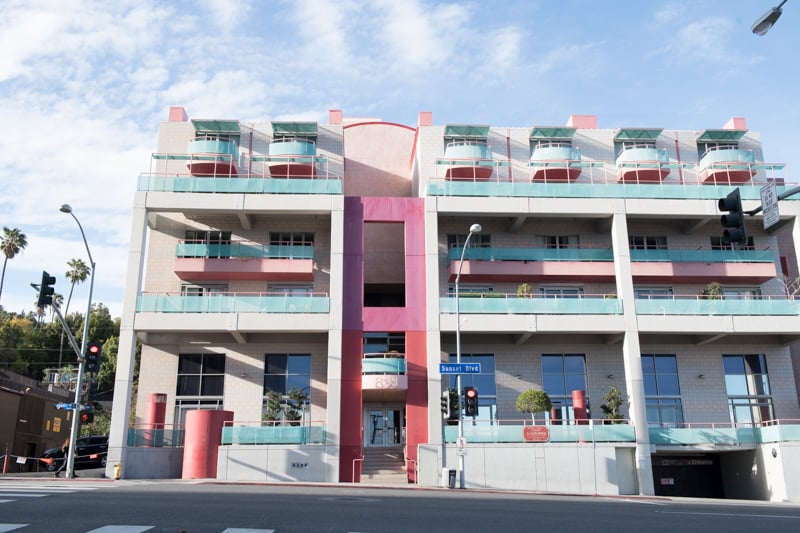 May 23, 2018
Surveying L.A. Pomo: The Architectural Collective
In this series of articles, Metropolis celebrates the diverse, innovative Postmodern architecture coming out of La La Land between 1975 and the early 1990s.
In this series from our May issue, we revisit the underappreciated architectural experimentation that characterized urban development in Los Angeles from the 1970s to the early 1990s, and discover a variety of individualistic, unconventional, and radical styles—some of which occasionally even approached "fun." Stay tuned to our homepage as we add more entries!
---
This Architectural Collective design is innovative in its aim to provide a more intensive use and aesthetic edge to the famous Sunset Strip. It has a unified, terraced configuration that moves in steps up the hill and is actually composed of two separate projects. The first is a six-story mixed-use residential and office block whose front faces Sunset (small live-work units populate the first four floors, and a zone of maisonettes the top two). On the upper terrace, a pair of two-story houses shares a pool and garden, as well as access from a side street. The architects cleverly united the two components of the site by implementing a landscaped retaining wall that uses open stairs, water, and extensive metal trelliswork to mediate the separate projects.
In developing their office/residence, the architects were influenced by two 1920s Los Angeles buildings: the 1925 mixed-use Granada by Franklin Harper and the 1928 Chapman Park Studios, which were originally designed as live-work artist studios. In fact, reinforcing these similarities, the Architectural Collective worked out of a studio in the Granada building for part of the Sunset Multi-use design phase.
Yet even before the project's completion, it was controversial. It was awarded a Progressive Architecture citation in 1986 by a jury that included Susana Torre, Thom Mayne, and Richard Rogers. Torre appreciated the project's advancement of a prototype for developing that section of the Sunset Strip. Mayne questioned whether its intentions were prototypical and whether that was valid, while Rogers, for his part, liked the two-scale scheme, but felt the union of the two volumes was not very compelling.
You may also enjoy "Surveying L.A. Pomo: Koning Eizenberg."