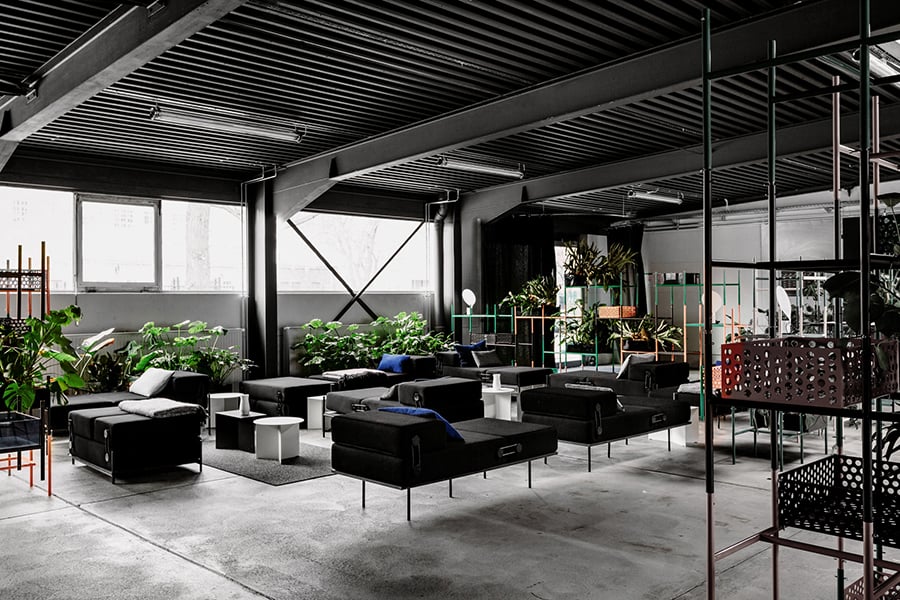 July 25, 2018
New Talent 2018: Nadine Goepfert's Diverse Practice Encompasses Fashion, Textiles, and Interiors
The Berlin-based designer is propelled by an intense interrogation of materials; her work ranges from table cloths to office interiors.
---
Nadine Goepfert's 2013 fashion collection The Garments May Vary, completed upon her graduation from Berlin's Weißensee Academy of Art, is an exploration of materiality and wearability that defies categorization. One of the pieces, nominally a pullover sweater, makes use of memory foam, its sinuous yet rigid folds almost comically engulfing the wearer. Garments is a seminal work in the designer's career: It attracted early attention from international designers and agencies, and reflects Goepfert's long-standing interest in recontextualizing familiar materials and experimenting with the aesthetic extremes of functionality—an opportunity she believes is afforded only in the world of textiles.
The Berlin-based designer has accumulated an impressively wide-ranging and unconventional portfolio, encompassing pure fashion, table linens—what Goepfert calls "everyday textiles"—and more recent forays into interiors. Her design for the Adidas Runbase in Berlin, for example, offered some unorthodox prescriptions: rubber carpets, mesh-upholstered sofas, industrial grays and matte blacks, and muted pops of teal and millennial pink. "The idea was to transfer the sporty material that Adidas usually would use for clothing to an interior design concept," she says.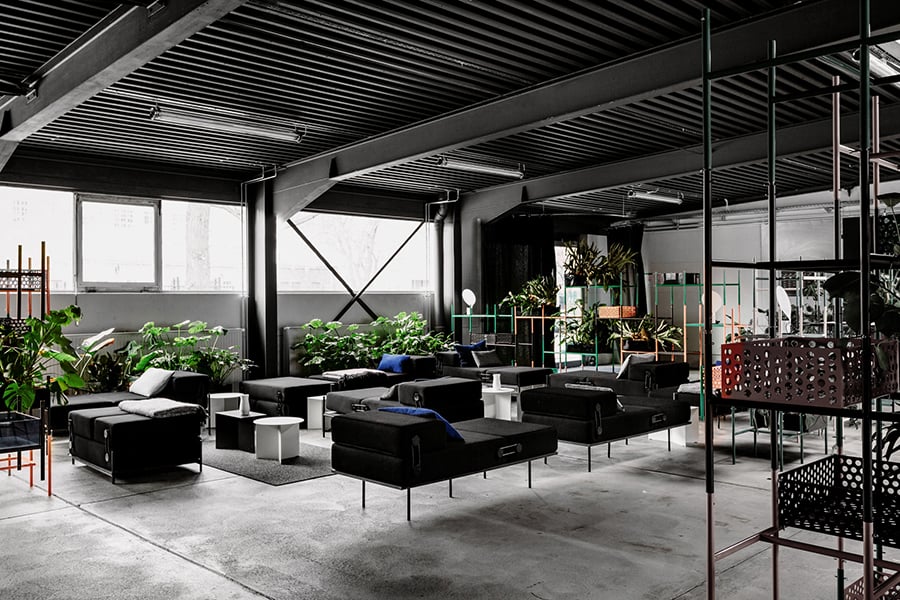 In this and other projects, Goepfert is propelled by an intense interrogation of materiality. Still, the young designer eschews a purely theoretical approach. Her pragmatism is mirrored in her readiness to occasionally take on some of the more quotidian textile formats, like bedding or table accessories. Goepfert—who cites '80s and '90s Comme des Garçons and the elegant cerebralism of Lemaire as influences—seems set on bridging the gaps between fashion and fibers, the sculptural and the usable. Predictably, she is working on several different projects. "I'll work on a few more tablecloth things and I'm also thinking about blankets," she casually explains. If her past work is any indication, they will be anything but expected.
You may also enjoy "A New Rug Collection Harnesses Unorthodox Dyeing Techniques."