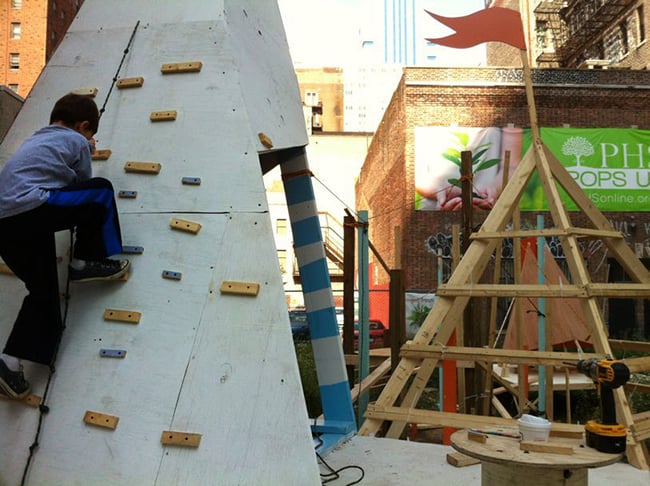 October 2, 2014
Public Workshop's Alex Gilliam Is a "Cheerleader of Possibility"
In advance of his DesignPhiladelphia talk, we chat with the social entrepreneur about his continued commitment to community design.
All hands on deck: Gilliam (left) and community youth at work
All images courtesy Public Workshop
Designer Alex Gilliam is uncannily perceptive about kids, and he works hard to cultivate their potential and innate creativity. Gilliam is director of Public Workshop, which he describes as a "cheerleader of possibility" and whose aim is to grow talented community-design leaders.
Gilliam's philosophy is all inclusive. Just bring your "inner child" to play at one of his project sites and you'll be warmly welcomed. But don't just stand there. Grab a tool and pitch in to build new outdoor sidewalk seating, an adventure course, or pop-up play area in the middle of your city.
I recently caught up with Gilliam before his upcoming talk at this year's DesignPhiladelphia event. 
---
Joseph G. Brin: What importance do you attach to your time at the Rural Studio?
Alex Gilliam: When I left the Rural Studio, I wanted to start a national design-build model for public school reform, putting youth at the center of making their schools better. The challenge is that working in a rural situation is entirely different from an urban one. There is often greater flexibility in what students are allowed to do during the school day in rural settings, including very different attitudes towards risk. It quickly became clear to me that I would have to take a different approach in cities if I wanted to eventually put youth at the forefront of making their learning better through design.
JGB: Tiny WPA is a clever name and concept. What do you hope to achieve with it?
AG: Tiny WPA projects outside of schools help demonstrate how teachers, administrators, policy makers, etc. should start to reconsider what their students are capable of doing, how learning can/should occur, etc.. We can do these projects without the burdens of working inside the system, simultaneously supercharging young adults who are then better prepared to head back into their schools as leaders.
A pop-up playground built in Philadelphia's Rittenhouse Square
Our project at the SLABeeber school is an interesting amalgam of these two approaches. While SLABeeber is a great cheerleader of our work, initially working predominantly outside of the school allowed the ladies to make something that simply wasn't possible at school. The pods are a small 'change', moveable and non-threatening, that has created the trust and 'space' to do much more. We just won a $93K grant from State Farm to work with SLA Beeber to build on the success of the pods.
JGB: You wear more hats than a circus juggler. Social entrepreneur, social designer, educator, cheerleader of possibility, designer and maker. How can we pin you down?
AG: I'm an interaction designer, merging art + cultural activities + action + engagement to make a place stronger, more vibrant.
JGB: Creativity can spring from the simplest acts of engagement. As a teacher and designer, is that your most significant contribution?
AG: We [Public Workshop] are better than anyone at engaging people and communities. I say that with heartfelt confidence.
A pop-up skate and bike park
JGB: In collaborative work you carefully gauge when to provide concrete guidance and when to step back, when to spur students to work hard, and when to have them pause for reflection. In the end, is your hand in the design distinct from what the students themselves accomplish?
AG: Attribution is tough. What is clear is that together we have created something that we would not have done alone. In some cases, especially with new clients and in situations where a lot of things are up in the air, we will take a different approach, playing a much heavier role in the initial design phase of a project. This unique "tactic" can help create the context, trust, sense of possibility, community and momentum that allows for a much more grassroots second phase of a project. Ultimately, the way we work is incredibly organic and flexible.
JGB: What do you think design—good design—means for cities?
AG: We need to leverage young adults to model the behaviors that adults have forgotten. In Philadelphia, with 40,000 vacant lots and crumbling schools, we need their help!
A "pop-up family"
JGB: What about tools, the use of technology to achieve your goals and provide training to youths?
AG: A hammer is more powerful than a laser. Digital fabrication and 3-D printing is cool—we really like it. But people find more meaning in physically swinging a hammer.
JGB: Public Workshop projects have been realized in places all over the country, from Philadelphia to Flint to Austin and points in between. Cities slated for next year include Cincinnati, Phoenix and Charlottesville. Overall, what is this campaign leading to?
AG: I want Philadelphia to be the national model for youth engagement.​
---
Joseph G. Brin is an architect, fine artist and writer/graphic novelist based in Philadelphia, PA. He recently launched a pilot program in graphic medicine with Dr. Peter Lloyd Jones at The Sidney Kimmel Medical College at Thomas Jefferson University.
On Friday, October 17th 4-6PM, Brin will join Susan S. Szenasy, Metropolis Magazine Publisher and Editor in Chief  (Author, "Szenasy, Design Advocate") and Hilary Jay, Director of Design Philadelphia, in a "roundrobin" on contemporary design at the Center for Architecture, 1218 Arch St., Philadelphia, PA