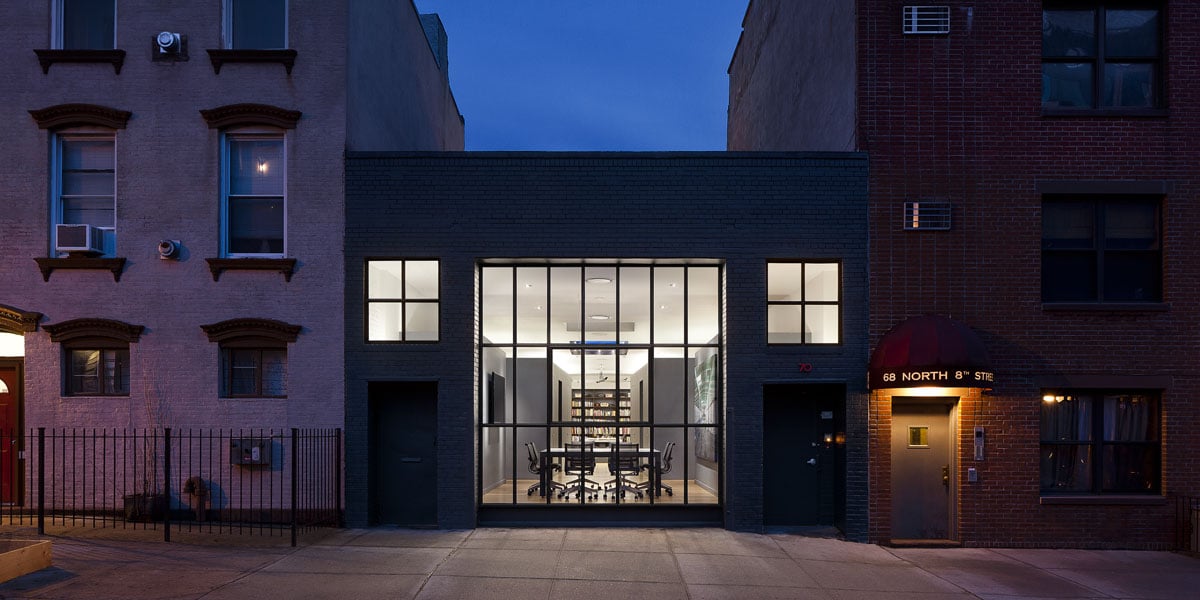 November 11, 2014
Red Hook Renaissance: The Italian Architects Redesigning Red Hook
The designer Aldo Andreoli partners with his compatriots to remake the South Brooklyn neighborhood.
AA Studio's office itself is one of the firm's adaptive reuse projects in Brooklyn. After four years of working in Manhattan, Aldo Andreoli moved his practice into a former mechanical garage in Williamsburg.
Courtesy Alexander Severin
The affinities between both Red Hook, Brooklyn, and Venice, Italy, aren't immediately apparent—until, that is, Aldo Andreoli draws attention to them. "Both were built on land that is subject to flooding," he says of the up-and-coming neighborhood and the biennale art capital. "I absolutely believe that Red Hook will become the next place for art in New York." The Turin-born, Brooklyn-based principal designer at AA Studio is using the connections of his Italian extraction to design a host of residential and cultural buildings on the South Brooklyn waterfront.
At his North Williamsburg office, Andreoli is designing the adaptive reuse master plan and interiors for a million-square-foot 1889 shipbuilding complex at 202 Coffey Street, which the Milanese development firm Est4te Four transformed into a cultural center, complete with art gallery and celebrity chef eatery. Holding a book about Tadao Ando's renovation of Punta della Dogana, the designer shows how he derived flood protection features for his latest architectural endeavor from those in the Venetian palace. Andreoli acts as both a designer and a cross-cultural interpreter. "Since the 1980s," he says, "I've been trying to translate the experience of Italian design for a city where, when I first arrived, it was very hard to find a good espresso."
AA Studio's plans for 160 Imlay, formerly the New York Dock Building. Pictured, the facade of the property today
Courtesy Marco Ricca
After graduating in 1977 from the Polytechnic University of Turin, Andreoli worked on apartment renovations, a discotheque, and public housing before relocating to New York. There, the disparity between Italian and American design cultures shocked him: "In the Italian school of thought, the architect is more of an artist. America taught me to be practical in order to become a good architect."
He cut his teeth renovating Tribeca and Soho apartments and lofts in the 1990s, often using materials from Italian manufacturers like Bisazza before they became widely known in the States. He worked with Ettore Sottsass on a house on Maui, drafting the renowned designer's whims into standard American construction documents. Upon returning to New York in 2009 after an eight-year sabbatical in Arizona, Andreoli continued to build in Manhattan. With architect Morris Adjmi, he designed the 250 Bowery lofts in 2013, and is completing the fashion complex Spring Studios in Tribeca for Est4te Four. Then, after years of living and working in Manhattan, he decamped across the water.
With 130,000 square feet of studios (below), Spring Studios has become a coveted venue for fashion events, even before its official opening.
Above and below courtesy Alexander Severin
When a friend brought him to Red Hook several years ago, "I recognized the same creative spirit that was in Soho, Tribeca, and the Meatpacking District before they were gentrified," he explains. He, in turn, brought Est4te Four to the neighborhood, and the developers quickly bought both the 202 Coffey site and a former warehouse nearby at 160 Imlay Street. Andreoli was tasked with reviving both. Plans for the former are still under development, but Andreoli intends to evoke the building's industrial past by preserving the 55-foot-high wood rafters.
Meanwhile, at 160 Imlay, a 1912 warehouse structure that was known as the New York Dock Building, Andreoli is designing 70 luxury condos with sweeping views of Lower Manhattan, outfitting the interiors with Molteni & C's Dada furniture and kitchens. As he surveys the vista from the structure's reinforced concrete shell, Andreoli feels that he's struck a balance between the Italian and American varieties of architecture. "See, the architect can still be an artist in New York City," he explains. "Sometimes, you just have to leave Fifth Avenue to do it."