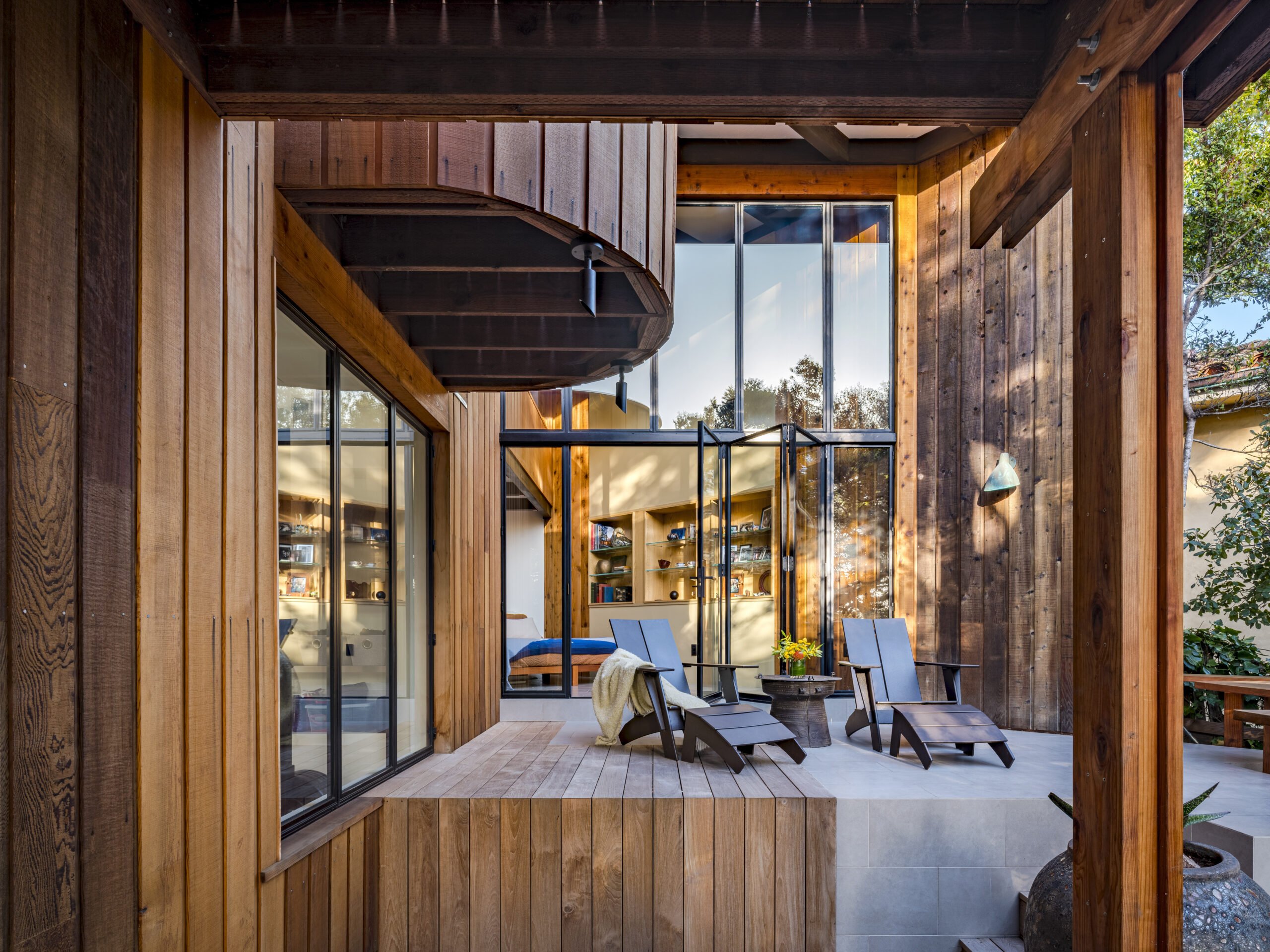 August 18, 2022
Studio Schicketanz Brings Sensitive, Sustainable Design to the Monterey Bay
"We like to have a seamless connection between concepts of sustainability and integrity of design—how it sits on the land if it's new, and how it relates to the past if it's a renovation," says Schicketanz. The firm's latest restoration and re-imagining of a rustic modern home by midcentury starchitect Henry Hill on the Monterey Peninsula is no exception. English born, Hill was an early pioneer of California modernism in the Bay Area.
The 1,957-square-foot house was Hill's private weekend retreat before becoming his primary residence where, over the years, it served as testing ground for both the serious and more whimsical of his architectural imaginings. "It was Hill's personal playground," says Schicketanz. From the outside, the house reads as an assemblage of geometric shapes, with a central soaring rectilinear volume bookended by smaller square and cylindrical spaces. The house began as a 780-square-foot cottage, and over the years Hill made several additions, many incorporating light monitors and fenestration in interesting geometric patterns. "Normally when you work on a historic structure, you might find a date that you restore it back to. That wasn't possible here—it was a living architectural being up until the day he died."
When her clients, a retired couple from Silicon Valley, enlisted the firm to bring the residence into the 21st century, Schicketanz embraced the challenge. The first order of business: what to do with the interior surfaces. Hill was as much an artist as an architect, and the interior reflected his many material experimentations.
"Every surface was covered with something," says Schicketanz. "There were walls with seashells, walls that were wallpapered with book pages, gilded surfaces, walls with a sort of leather tile applied." Rather than blanketly retain and repair every interior surface—and other idiosyncratic aspects of the home, such as a cave-like kitchen and uninsulated building envelope—Schicketanz's solution was to start with the elements that were failing, and update them in the most sensitive way possible.
"Our approach was to do the best we could to preserve the architecture, and if there were things too far gone to save, we tried to bring Hill's spirit to the new interventions," she explains. Besides opening up the cramped interior for better circulation, more light, and a stronger connection to the outdoors, Schicketanz also addressed the out-of-date mechanical systems and uninsulated building envelope by taking many of the walls down to the studs and applying high-performance spray foam insulation wherever possible, and replacing the forced-air heating system with radiant heat. Several of the original windows were replaced with double-glazed casements, but in many instances the original glazing was maintained in order to preserve Hill's original design intent. The team also prioritized keeping the rough-sawn cedar siding and interior woodwork intact when possible and brought Hill's inventive, spirited approach to the design of new rooms. "The powder room downstairs is completely new, so we took some of Hill's spirit in creating a sense of playful glamor with a new custom gold and white wall mosaic with an all-over geometric pattern by artist Erin Adams."
This is part and parcel of Studio Schicketanz's design philosophy, not just for midcentury renovations, but for sustainable design on the whole. "The most sustainable approach is just to keep what you have," says Schicketanz. For the firm's ground-up homes, many of which are situated on awe-inspiring waterfront properties in California and beyond, the high value placed on existing conditions is obvious. "I always want to build in the most sensible way possible, which means efficient footprints and energy systems, and working with the environment to tuck into the landscape so the structure is integrated rather than an eyesore," says Schicketanz.
Having completed the first LEED certified home in Carmel-by-the-Sea, today Studio Schicketanz continues its commitment to green design. "We're trying hard to make all of the homes we build net zero and are also getting our feet wet in being carbon neutral," says the architect, who recently completed Mal Paso, a net zero home in Big Sur that is broken into four interconnected pavilions, each of which tuck into the hillside, allowing the landscape to flow seamlessly onto green roofs. The firm has residential projects on the boards in Monterey Bay and Los Angeles, all of which are targeting net zero. "We're so fortunate to be building in this incredible coastal landscape, so we need to have the biggest respect for the land possible. My hope is that our homes will integrate even better into the hills and meadows as time goes by
Would you like to comment on this article? Send your thoughts to: [email protected]