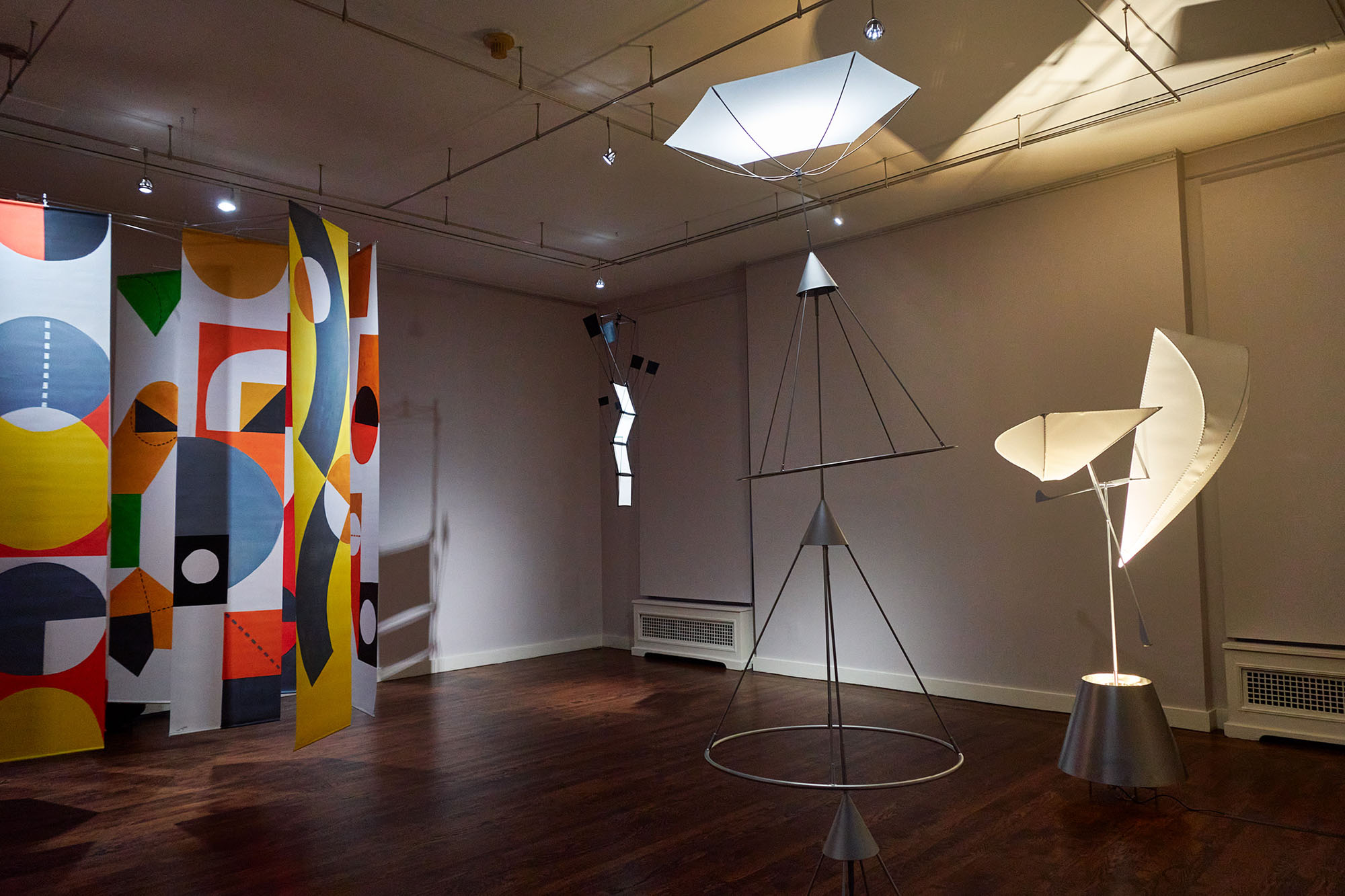 November 9, 2022
Susumu Shingū, Japanese Artist of Wind-Blown Sculptures, Receives His First New York Exhibition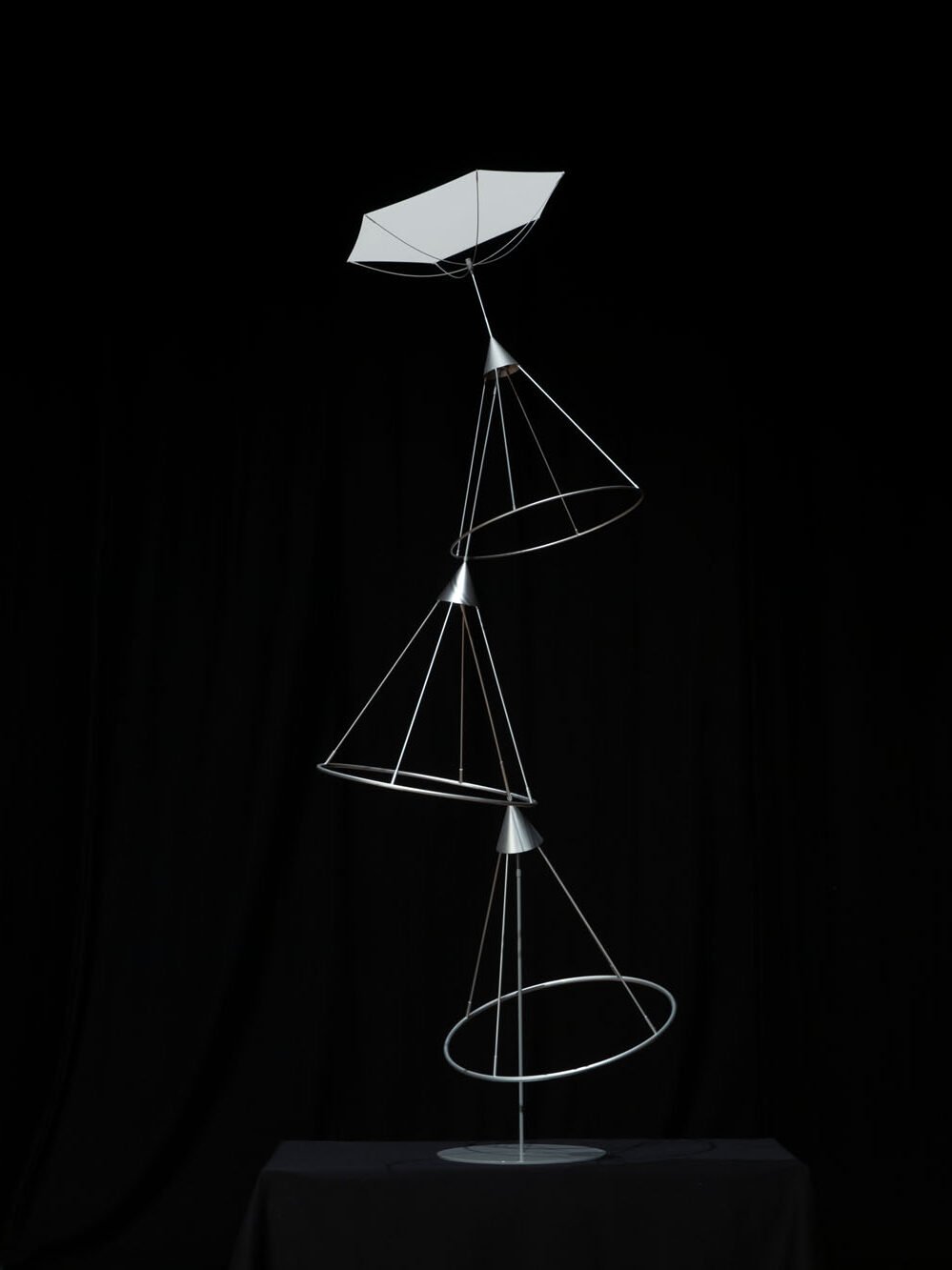 Titled Sculpting with Wind, the show transfers the work of an artist invested in the wind's push into the gallery. Except that rather than a white cube, at Ippodo the energetic sculptures, designed to respond to the ever-changing effects of light and wind, are encapsulated in the architecture of an Upper East Side townhouse. The most ambitious juxtaposition is Petals (2022), a five-piece arrangement, each composed of eight polyester cloth surfaces, suspended down from the building's fourth floor through the stairwell. The dramatic draping invites visitors to circle around the vertical statement that alludes to being airborne and weightless yet monumentally present.
"Air is the only source," gallery director Shoko Aono told Metropolis. She met Shingū after he installed a site-specific, large-scale sculpture at a recent Renzo Piano building in Soho. In fact, the Hyogo-based artist has been a favorite among architects, other notable fans include Tadao Ando and Isamu Noguchi. "He is an artist of over two hundred delicately and elegantly engineered public sculptures across the globe," she added. Aono thinks Shingū's commitment to create site-specific public commissions in relationship with their architectures has been a factor in his delay for a gallery show in the United States.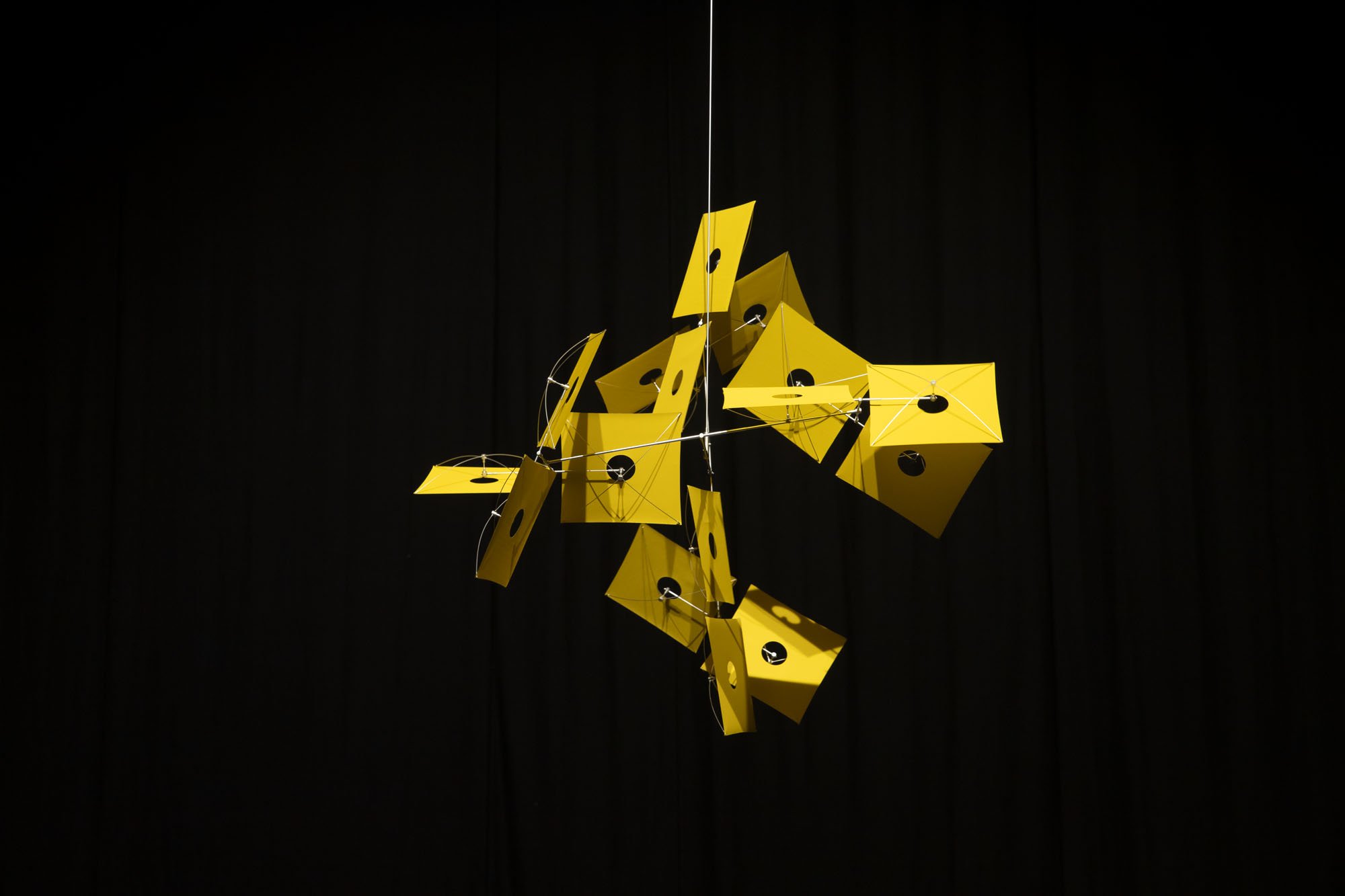 Installed in the Porter Square MBTA Station in Massachusetts, Gift of the Wind, for example, is a bold red structure whose three triangular parts rotate with the push of the wind; similarly, Memory of the Waves at the Suntory Museum in Tempozan in Osaka sits by the water to rely on gusts that also render the Aji River's waves. These and Shingū's numerous other towering sculptures engage with the public collectively through movement and the whims of the weather.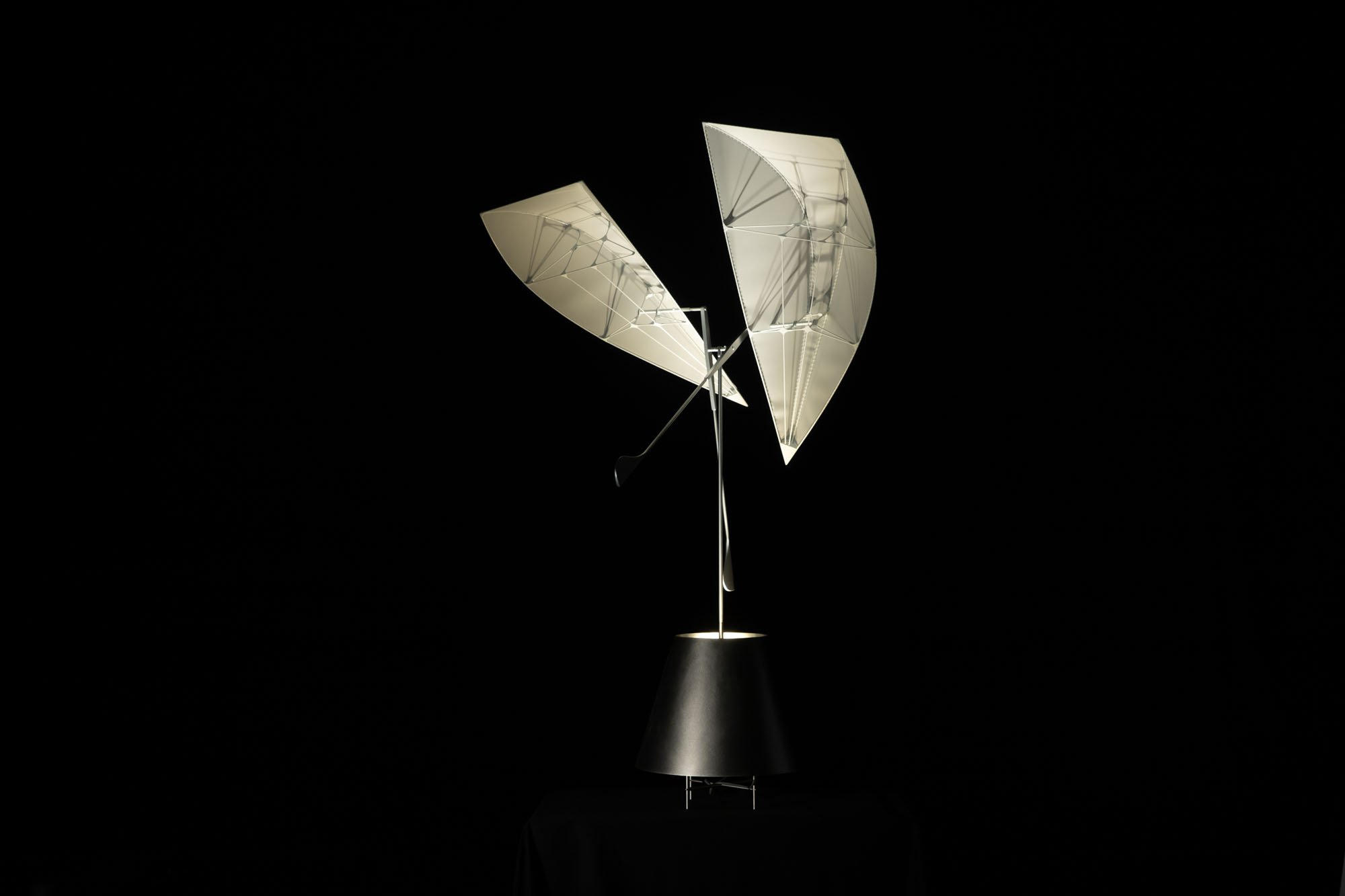 The gallery, however, offers a more intimate exploration of the artist's terribly uncharted work for the New York audience. Wind and light—unlike a monumental engagement in public—speak with immediacy and surprise, filing the gallery rooms with sensory ease. Aurora (2022) features multiple suspended stripes painted in colorful geometries, a nod to the artist's education in painting at the University of Fine Arts in Tokyo; Stream of Time (2013) is a mastery of balance and composition with red and yellow surfaces relying on multiple axis points to dance in air. Painted in dense yellow, Moonlight (2022) is an amalgamation of square surfaces conjoined through their hollow bellies with a stainless-steel frame that lets its parts sway in harmony. "We put together this exhibition in response to the world's quite heavy landscape," Aono said. "The work reactivates our space and reminds the circulating air as a sign of positive energy."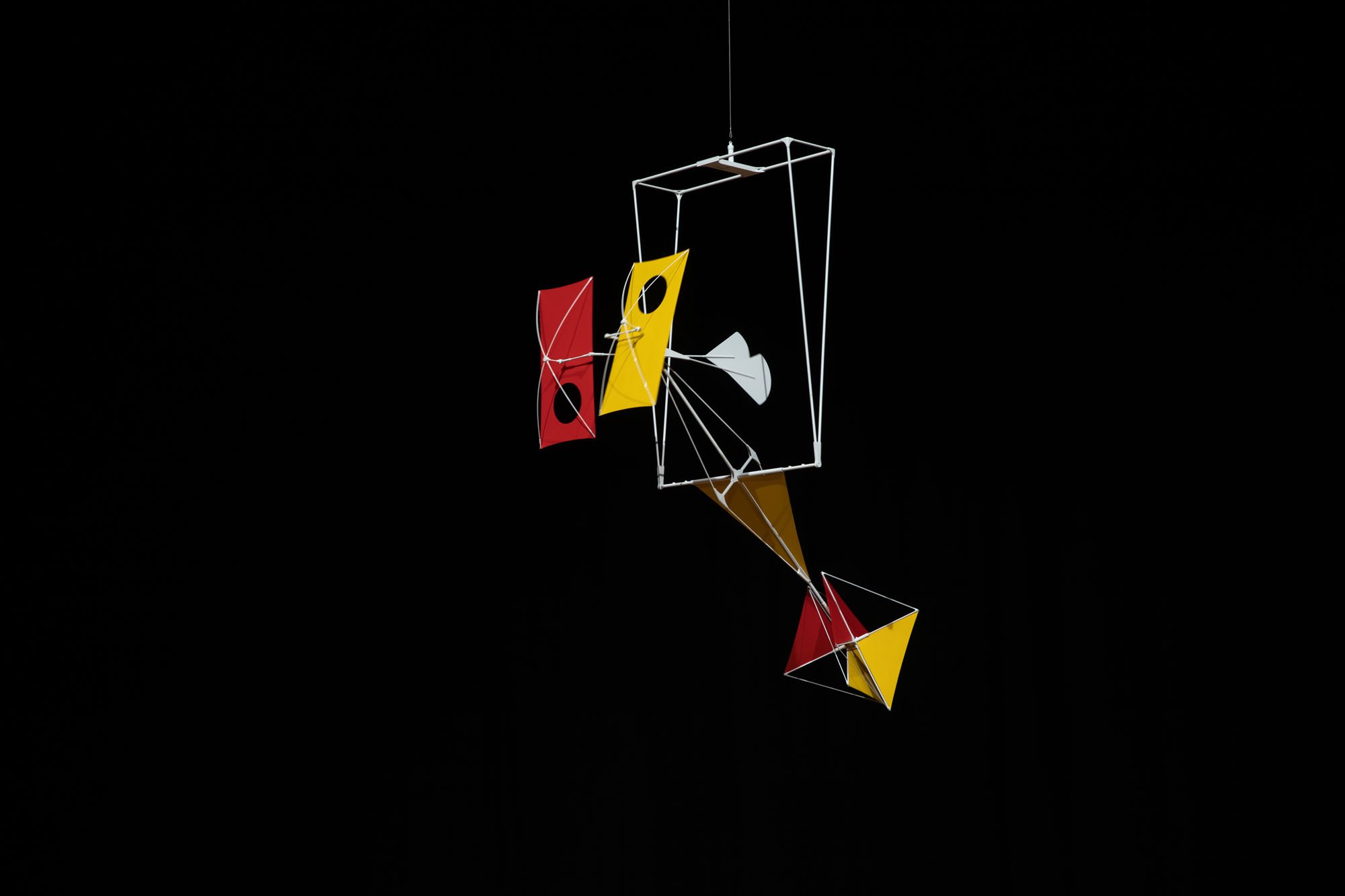 Would you like to comment on this article? Send your thoughts to: [email protected]