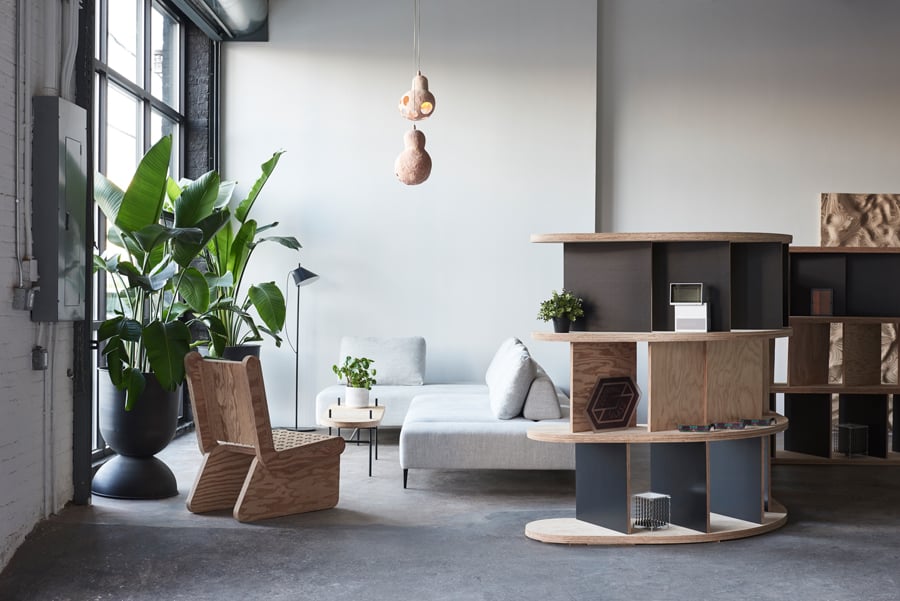 June 5, 2020
Through the Looking Glass with Office of Tangible Space
The studio takes an ethereal and intellectual approach to the workplace, placing emphasis on community culture and craft.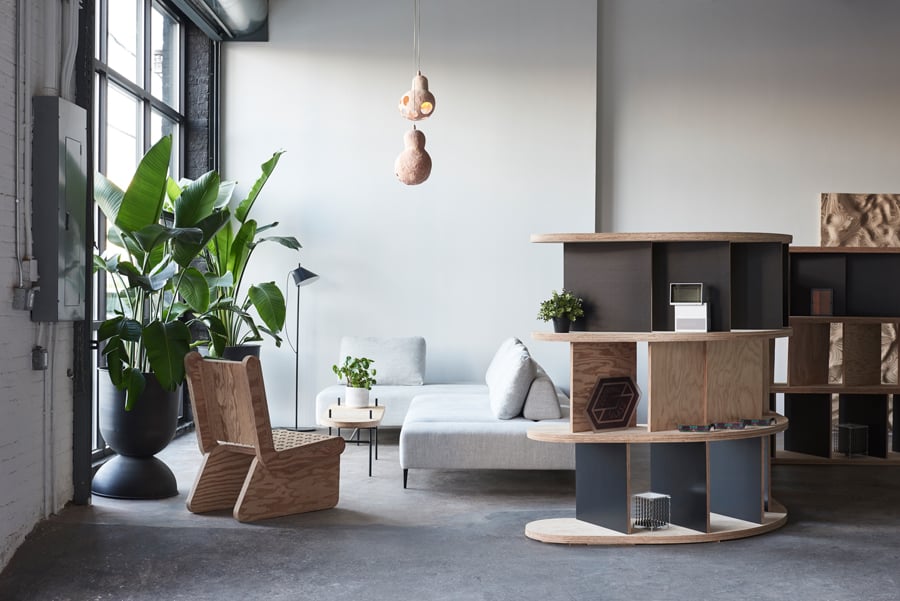 ---
Office of Tangible Space has their hands in a bit of everything from interiors, products, curatorial practice, event production, and even an artist residency on a 60-acre farm on Long Island. The studio's interdisciplinary nature and commitment to community culture and craft inevitably crosses over into their workplace designs through headquarters projects for the "female-first" razor brand Billie, online art gallery Uprise Art, and the headquarters for Looking Glass Factory, a company that designs holographic displays and interfaces. Tangible Space considers their client's specific needs around workstyles and company culture all while blending in elements of custom furniture, locally crafted art objects, and warm, natural material palettes.
Founded in 2014 in Brooklyn's Greenpoint neighborhood, Looking Glass Factory had grown out of their previous space in an old glass factory in the northern tip of the neighborhood. But staying in Greenpoint, what they call "The Home of the Hologram", was a must. In 2019, the perfect space finally opened up in former garage that sold industrial supplies and Tangible Space was tasked with the transformation of the empty shell into a workplace where the firm can prototype, test, and sell new devices.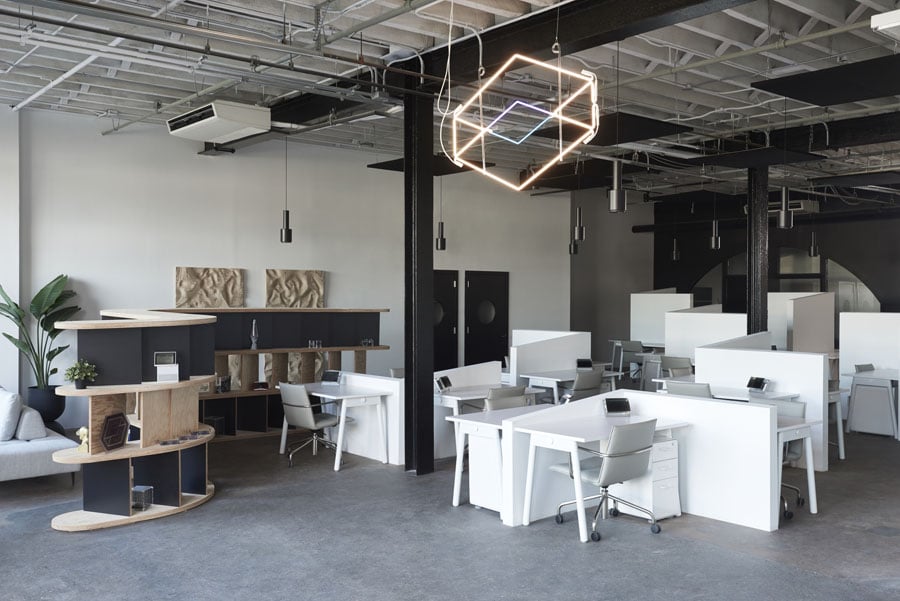 ---
"One guiding element in the space was the approach to the cubicle," partner, Michael Yarinsky says. "In every office that we deal with, it becomes this big problem. Everyone wants an open office, but nobody wants an open office." Taking the open-versus-closed debate as a challenge, Tangible Space divided the workplace according to the different needs of the employees, whether for more or less light, wall space for pinups and other collaborative zones, or room for solitude. The duo developed a system of L-shaped "cubicles"—with walls that vary in height or cut in on a diagonal—tailored to specific users and their duties. The result is a layout that modulates light and privacy as the walls increase in height.
"An open office is very beautiful in photos but not always super functional," Yarinsky observes. Partner, Kelley Perumbeti agrees, also noting a tendency she finds all too pervasive in contemporary interiors: "When we see and absorb photos of interiors and read superficial descriptions of their makeup, we rarely are able to tease out a deeper narrative or process of their creation." For the duo, aesthetics is always secondary to the process of making, an understanding of company culture, and human activation.
---
Incorporating the personal narrative of Looking Glass Factory, for example, Tangible Space created a custom serpentine book-case lined with viewing devices through time, such as stereoscopes and Magic Viewers, as well as a book on Disney animation titled The Illusion of Life and prototypes the company has worked on over the years. "We approached the project with this idea of questioning perception and the way people see things," says Yarinsky, "so the lens through which we've challenged every piece was 'Does this challenge your way of seeing space?'" Another example is a series of CNC-milled undulating wall relief sculptures that appear 2D from certain vantage points; they also serve as sound attenuation devices throughout.
But while the office engages users through scale, transparency, and spatial perception, it all goes back to how the office functions. In the front of the office, they've placed a viewing area for Looking Glass products which provides a gallery-like experience for guests. The bookcase, while beautifully crafted, directs circulation into the back of the open-plan space which features all the necessary conference rooms, call rooms, and kitchen and dining areas. Dark black walls with curving glass windows provide contrast against the angular, white workstations.
---
Home in on any corner of an Office of Tangible Space project and you are bound to find not only bespoke pieces designed under specific site conditions but also objects and furniture designed in collaboration with artists and manufacturers. In a recent collaboration with furniture manufacturer Made by Choice, Yarinsky designed an oak chair called Sieni, a collection taking its name from the Finnish word for "mushroom," alluding to fungal structures. They also have a desk system in the works. In the Looking Glass Factory's sun-filled lounge, employees can relax on The Cab Chair, a custom plywood seat "inspired by the beaded seat covers from an older generation of cab drivers in NYC," Yarinksy explains.
While the studio's work is certainly photogenic, Yarinsky and Perumbeti believe it's important for all of their workplace projects to challenge the "traditional notions of what an office can and should be." Perumbeti concludes, "The interior isn't just supposed to exist in or create an appealing image, but really evoke a feeling when people experience it."
You may also enjoy "11 New Seating Options from NeoConnect"
Would you like to comment on this article? Send your thoughts to: [email protected]
---
Register here for Metropolis Webinars
Connect with experts and design leaders on the most important conversations of the day.