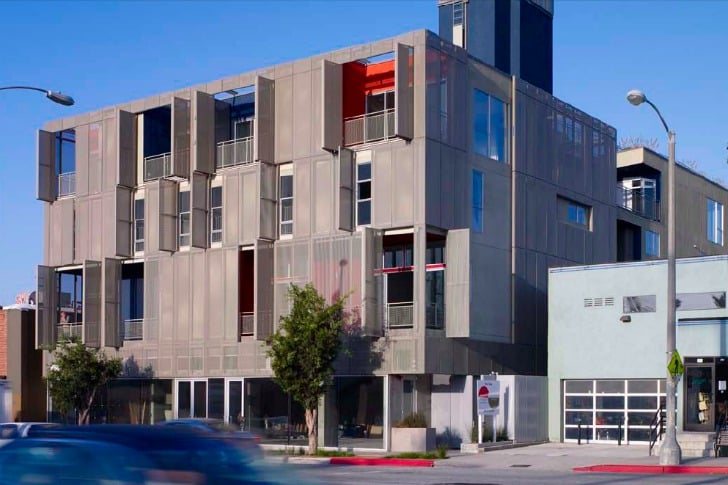 April 18, 2011
2011's Cream of the Green
The six-acre green roof of the Vancouver Convention Center, one of the Top Ten Green projects of 2011. Last Thursday was Earth Day, and the American Institute of Architects (AIA) and its Committee on the Environment (COTE) took the opportunity to announce its list of the Top Ten Green projects of 2011. As always, the […]
The six-acre green roof of the Vancouver Convention Center, one of the Top Ten Green projects of 2011.
Last Thursday was Earth Day, and the American Institute of Architects (AIA) and its Committee on the Environment (COTE) took the opportunity to announce its list of the Top Ten Green projects of 2011. As always, the list features a diverse set of projects, but this year's crop is marked by an emphasis on community. Among the ten winners are two schools, a meeting house for a Unitarian congregation, a sewage treatment plant, and two mixed-use residential buildings – all of which have become invaluable to the townspeople who share their facilities. There is a clear message here: that sustainability is ultimately about people, and need not come at an exorbitant price tag. Here's a complete list of winning projects: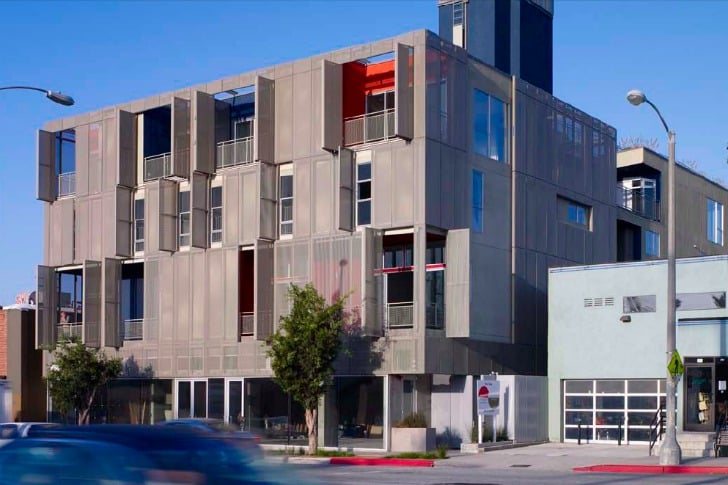 Cherokee Studios, Los Angeles
Brooks+Scarpa
This building proves that not only can mixed-use, market-rate housing be built sustainably at little extra cost, but that such a design can be used to market a green lifestyle. By giving residents an adjustable double-façade, the architects also give them the power to save considerably on energy, and cater to their specific needs. It doesn't hurt that this also makes for a visually striking building. Add to that a passive cooling strategy, LED lighting, occupancy sensors, solar panels, and a green roof, and its no surprise that a Living Building Challenge certification might be in the future.
First Unitarian Society Meeting House, Madison, WI
The Kubala Washatko Architects, Inc.
This project faced a double challenge – to add to a national treasure, and to do it sustainably. The 20,000 square foot addition to the Frank Lloyd Wright-designed national historic landmark Meeting House includes a 500-seat auditorium that triples existing seating capacity, plus office, meeting, kitchen, fellowship, and music rehearsal space. It was developed using a unique design peer-review process that resulted in a structure that is 40% more efficient than a comparable facility, with daylight in 91% of regularly occupied areas and a green roof. The result – a LEED gold certification and a happy congregation.
Kiowa County K-12 Schools, Greensburg, KS
BNIM Architects
When a tornado devastated Greensburg, the school district took the bold decision of combining their schools into a single K-12 facility. Then they raised the bar by creating a comprehensive master plan for the town that required the building to have a LEED Platinum rating. The new design rises to this challenge admirably, keeping the focus on enhancing the students' experience. The classrooms are naturally lit and ventilated, and the school meets its electricity requirements with wind power. The addition of other public facilities like a theater and athletic fields has made this school the heartbeat of a very proud community.
High Tech High Chula Vista, Chula Vista, CA
Studio E Architects
This public charter school serves 550 students from one of the most economically and culturally diverse zones in the United States. The emphasis here is on personalization, project-based learning and engaging with the world outside. The design of the building fosters this approach with open, transparent spaces – small classrooms, internal courtyards, and plenty of space to showcase student work-in-progress. Comfortable heating and indoor air quality were also a priority, and the school derives most of its energy from the one natural resource that San Diego county has in abundance – sunlight.
LIVESTRONG Foundation, Austin, TX
Lake|Flato Architects
The Livestrong foundation's primary message has always been one of empowerment, and their new permanent home in East Austin lives up to their ideals. The architects converted an 1950s-era Gulf Coast Paper Co. (GPC) warehouse located in a diverse but underserved community. While this had its advantages – 88% of the building materials were recycled – it also came with problems like lack of ventilation. The adaptive re-use, which ultimately earned a LEED gold certification, includes an open air courtyard and an in-house gym. Under construction is a community-based cancer-support program to provide direct services to uninsured and underinsured neighborhood residents.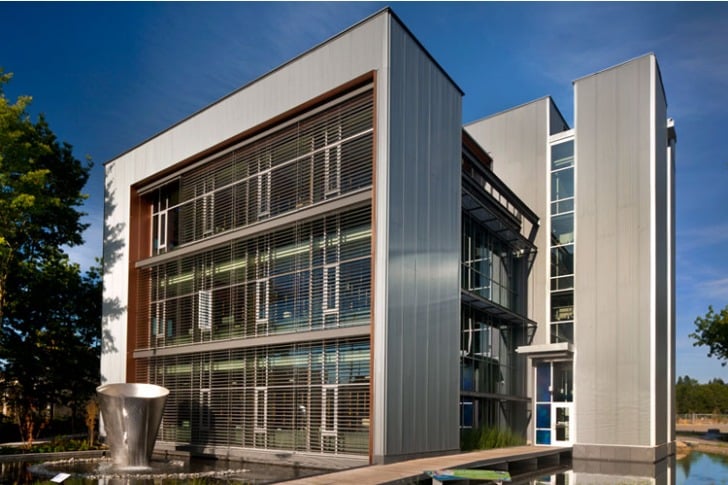 LOTT Clean Water Alliance, Olympia, WA
The Miller Hull Partnership
A sewage treatment plant doesn't immediately conjure up images of community involvement, but the LOTT Clean Water Alliance Regional Service Center is a visible and active participant in the public life of Olympia. The plant uses methane generated during the treatment process to offset both its heat and electricity needs, reducing both carbon emissions and energy requirements. An education and technology center brings the people in, and a reclaimed water pond at the heart of the facility is a visible symbol of what the plant does for its neighbors.
OS House, Racine, WI
Johnsen Schmaling Architects
The climate in this neighborhood, at the edge of Lake Michigan, was both the challenge and the opportunity in the project, which we featured in our October 2010 issue as "The Anti McMansion." The hot, humid summers and freezing winters meant that both active and passive strategies had to be used to control the interior climate. The breeze from the lake, and the sunlight, both radiate into a set of outdoor rooms, which transmit the ventilation and light to the inside of the house. Water consumption is carefully regulated, and the building envelope combines high-efficiency glazing with a super-insulated rainscreen system. The careful combination of all these features earned this budget house a LEED Platinum rating.
Research Support Facility (RSF) at the National Renewable Energy Laboratory (NREL), Golden, CO
RNL Design
Featured in the January 2011 issue of Metropolis, this building is the largest commercial net-zero energy structure in the country. At 220,000 square feet, it far outstrips the other eight zero-energy commercial buildings, and it sets a new standard for the building industry. A complex set of technologies help it perform at this level, including a 55,000-square-foot array of rooftop solar panels, and an underground thermal labyrinth —  a maze of concrete walls that slowly releases warm or cool air, as required. And a simple intervention like an open office plan makes employees happier while reducing the building's footprint per person.
Step Up on 5th, Santa Monica, CA
Brooks+Scarpa
Brooks+Sacrpa's second project on the list is a particularly sensitive one. The size of the building compared to the number of residents that would occupy it made it 10% denser than the average density of Manhattan, but that wasn't the only issue. The intended residents were the homeless and mentally disabled population of downtown Santa Monica—they needed both affordable housing and supportive services. The design manages to deliver all this and more, using simple devices like well-placed ventilation and water recycling to create a building that is 50% more efficient than a conventionally designed structure of this type.
Vancouver Convention Centre West, Vancouver, British Columbia
Design Architect: LMN Architects, Prime Architects: DA/MCM
The world's first LEED Platinum convention center, this building performs sustainably at a grand scale. It has the largest green roof in Canada, a six-acre stretch on which some 40,000 indigenous plants grow. The Center's situation on the waterfront helps as well—all of its heating and cooling is provided by very high efficiency, sea water heat pumps powered by renewable hydro electricity. Its sheer size—an $883 million development built on 14 acres of land and 8 acres of water—puts it in a different league from the other projects on the list, and makes that LEED rating a true achievement.