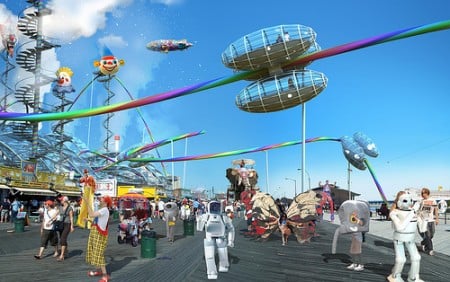 November 19, 2008
A Unified Frenzy
The results of MAS's Coney Island design charette bring craziness into focus.
On Monday night, it was standing room only at Brooklyn's BAM Café, where the Municipal Art Society (MAS) announced the results of its Imagine Coney design charette. MAS leadership and charette participants presented a plan for Coney Island that would bring the thrills back to the amusement park, whose future is uncertain. Referred to as the Electric City, the proposal combines cutting-edge lighting and gaming technology with world-class rides and a transportation system to capture the whimsy of the area.
The charette imagined a colorful and crowded Surf Avenue
Image courtesy MAS

The charrette members came from a variety of backgrounds and viewpoints but managed to agree on a scheme during an intense two-day session. "A few ideas coalesced that needed to be tied together with rides and transportation," said Nicholas Goldsmith, a structural expert and senior principal of FTL Design Engineering Studio. "As a group, we felt this plan made the most sense."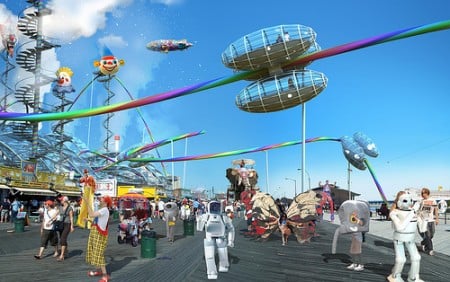 A transportation system that capitalizes on amazement is crucial to the plan
Image courtesy MAS
David Malmuth, the managing director of RCLCo and a former vice president of Disney, gave a stirring presentation on the neighborhood's economic potential—as long as there is a commitment to do it right. He suggested that a balance can be reached between corporate sponsors and small artisanal businesses to create a true economic and creative engine.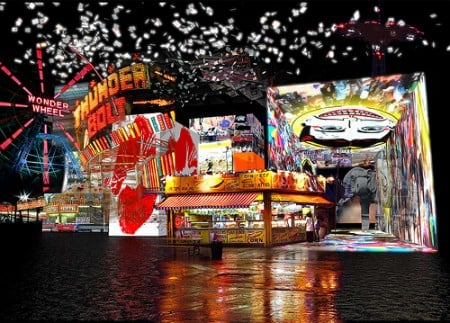 The plan envisions a programmable lighting system across different businesses that can create wondrous effects
Image courtesy MAS
Although MAS is a civic organization with no direct authority over policy and development, its goal of provoking conversation is clearly touching the public and finding on attentive ears in city government. MAS's president, Kent Barwick, said that even if the city is not in complete agreement with the organization's vision, it has been considerate and interested in the possibilities for the neighborhood. Just this week, the New York Post reported that the city has bought another acre of Coney Island, more of which will be needed to realize the dream of reviving the amusement district.
In the end, MAS's charrette suggests just one of many possible outcomes. There is a perceived sense of inevitability to the current direction of Coney Island, but the truth is that it's all still up in the air.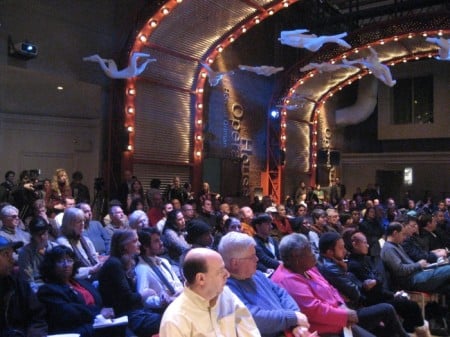 New Yorkers came out in force to view the charette results
Photo Daniela Morell