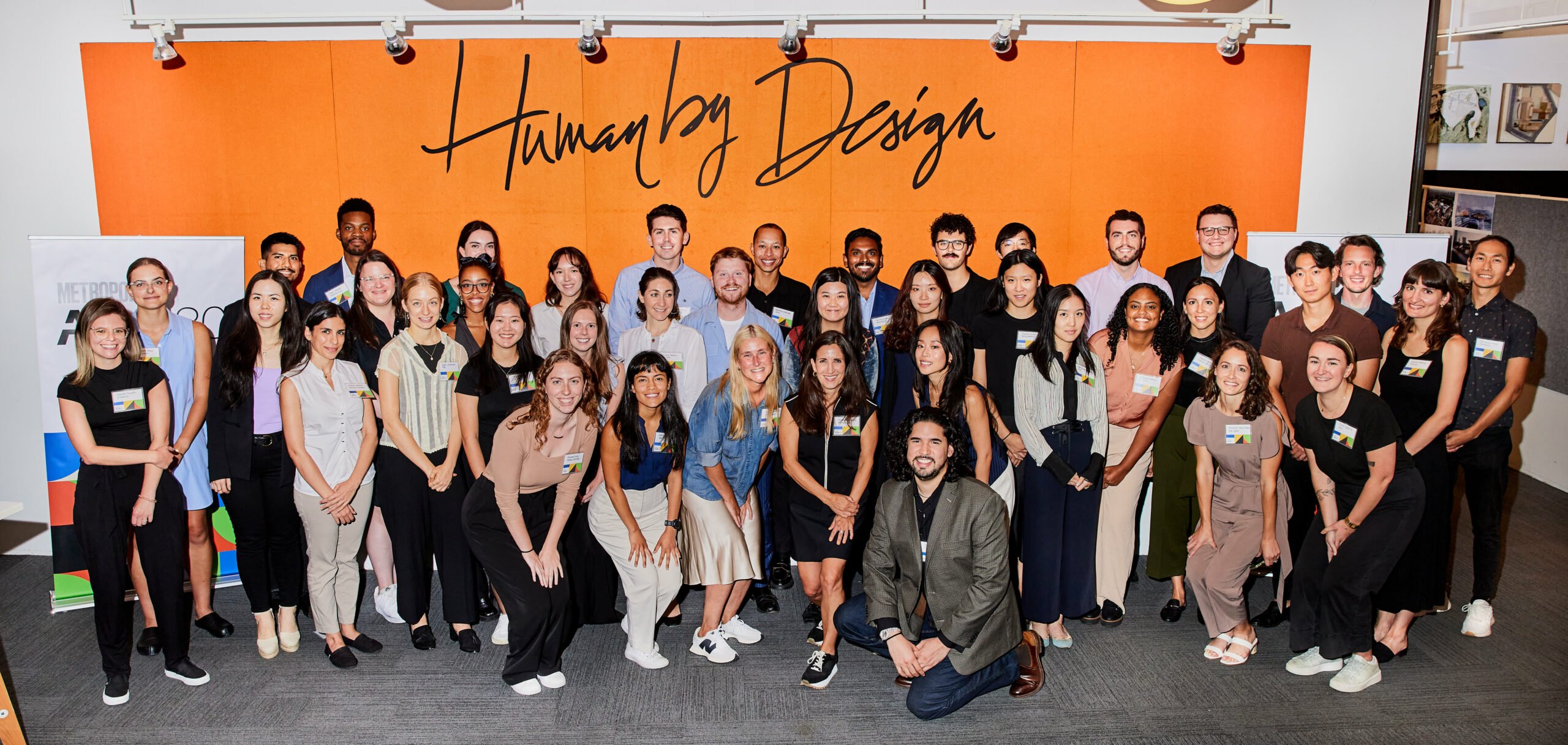 October 9, 2023
METROPOLIS Honors its First Arch30 Cohort in New York
The professionals selected in New York came from AECOM, COOKFOX, Dattner Architects, DLR Group, Fogarty Finger, FXCollaborative, HDR, IA Interior Architects, M Moser Associates, Marvel, MBB Architects, PAU Studio, PBDW Architects, Perkins Eastman, Perkins&Will, REX, Safdie Architects, Snøhetta, SOM, Stantec, TenBerke, and WOODS BAGOT. The New York Arch30 workshop was hosted by Perkins Eastman and presented in partnership with Autodesk, Pure + Freeform, PurOptima, and USG. See the full list of honorees below.
METROPOLIS editor in chief Avi Rajagopal and editor at large Verda Alexander led the workshop, encouraging the young leaders in architecture to think about the challenges they face at work, how to find the support they need, and how to identify and pursue purposeful work.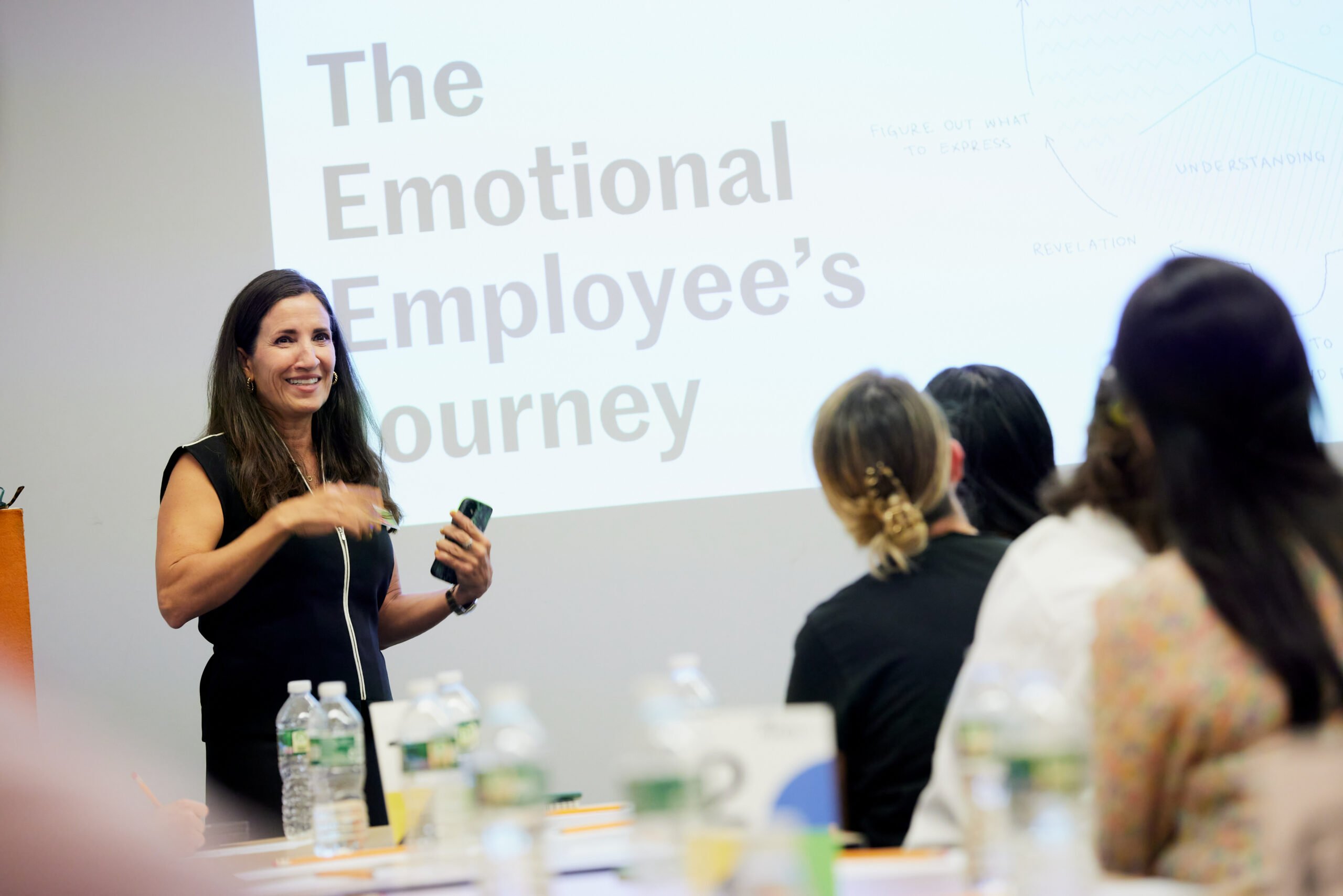 A major challenge that the group identified was increasing pressure on project schedules. "Timelines keep getting squeezed further and further," said one participant, pointing out that some clients have unrealistic expectations for how quickly a project can be completed. The Arch30 participants represent the most driven, hardworking, and talented professionals among their peers, yet even these high achievers fear that they may not be able to maintain the quality of their work if the screws keep getting tightened.
Many of the Arch30 cited sustainability as a focus of their work, noting that while the A&D industry has set lofty goals and policy makers are beginning to pay attention to sustainable architecture, "that's not getting to clients and contractors. We need a sustainability perspective throughout the entire project, and everyone needs to be on the same page."
As emerging leaders at their firms, the New York Arch30 cohort is also keenly aware of their responsibility toward the future of the architectural profession. "I'm struggling with how to model leadership for people coming up behind me," one young architect shared. Architecture has been criticized in the past for long hours, poor compensation, and leaving junior staff open to exploitation; this cohort is focussed on pursuing architectural excellence while maintaining a work-life balance. "Experience is knowing when to stop and what can wait," said one of the Arch30 honorees.
The workshops ended with demonstrations by program partners Autodesk, Pure + Freeform, PurOptima, and USG. In between sessions, the New York Arch30 had time to connect with each other, compare notes, and form the networks that will sustain their undoubtedly bright careers in the future.
The 2023 METROPOLIS Arch30 New York City:
Amy Wood, COOKFOX
Angela Blume, Safdie Architects
Annette Veliz, HDR
Bianca Yin, M Moser Associates
Brandon Wang, Dattner Architects
Brayton Gregory, SOM
Brooke Collaer, PBDW Architects
Carl Damas, Perkins&Will
Clarissa Redding, Stantec
Danielle Valle-Steele, DLR Group
Davis Richardson, REX
Eleanor Birle, TenBerke
Elyse Smith, Perkins Eastman
Felix Yiu, PAU Studio
Gregory Keller, PAU Studio
Ian Bentley, AECOM
Isabel Sutherland, MBB Architects
Isabelle Li, Snøhetta
Jean Carlos Vega, Marvel
Jessica Huang, FXCollaborative
Jordy Virguetti, Fogarty Finger
Kane Hassebrock, DLR Group
Kyle Wilson, WOODS BAGOT
Merna Haddad, Fogarty Finger
Miranda Ford, Perkins Eastman
Naomi Mareschal, MBB Architects
Natalie Tompkins, Stantec
Olivia Binette, HDR
Pascale Baladi, Dattner Architects
Roujia Bai, Marvel
Shane Byrne, IA Interior Architects
Shanna Chan, WOODS BAGOT
Shelby Miller, Stantec
Siobhan Finlay, TenBerke
Taylor Williams, PBDW Architects
Wanjiao Chen, REX
Yoonwon Kang, WOODS BAGOT
Younha Kim, COOKFOX
The METROPOLIS Arch30 event in New York City was presented in partnership with: