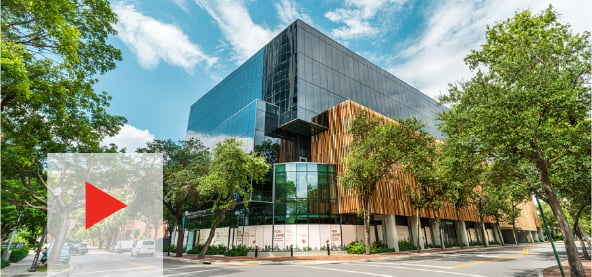 November 16, 2020
Can We Learn to Design With Water?
Miami design experts look to inter-disciplinary collaboration to navigate rising seas.
"Right and left, the streets take you waterward to a place washed by waves and cooled by breezes," wrote Herman Melville. Everyone wants to be near the coast, and yet with global warming waterside living and building pose a new set of problems. No where are the challenges clearer than in South Florida. On October first, a lively panel of Miami-based experts in design, development, and engineering pondered "Designing With Water: Collaborative Solutions for Coastal Cities."
"The history of Florida is 'Build It and They Will Come.' Going back to the 19th century when Henry Flagler built this great railway to Miami," explained Jacqueline Gonzalez Touzet, founding principal at Touzet Studio, a local architecture firm with a diverse body of work from single-family houses to academic projects.  "Miami's a young city. It's never been more important that we lead and inform," she continued, explaining that since Miami is on the front lines of climate change, innovations here can have a greater impact.
Rishi Kapoor, CEO of Location Ventures, a development company in Coral Gables, Florida, said: "Some of the most desirable real estate in the United States is coastal. These are places that have the most need to be in harmony with nature." Even so,  getting client's on board with resiliency isn't always easy. "You have the rare unicorn client who says, 'What's our resiliency strategy?' But for clients who aren't there, it's a scary topic for them. The reality in Florida is that we're all in a flood zone," added Touzet.
Designing for sustainability and resiliency, and the extra cost these entail, continued Kapoor: "You have to make it economically viable. If you make your development 10% to 15% more expensive to build, you have to go to lenders and investors who are not used to seeing those premiums. You have to have some giveback from the community and you have to have a way to overcome the premium."
Much of that cost has to do with Florida's unique situation. Barton Frye, a civil engineer with Kimberly-Horn and Associates, explained: "Here, more than anywhere in the world, storm water and coastal flooding are competing problems. Water comes from the sky and it needs to go into the ground. But sea-level rise and coastal flooding is pushing it the other way, and during high tides water is actually coming out of our drains, not going in."
Despite the challenges, the panelists seemed optimistic on negotiating the times ahead. Touzet concluded: "It's not just about saving the world. It's about designing buildings that stand the test of time and retain their value."
---
The Think Tank discussions were held on October 1, 8, and 15. The conversations were presented in partnership with DesignTV, Material Bank, GROHE, and Durkan.