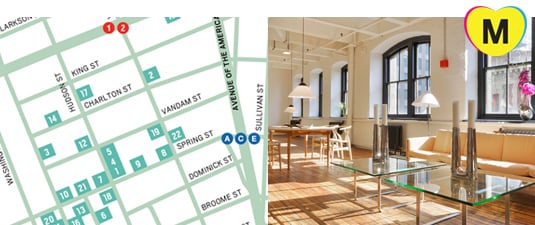 May 7, 2012
Design Guide NYC 2012: Hudson Square
Designed as a town house-lined plaza in the 1700s, the Hudson Square district was taken over for commercial use by publishers and printers in the nineteenth century. It has lately been reemerging as a hub for creative industries. Here, we've listed the area's best showrooms, shops, restaurants, museums and institutions, and galleries. Check out the […]
Designed as a town house-lined plaza in the 1700s, the Hudson Square district was taken over for commercial use by publishers and printers in the nineteenth century. It has lately been reemerging as a hub for creative industries. Here, we've listed the area's best showrooms, shops, restaurants, museums and institutions, and galleries.
Check out the Metropolis Design Guide for Design Week events and highlights from New York's most design-forward neighborhoods. And look for the printed version of the Metropolis Design Guide around the city, especially in Chelsea at WantedDesign, in Midtown at the Architects & Designers Building and the Decoration & Design Building, in Flatiron at the New York Design Center, and at the newsstand at ICFF at the Javits Center.
Keep an eye out for what we "like" during NY Design Week. Around the city, you'll see our lovely signs, produced by 3M Architectural Markets using 3M ™ Crystal Glass Finishes, at all of our editors' favorite, must-see spots. Throughout our neighborhood listings, you'll also see a  next to our favorites.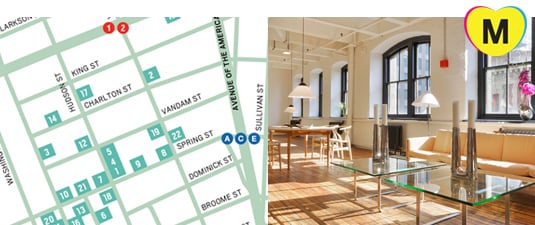 METROPOLIS LIKES CARL HANSEN & SON
With a strong grounding in the traditions of Danish craftsmanship combined with the latest production technology, Carl Hansen & Son pro-duces furniture to last for generations. Its first United States showroom features pieces from the recently acquired Rud. Rasmussen line and lighting by Pandul. For more information, see the listing below (image credit: Tom Sibley).
SHOWROOMS
CARL HANSEN & SON


304 Hudson St., 3rd fl.
btw. Spring and Vandam Sts.
(212) 242-6736
carlhansen.com
Founded in Denmark in 1908, the company is the largest producer of Hans J. Wegner furniture designs.
CARVART
180 Varick St., Ste. 1218
btw. Charlton and King Sts.
(212) 675-0030
carvart.com
Manufacturer of custom and studio-line architectural glass products.
CHISTA


537 Greenwich St., 3rd and 6th fls.
btw. Vandam and Charlton Sts.
(212) 924-0394
chista.net
Collection of furniture, lighting, and installations exploring the roots of primitivism and modernism.
CX DESIGN
304 Hudson St., 3rd fl.
btw. Spring and Vandam Sts.
(212) 431-4242
cxny.com
Lighting design studio known for its Italian-glass pendant fixtures.
GEORGE SMITH
315 Hudson St.
at Vandam St.
(212) 226-4747
georgesmith.com
Plush, finely crafted handmade furniture and fabrics.
REGENERATION FURNITURE
38 Renwick St.
btw. Canal and Spring Sts.
(212) 741-2102
regenerationfurniture.com
Midcentury-modern design with an emphasis on American classics.
ROBERT KUO
303 Spring St.
at Hudson St.
(212) 229-2020
robertkuo.com
Furniture and decorative objects inspired by Chinese and French traditions.
SCOTT JORDAN FURNITURE
137 Varick St.
at Spring St.
(212) 620-4682
scottjordan.com
Expertly crafted furniture made from local and sustainable materials.
TODD HASE
261 Spring St.
btw. Hudson and Varick Sts.
(212) 871-9075
toddhase.com
Modern furnishings, case goods, accessories, and textiles.
WYETH
315 Spring St.
at Greenwich St.
(212) 243-3661
wyethome.com
Midcentury-modern furniture and decorative objects.
GALLERIES
JOHNSON TRADING GALLERY
490 Greenwich St.
btw. Canal and Spring Sts.
(212) 925-1110
johnsontradinggallery.com
Opened by Paul Johnson of Phurniture; showcases art and design objects from emerging and established designers, architects, and artists.
KATE WERBLE GALLERY
83 Vandam St.
at Hudson St.
(212) 352-9700
katewerblegallery.com
Mixed-media art gallery and exhibition space featuring work from emerging artists.
RENWICK GALLERY
45 Renwick St.
btw. Canal and Spring Sts.
(212) 609-3535
renwickgallery.com
Open since 2006, Renwick is an intimate gallery space for avant-garde artist collaborations.
MUSEUMS & INSTITUTIONS
CHILDREN'S MUSEUM OF THE ARTS
103 Charlton St.
btw. Hudson and Greenwich Sts.
(212) 274-0986
cmany.org
Hands-on museum dedicated to engaging young artists through innovative programming, workshops, and self-guided exploration.
FILM FORUM


209 W. Houston St.
btw. Sixth Ave. and Varick St.
(212) 727-8110
filmforum.org
A 40-year-old New York movie house for independent and foreign art films, events, and repertory selections including classics and directors' retrospectives.
SHOPS
ALOHA RAG


505 Greenwich St.
btw. Canal and Spring Sts.
(212) 925-0882
aloharag.com
Minimalist boutique designed by Tatsugo Yoda featuring avant-garde labels Margiela, Commes des Garcons, 3.1. Phillip Lim,
and others.
JACQUES TORRES CHOCOLATE HAVEN
350 Hudson St.
btw. Charlton and King Sts.
(212) 414-2462
mrchocolate.com
Renowned chocolatier's Manhattan outpost and café for chocophiles.
RESTAURANTS & BARS
ANTARCTICA BAR
287 Hudson St.
at Spring St.
(212) 352-1666
antarcticabar.com
Friendly hangout with a pool table and jukebox.
CITY WINERY
155 Varick St.
at Spring St.
(212) 608-0555
citywinery.com
Restaurant, urban winery, and music venue combined into one; from Knitting Factory founder Michael Dorf.
EAR INN
326 Spring St.
btw. Greenwich and Washington Sts.
(212) 431-9750
earinn.com
Established in 1817, an area pub with a rich history.
GIORGIONE
307 Spring St.
btw. Hudson and Greenwich Sts.
(212) 352-2269
giorgionenyc.com
Featuring a raw bar and pizza oven, opened by Dean & Deluca co-founder Giorgio Deluca.
GREENHOUSE
150 Varick St.
at Vandam St.
(212) 807-7000
greenhouseusa.com
First eco-friendly nightlife destination and event space built from recycled and recyclable materials.