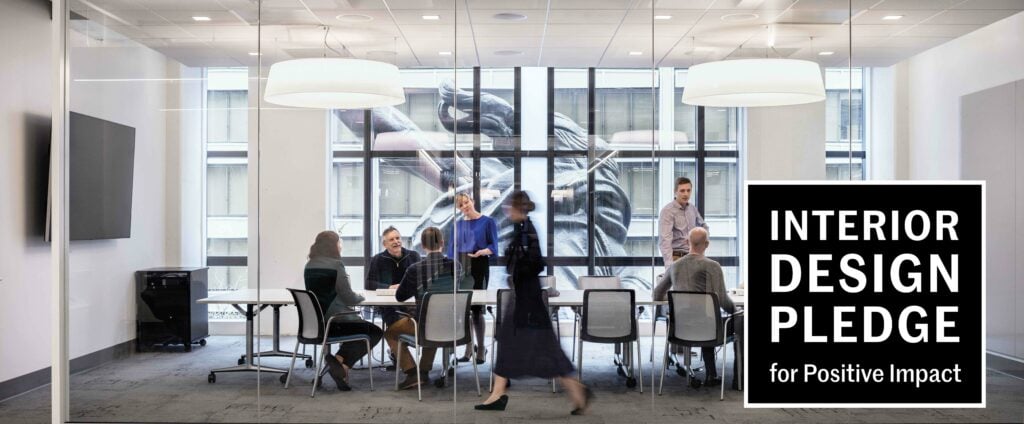 September 30, 2021
Professional Associations and Metropolis Create the Interior Design Pledge for Positive Impact.
The Pledge sets a high bar to inspire change in the interior design profession, recognizing that the climate crisis, health challenges, and social inequities all pose an existential threat to humanity and require urgent action by designers.
The Pledge is an ambitious and broad framework to guide design professionals' choices. It allows for the fact that as new information becomes available, designers might identify new concerns and develop more effective ways to make a positive impact. So, rather than prescribing solutions, the Pledge sets long-term goals that any designer can adopt.
"ASID stands with the interior design profession in support of the Interior Design Pledge for Positive Impact. This framework will encourage— and challenge— industry professionals to commit to restoring our planet. ASID is proud of the work we have done in collaboration with Metropolis Magazine as we create a pledge that will activate and unite our industry in this fight. We invite all ASID members and design professionals to join us to positively impact climate, health and equity," says Gary Wheeler, FASID, CEO, American Society of Interior Designers. 
The Pledge is the first step in a journey. Over time, organizations and associations will develop and provide resources and guidance to help professionals meet the commitments outlined in the Pledge.
"Now more than ever, designers must be dedicated to the idea that design's impact extends our reach into the world at large, touching ecosystems, communities and individual humanity — all inextricably linked. Recognizing our ability to effect positive change in each of the interwoven strands articulated by this Pledge is a first step to realizing that change," says Cheryl S. Durst, Hon. FIIDA, Executive Vice President and CEO, IIDA. 
By committing to the Pledge, interior designers will help drive the transformation of their profession—keeping it relevant in the face of 21st century challenges while helping build a more sustainable, healthy, and just society.
"Working in partnership with IIDA and ASID, IDC is on a mission to create a better industry for the next generation of interior designers," says Trevor Kruse CEO, Interior Designers of Canada (IDC).
The Interior Design Pledge for Positive Impact will be introduced to the interior design profession at this year's NeoCon, a tradeshow platform for commercial design that takes place at Chicago's theMart from October 4th through October 6th. Metropolis will be hosting a Sustainability Lab at NeoCon and will host programming around the Pledge on Monday, October 4 and Tuesday, October 5 at 11 AM CST. At the Lab, interior designers will be able to learn about the Pledge for Positive Impact and sign it on-site. 
You can read the full Interior Design Pledge for Positive Impact and commit to making an impact on climate, health and equity at metropolismag.com/interior-design-pledge. 
Would you like to comment on this article? Send your thoughts to: [email protected]