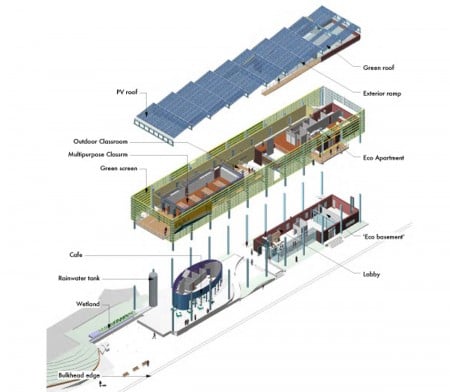 October 20, 2008
New York City Solar Center Wins $100,000 Holcim Prize
Awards that target sustainable construction in North America are handed out in Montreal.
Solar 2 Green Energy, Arts and Education Center, New York
A carbon-neutral education facility slated for New York City's waterfront took home the $100,000 gold prize at the North American Holcim Awards competition for sustainable construction in Montreal Thursday. The project, Solar 2 Green Energy, Arts and Education Center, calls for 13,000 square feet of arts and cultural space on a brownfield site in lower Manhattan that is dedicated to raising awareness of environmental sustainability. It is expected to generate all the energy it uses via geothermal exchange wells, photovoltaic panels, natural ventilation, and a building-enveloping green screen, among other features. The award went to Christopher Collins, executive director of Solar One Green Energy, Arts and Education Center; Colin Cathcart, of Kiss + Cathcart Architects; Nigel Nicholls, of Arup; and Judith Heintz of Wallace Roberts & Todd.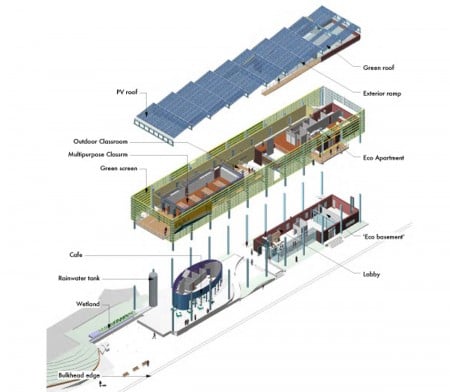 Solar 2 Green Energy's building components
 Solar 2 Green' Energys photovoltaic integrated roof
The silver prize went to Liz Ogbu and John Peterson of Public Architecture for a proposed day labor station in San Francisco, Calif.
Self-contained day labor station, San Francisco by Liz Ogbu and John Peterson of Public Architecture. This full scale section was exhibited at Cooper Hewitt National Design Museum's exhibit Design for the Other 90%. Peterson is featured in Public-Interest Architecture in this month's issue of Metropolis.
The bronze, for a freshwater restoration and research center in Sudbury, Canada, went to John Gunn, of Laurentian University; Peter Busby, of Busby Perkins+Will; and Jeffrey Laberge, of J.L. Richards & Associates.
Lakeshore view of Living with Lakes Center for freshwater restoration and research/Sudbury, Canada
For the first time this year, the awards also included a Next Generation competition for architects younger than 35. Neri Oxman, of Massachusetts Institute of Technology, and John Hart, of the University of Michigan, won first place for microstructure research on building skins.
 Closed skin prototype
From the research of Oxman and Hart's microstructural organizations
The gold, silver, and bronze winners go on to Zurich, Switzerland, in May, where they will compete for a $300,000 global grand prize.