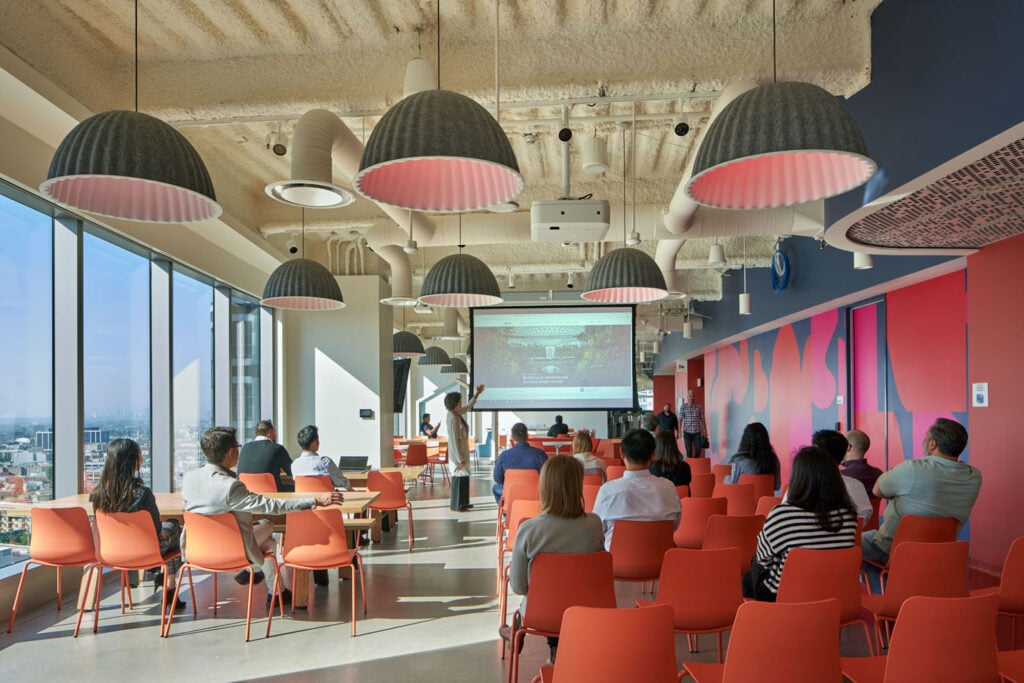 January 5, 2022
The Far-Reaching Tentacles of Work
Donoghue offered visions of change at both macro and micro scales. With all the seismic shifts in hybrid workplaces, she asked, "Why not disperse people to different outlying locations, supporting growing families that want to be farther from the city?" She then offered a eulogy of sorts to the large office conference room: "Those twenty-person conference rooms…. They're over. People want four- and six-person conference rooms now."
Donoghue, who described herself as "second-generation real estate—it's been my whole career," argued for more creativity-inspiring workspaces. "If you go into a conference room with just whiteboards, you'll be mediocre at best in terms of creativity. You need 3D printers, Lego sets, anything that will make employees more creative."
Maria Martinico, principal, workplace studio leader, SmithGroup, said hybrid work has its limits. "Being on-site is vital for mentoring and creating career advancement," she explained, particularly for younger employees just out of college. That said, she remarked that companies are providing stipends to employees at all levels so they can have the necessary IT infrastructure at home. "They're making sure people have compatible technology—the same laptops and so on."
She quoted a widely cited estimate that companies are going to reduce their real estate square footage by 20 to 40 percent—troubling news for the real estate industry. Seizing on that trend, moderator Lubell asked Peter Garofalo, vice president of design, Related California, a large developer, whether hybrid buildings—with office, residential, and commercial spaces under one roof—were a viable option.
"We're considering designing space that is flexible," Garofalo said. "Honestly, we're not sure how much office to build right now." Martinico echoed the need for flexibility: "In multiple-sized offices you're moving toward a universal footprint, in which space can be a private office one day and a conference room the next."
Companies are enthusiastically equipping workspaces with amenities like never before, the panelists agreed—coffee bars, sofas, even small "phone booth" rooms for making a private cell phone call.
"The home feels more like the office," Garofalo said, "and the office feels more like home."
The Think Tank discussions were held on November 4, 11, and 18. The conversations were presented in partnership with CertainTeed and GROHE.
Would you like to comment on this article? Send your thoughts to: [email protected]