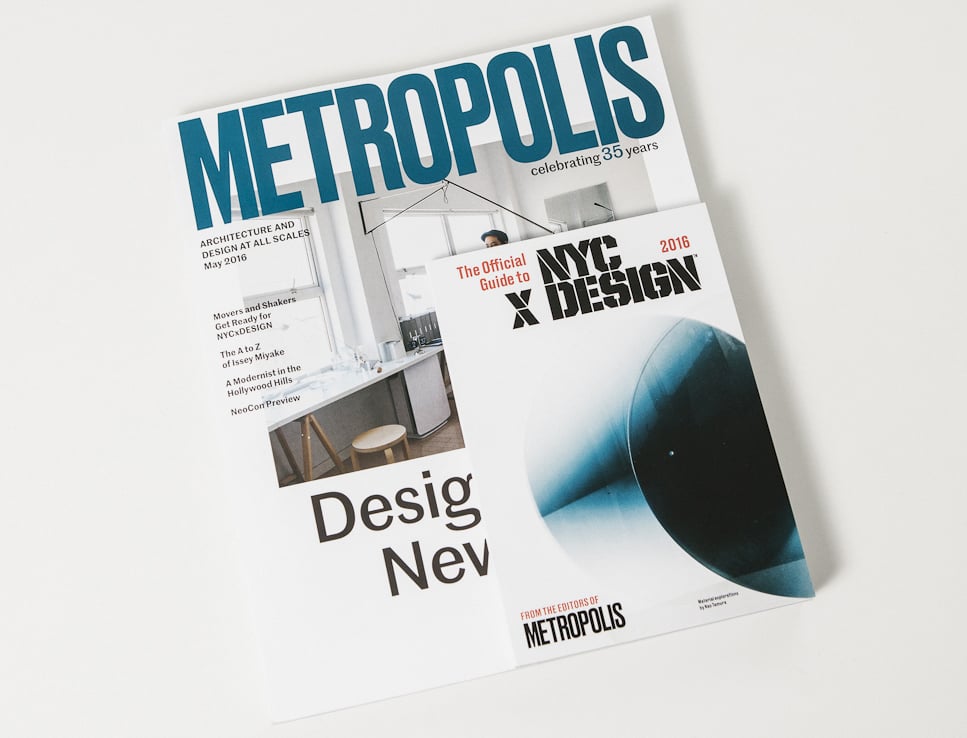 May 25, 2016
"NYCxDESIGN Makes Our City a Powerhouse of Economic Activity"
When you visit this month's fair, think of the power of vision and what wonderful changes design can inspire, says Metropolis editor in chief Susan S. Szenasy.
May is a glorious month in New York City. As nature blooms all around us, so does human creativity. Design, at all scales, is here to be observed, experienced, appreciated, and remembered. More than any other time of year, we focus now on the people who design our environment—from lamp to building to park—and also make our city a powerhouse of economic activity. As our mayor likes to boast, New York has more designers "than any other metropolitan area in the United States, more than Los Angeles and Chicago combined."
Our May issue, along with the small but extensive guide to design throughout New York City, marks a milestone in the evolution of one man's dream. It all started with Alan Steel, now president and chief executive officer of the Javits Center.
He invited our founding publisher Horace Havemeyer III and me to visit him at Javits, which was to be home to a fair that Alan had envisioned. He talked about bringing together an inter-national group of youthful creators whose work was already known to Metropolis readers. With no access to successful manufacturers, especially in the U.S., these entrepreneurial and fearless architects, industrial designers, artists, and craftspeople became known for cutting edge contemporary designs in which they used new and traditional materials to create imaginative forms. As Alan, Horace, and I talked, it became clear that we would be natural partners with the producers of the new International Contemporary Furniture Fair (now widely known as ICFF). So Metropolis became the fair's founding sponsor, a position we held for nearly three decades.
About 12 years ago, Alan challenged Horace and me once more. He asked us to produce the NYC design guide, in recognition of the growing connection between the ICFF and the city's design community. This year we have produced the 12th edition of the Metropolis New York design guide, which is now the official guide to NYCxDESIGN, a citywide celebration spearheaded by the New York City Economic Development Corporation. (Read our interview with NYCxDESIGN's Edward Hogikyan for more.) So, when you read the May issue or use the guide to create your own itinerary of design experiences out of all the city has to offer this month—the annual event has expanded from four days of ICFF to a design week and now two event-filled weeks—think of the power of vision and what wonderful changes it can inspire.