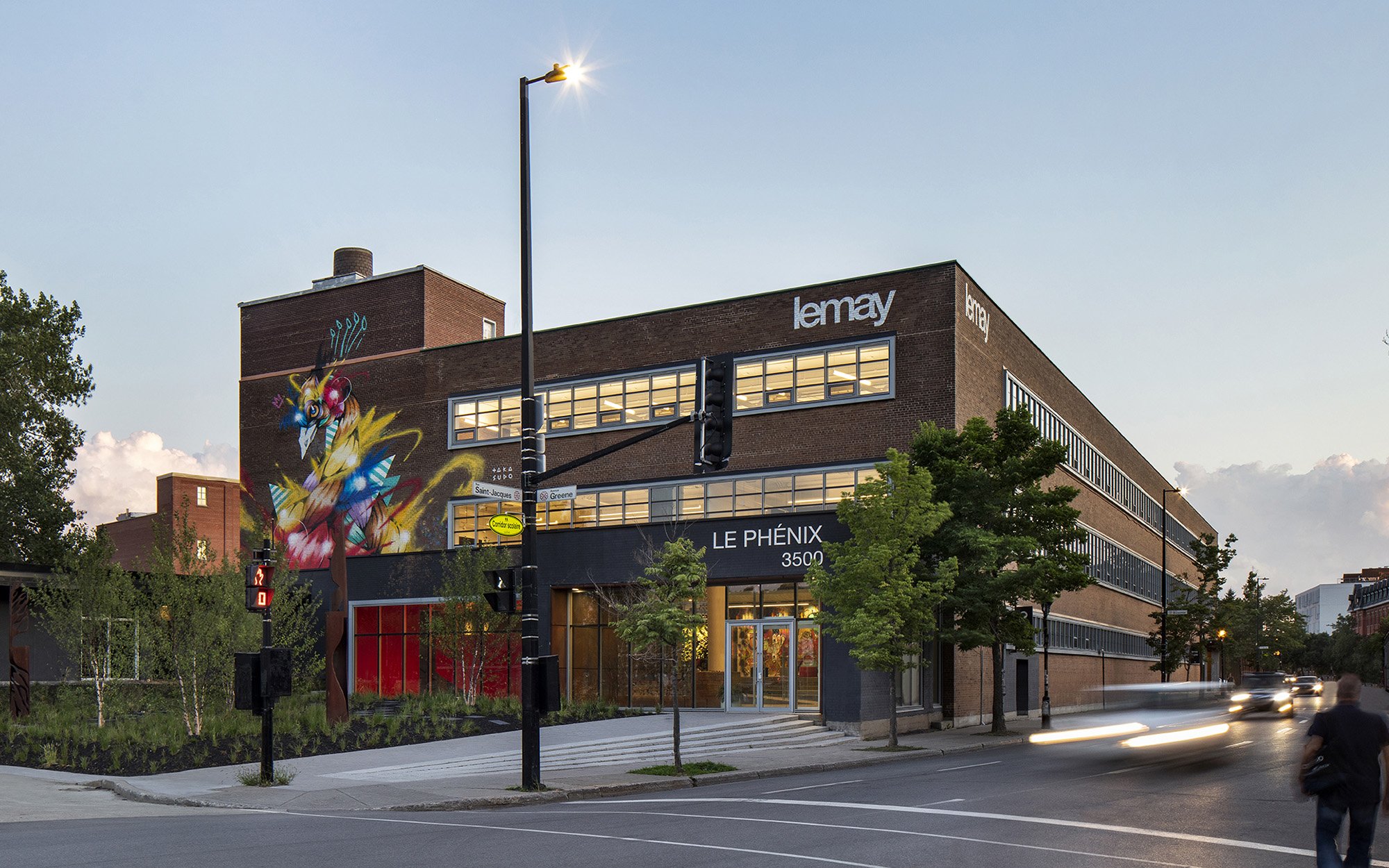 June 8, 2023
These Workplace and Education Projects Benefit People and Planet
The Metropolis Planet Positive Awards were established to recognize the incredible breadth of the Green Building movement and celebrate the projects and products that have a positive impact on people and planet.
What does that mean? To be Planet Positive, projects and products must go beyond addressing energy efficiency or a reduction in harmful chemicals. The winning projects make a holistic effort to do good in the world in the related fields of health, equity, and ecological regeneration. Last year's workplace and education winners were selected by Avinash Rajagopal, editor in chief of Metropolis, Denise Rush, dean of Boston Architectural College, School of Interior Architecture, and Doris Sung, director of undergraduate architecture, University of Southern California. Through adaptive reuse, mass timber construction, and a host of other strategies, these workplace and education projects are hitting ambitious milestones for planet-positive design. Many organizations are also using these projects to engage communities—whether that is staff, students, local groups, or the broader public.
You can submit a project for the 2023 Planet Positive Awards here.
Workplace Winner
Lemay | The Phenix | Montreal, Canada
Lemay chose to make a bold statement by transforming a neglected 1950s-era warehouse into an innovative head office for its growing transdisciplinary team. The Phénix boasts a 3-star Fitwel rating, as well as Zero Carbon Performance certification, LEED-Platinum certification, and Living Building Challenge-Petal Certification.25
The carbon footprint resulting from the construction and operation of a comparable new office building over 60 years would equal nearly 12,000 tonnes of CO2. The renovation and operation of the Phénix over the same period equates to approximately 1,600 tonnes of CO2—a reduction of more than 86%.
The Phénix's doors remain open to all for educational opportunities: Over the past two years, Lemay has organized more than 120 tours of its facilities for community members, students and business leaders in order to demonstrate how it is possible to retrofit and comfortably operate a carbon-neutral building within a standard financial framework.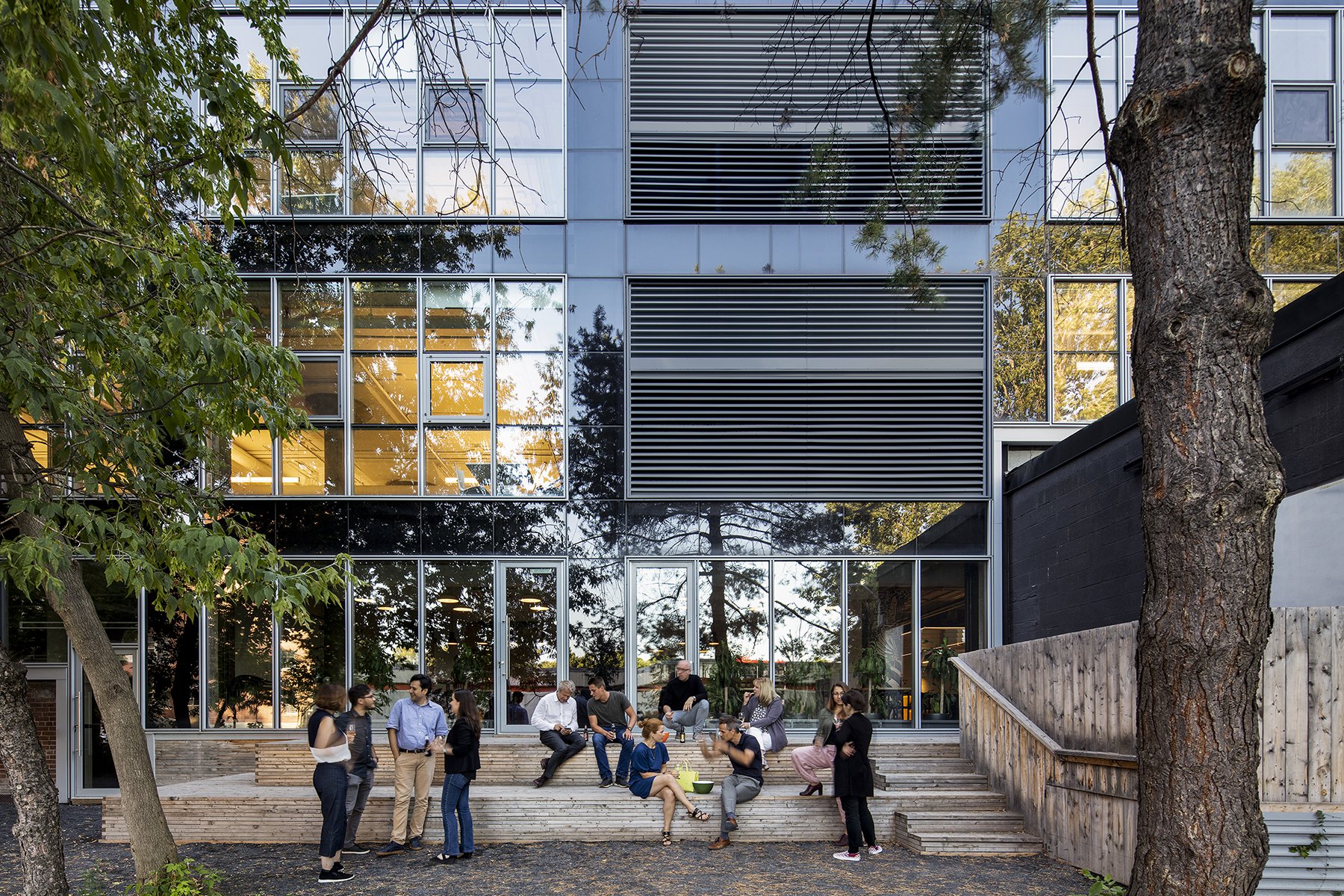 Workplace Honoree
WRNS Studio | Okland Construction Headquarters | Salt Lake City, Utah
Focused on LEED and WELL standards, the new workplace for Okland Construction is intended to foster discussions on carbon, energy, water, employee wellness, and resource efficiencies. The project maintained 40% of the brick facade of the existing building, and reused and upgraded the entire existing structures and floor slabs. Renewables were also repurposed. The existing building featured 1,700-sf of photovoltaic panels producing 36.16 MWh, which were preserved and reused in the new design.
The design approach offered economic benefits from purchasing less material and reducing energy demand; environmental benefits in diverting waste and reducing demolition debris, and social benefits through improved indoor air quality and engaging atmosphere, resulting in an inspiring, healthy work environment where employees want to come to work. The project is LEED Gold certified with WELL Gold certification expected in 2022.
Education Winner
Payette | Rockwell Integrated Science Center Lafayette College | Easton, Pennsylvania
The Rockwell Integrated Sciences Center is a LEED Platinum certified campus science hub at Lafayette College.
A predicted EUI of 76 kBtu/sf/yr places this building in the 99th percentile for cold climate labs (only two other lab buildings score below 85 EUI out of 304 measured facilities in climate zone 5 and higher in the Labs21 Energy Benchmarking Database) with an impressive 56% reduction in energy use compared to the code baseline.
The building's 53 lab spaces are equipped with Aircuity air monitoring system, which constantly measures VOCs to ensure a safe working environment while avoiding the high ventilation rates that is standard for laboratories.
Since its opening, students have been using the building at all hours, helping to validate the building's "more with less" approach.
Education Honoree
Moore Ruble Yudell | University of Denver Community Commons | Denver, Colorado
Responsive planning and high-performance building systems reduced this building's energy use by 49% in total, a tremendous feat for a 200-year building. Targeting LEED Gold certification criteria took commitment from the client and design team partners for such a high-use, 24/7 campus building.
Key strategies included a displacement ventilation system, energy recovery at each level, clerestory glazing to optimize daylight penetration, and energy efficient food service equipment. Passive design strategies included a combination of exterior horizontal and vertical sunshades to reduce solar heat gain, as well as a high-performance building envelope with fluid-applied air infiltration barrier.
Water is precious to Colorado's semi-arid ecological systems. All of the stormwater falling on the site, as well as stormwater collected on the adjacent First Year Residence Hall site, is collected and filtered on the Community Commons site, then slowly released into the region's waterways and aquifer. Because water quality treatment is provided, downstream water rights owners will benefit from improved water quality and less erosive peak flow rates, thanks to this new building's design.
Would you like to comment on this article? Send your thoughts to: [email protected]