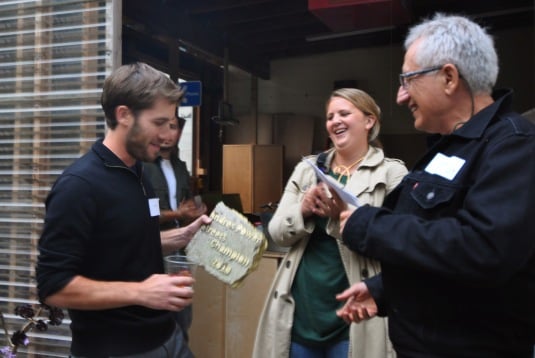 September 2, 2010
Q&A: The Streets of San Francisco
Bicycle parking in front of David Baker's house, managed by the San Francisco Bicycle Coalition San Francisco has recently sprouted an increasing number of clever and improvisational public spaces. Every one of them was designed to be temporary, with the possibility of becoming permanent. And all of them have been discreetly carved out of the […]
Bicycle parking in front of David Baker's house, managed by the San Francisco Bicycle Coalition
San Francisco has recently sprouted an increasing number of clever and improvisational public spaces. Every one of them was designed to be temporary, with the possibility of becoming permanent. And all of them have been discreetly carved out of the city's 25 percent surface area that's normally reserved for cars, not people. Last week urban designer Andres Power was the first person ever given a "Street Champion" award, at a party thrown for the Great Streets Project by the San Francisco Bicycle Coalition and architect David Baker. The party raised nearly $6,500 for the Great Streets project, and raffled off a new PUBLIC bike. A photo auction that included an image by Tim Griffith, who provided the cover for Metropolis last month, raised $2,200.
 The story of how these spaces, both temporal (Sunday Streets) and physical (Pavement to Parks ) come to pass is a saga with many heroes, and a few villains. One space, Castro Commons, is now a permanent park. After the event, I caught up with Power and asked him about city politics, community input, and other matters.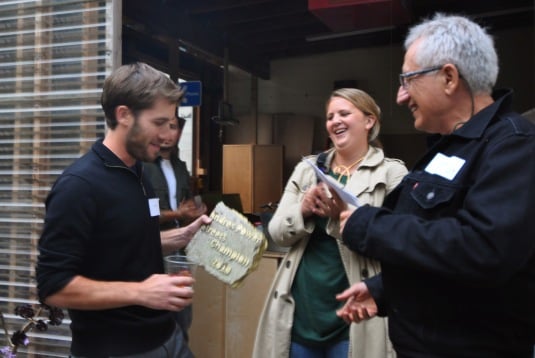 Andres Power being presented with the award by David Baker and Kit Hodge
When Kit Hodge (Great Streets director) was giving you the award, she mentioned that the work you've been doing isn't at all part of your job description. What's your job? 
 Andres Power: I'm technically an urban designer in San Francisco's Planning Department. So I work on large capital improvement projects like sidewalk widening, bulb-outs, street replantings. A capital improvement project can take ten years from the moment that it's funded to when it's built, but a temporary park can go from an idea to a grand opening in three months.
 The Pavement to Parks plaza program was inspired by the work of Janette Sadik-Khan, the commissioner of the New York City Department of Transportation. Since she was appointed by Bloomberg, she's really pushed the relationship between New York and its streets. We were blown back by what she was doing, using this temporary process to create public space.  
Of course, San Francisco's mayor doesn't have the same power that the mayor of New York does. 
 AP This makes a big difference. Cities like New York have a strong hierarchical structure. We don't have that in San Francisco. And so when there are differences in opinion between groups or agencies, it can be almost impossible to get things done. The first plaza that went in, at 17th and Castro, had a history going back almost ten years of the community talking about using that space. But making it temporary made it happen. Then, the parklets were inspired by PARK(ing) Day . 
Which is indigenous to San Francisco. 
 AP Right. That was started by Rebar . By the way, New York just put in its first parklet, inspired by us. So it's coming full circle. And lots of other cities: Portland, Seattle, DC, LA….they're interested in putting in parklets. 
 Our plaza program is not exactly like New York's. Their Department of Transportation designs their plazas in-house, with their engineers and landscape designers. Which has its advantages. Their plazas are incredibly replicable, efficient, and easy. But in having different local designers work on ours, we have something more organic and site-specific. And there's more room for whimsical projects. 
Does the City of San Francisco not have its own designers? 
 AP DPW does have the in-house talent. But we like working with local professionals and having this partnership between the city, and local designers, and local manufacturers. One reason why the program is so incredibly inexpensive is that the designers are doing it pro bono. And a lot of the materials have been donated, or sold to us at cost.  
Did you know most of these designers already when the project started?
 AP It's a small city, so I knew a few. But after the first plaza went in at 17th and Castro, I began getting cold calls. Now I have a list, and try to match the specific site with the talents of a specific designer.  
Are there cities besides New York that you think are doing things right?
 AP Definitely the European cities. Paris, Amsterdam. Copenhagen is at the top of the list. There the old downtown core is pedestrianized, and even in the middle of winter there's this cafe culture. Cities where the streets are full of people are all throughout the world. In Eastern Europe. In South America. It's great to create an infrastructure that supports that. But you don't necessarily need that infrastructure. 
What's happening here is a response to the depopulation of San Francisco in the fifties, when people fled to the suburbs. All the people that you would want to be on the street left, and so all that remained was vagrancy and publicly detrimental behavior. And so basically everything that made the street comfortable was taken away. They removed virtually every bench. It was a scorched earth policy. What we're trying to do now is break that cycle. 
There's talk of simplifying the permit process for these temporary plazas. How is that going to happen?
 AP The plazas will always likely require some input from the various city agencies, including DPW and the municipal transportation agency. But we're working with these same agencies on developing a permit system that will allow anyone willing to hold a permit for a space – a business, a nonprofit, a group of people – to apply to put in a parklet.  
Are there going to be rules about what the parklet looks like? 
 AP We're not saying what the asthetics will be. There has to be greening of some sort. It has to fit into the space. It has to to use high-quality materials.  
Are there any forbidden materials?
 AP The only forbidden material right now is tropical hardwood. We do not want to be deforesting the rainforest.  
What's in the works? 
 AP We're putting in four more parklets before the rainy season starts. We're also building two block-long parklets from the cable-car turnaround to Union Square. We wanted to have those implemented before the holiday rush, but given the time that it takes to pull together funding, it's likely to happen in early spring. 
Most importantly. What are you going to do with your golden chunk of concrete (the award he just received)? 
 AP I'm trying to figure out how to frame it.