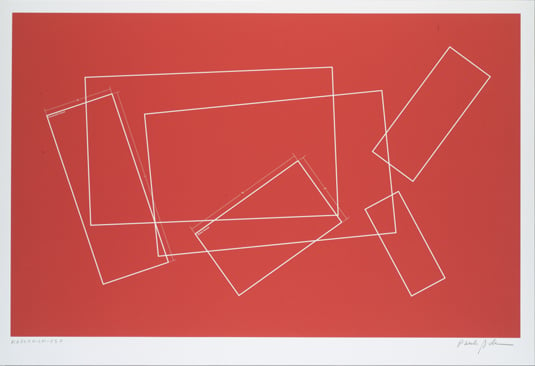 October 1, 2010
Viewing Modernity
Tadao Ando, Farnsworth House, 2009. When I went for a tour of the Glass House, someone in the tour group shared with us yet another colorful, but completely unverifiable anecdote about Mies van der Rohe. Legend has it that on his first visit to the newly completed house, the master, having closely examined the structure, […]
Tadao Ando, Farnsworth House, 2009.
When I went for a tour of the Glass House, someone in the tour group shared with us yet another colorful, but completely unverifiable anecdote about Mies van der Rohe. Legend has it that on his first visit to the newly completed house, the master, having closely examined the structure, turned to Philip Johnson and said, "You never could do corners."
Whether the story is true or not, it is one of many conversations, real and imagined, between Philip Johnson's Glass House, and Mies van der Rohe's Farnsworth House, which was designed earlier, but completed two years later, in 1951. Linked closely in time, and by the relationship between the architects, the two buildings together form a landmark in modern architecture. Not only do they speak to each other over 800 miles, agreeing in spirit, disagreeing on the details, they also continue to speak to artists, architects and designers today.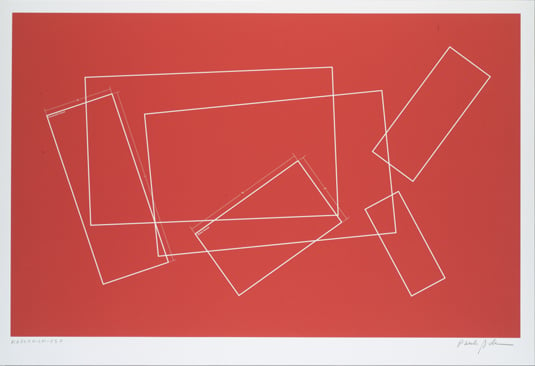 Paula Scher, Modernism USA, 2010.
To keep that conversation alive, the National Trust for Historic Preservation – which now owns the buildings – asked some of the leading creative figures of our era to contribute works of art for a project titled Modern Views. Tadao Ando,  Maarten Baas, Zaha Hadid, Fritz Haeg, Gary Hilderbrand, Ronald A. Krueck, Richard Meier, Toshiko Mori, Robert Morris, Inigo Manglano-Ovalle, Ed Ruscha, James Rosenquist, David Salle, Paula Scher, Frank Stella, James Welling, Richard Woods, and many others have created drawings, sculptures, photographs and objects that showcase their personal visions of the modernity embodied in Johnson's and Mies van der Rohe's architecture. The work they have donated will be auctioned to raise the $1 million needed to restore and preserve the Farnsworth House, and to continue the preservation efforts on the other buildings on the Glass House estate.
Mohsen Mostafavi, Untitled, 2010.
An auction of a few selected items was held in Chicago earlier this month, but all the pieces will be exhibited on October 6th at Sotheby's, New York, before they go under the hammer. Points on a Line, a film by the artist Sarah Morris which contextualizes the relationship of the two houses in the larger idealism of the modern world, will also be premiered at the exhibition.
Thom Mayne, San Francisco Federal Building, layered building skin detail.
For those who can't make it to Sotheby's, you can catch thumbnails of the artwork on their web site. Or you can order your own copy of the book, Modern Views, which reproduces all the artwork created for the project. The book carries an introduction by the architecture critic Paul Goldberger, an essay by Sylvia Lavin, and an interview with Phyllis Lambert, who had an enviable insider's view of that tumultuous relationship between Mies van der Rohe and Johnson which produced the most admired residential masterpieces of the modern era.
All images courtesy the National Trust for Historic Preservation and Sotheby's.