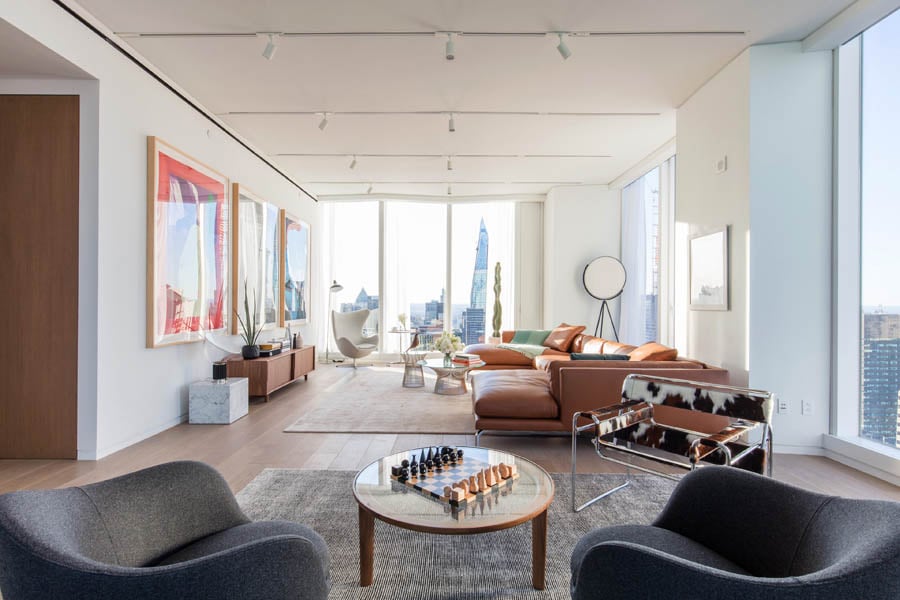 October 29, 2019
Foster + Partners' 100 East 53rd Tips Its Hat to Its Iconic Midtown Neighbors
The firm resolved the challenges of the site—narrow footprint, iconic neighbor—by paying extra care to the primary east and west facades.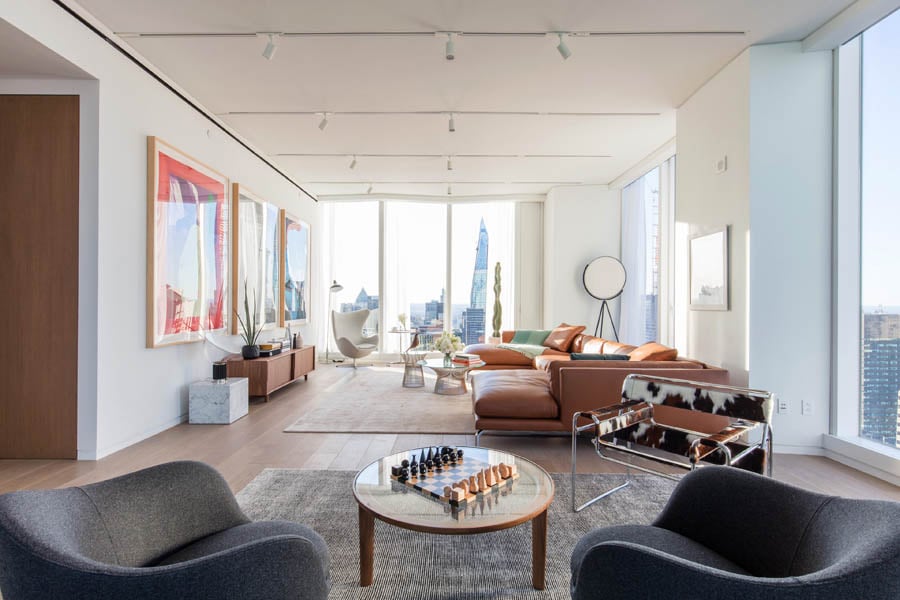 In the days before the luxury mishmashes of the High Line and Hudson Yards on Manhattan's West Side, the closest thing the city had to a Starchitect Row could be found on (or near) East 53rd Street between Sixth Avenue and the East River. There rose a promenade of classics: Eero Saarinen's Black Rock, MoMA's Goodwin/Stone home, SOM's Lever House, Mies van der Rohe's Seagram Building, Hugh Stubbins's Citigroup Center, and Philip Johnson's Lipstick Building.
RFR Holding's Aby Rosen, whose portfolio includes the Seagram and Lever, wants to return midtown to its 20th-century prime with a pearly, lithesome, 63-story tower at 100 East 53rd Street, a trim plot of land adjacent to Mies's sleek dark triumph.
"When you put yourself next to the Seagram," says Rosen, "you better show up and do something really spectacular." Who more than Norman Foster? "He's one of the better architects in the world. He doesn't get intimidated."
---
More from Metropolis
---
Neither does Peter Han, who heads up Foster + Partners' New York office. He resolved the challenges of the site—narrow footprint, iconic neighbor—by paying extra care to the primary east and west facades. The large undulating, faceted glass that Han specified "reflect[s] the light at different angles," making the tower "appear more ethereal, like a neverending extrusion into the sky," he says. An elegant system of aluminum rods shields operable windows that, even dozens of stories up, let in the breeze.
It's an artful (Han says unprecedented) solution in a building full of art; indeed, a huge landscape tableau by Rachel Feinstein is the first thing one sees upon entering, framed by a vast lobby wall of Calacatta Caldia marble that has been 3D-milled and honed to reference the exterior faceting. The marble continues both into the reception area and toward the elevator bank, where a painting by Federico de Francesco hangs, and wraps the building's exterior.
For the apartments, which range from loft-style studios to full-floor three-bedrooms, interior designer William T. Georgis took inspiration from New York's fabled gallery aesthetic: rational yet flexible white boxes framed with concrete, bronze, and wood. The nine-story base comprises loft residences so industrial their ceilings are part of the actual slab, with reveals at the ready for track lighting. Concrete is variously diamond polished, fluted, or finished to perfection. Kitchens are brushed stainless steel and oak cabinetry. Tower residences are a little more luxe: The lobby's white Calacatta Caldia has migrated to the kitchens and the bathrooms, where it's joined by silver travertine and Greek Argos black marble.
For those who'd prefer not to cook, but who don't want to leave the building, a pair of restaurants on the east corner, both from Michelin-starred chef Alain Verzeroli, burnish the neighborhood's reputation for world-class gastronomy. Inside the vegetable-forward Le Jardinier, architect Joseph Dirand says, he "played with a 'folded' shape throughout the space," bringing to mind those facets again. For the French Japanese Shun upstairs, Dirand gathered two tones of Alcantara fabrics, three types of bespoke lacquer, and Italian ivory marble for interiors that still manage to feel minimal, like a cool and calm night garden above Le Jardinier's garden party.
And should residents want to take a constitutional after dinner, the juxtaposition of their new home and the old favorites is particularly striking at dusk. "The Seagram pops out a lot more because of 100 East 53rd's white creamy facade behind it," Rosen says. "The two properties look harmonious together."
You may also enjoy "Hospitality Ward: A Centuries-Old Lyon Hospital Is Converted into a Five-Star Hotel."
Would you like to comment on this article? Send your thoughts to: [email protected]