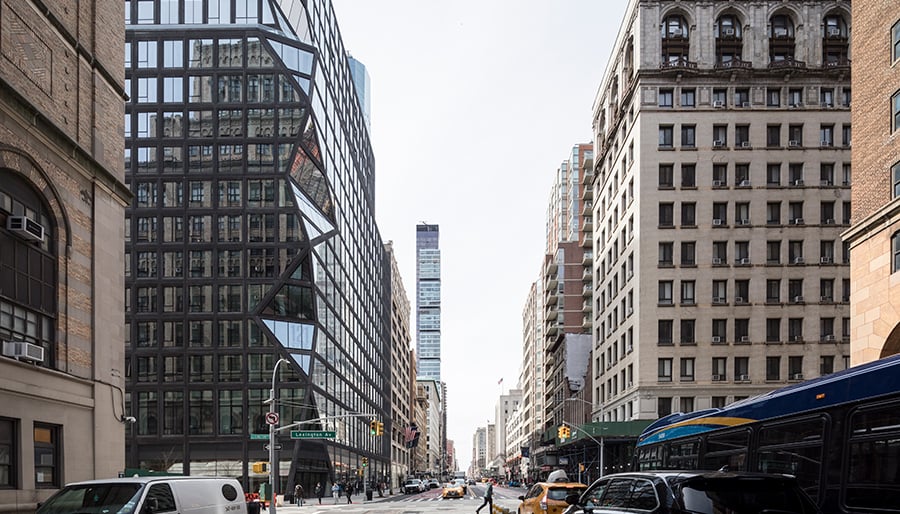 May 30, 2019
OMA Completes Its First Ground-Up Building in Manhattan
121 East 22nd is a 134-unit condominium development located near Madison Square Park and clad with black precast concrete panels.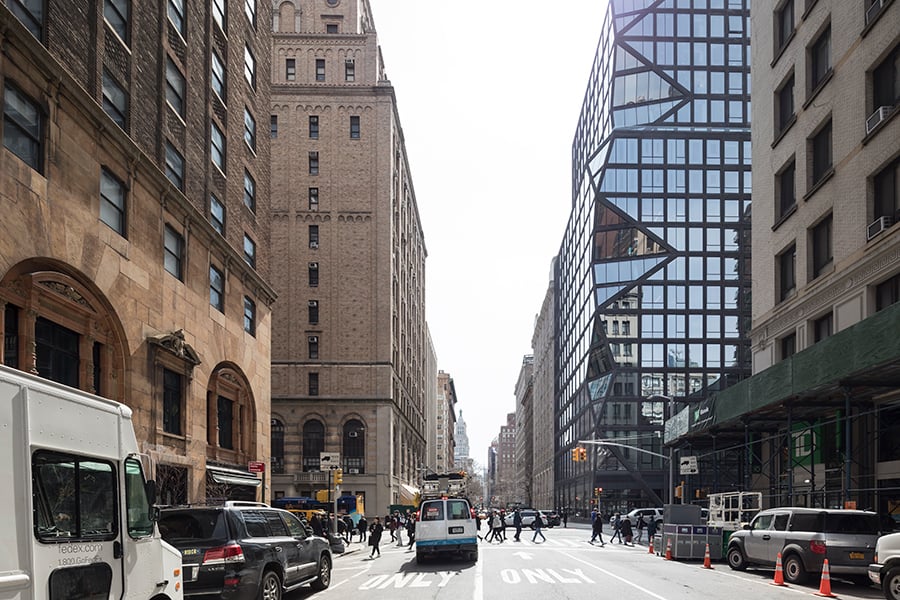 The island of Manhattan has its own kind of architectural topography—the Financial District has its Art Deco canyons, for example, while Greenwich Village has its low-rise maze of rowhouses. The area around Gramercy Park has its own distinct feel as well: Its 10-to-20-story buildings embody the congenial historicist architecture that was ubiquitous in prewar Manhattan. (Think a vaguely Byzantine-Venetian tower flanked by a Neoclassical Revival on one side and Gothic Revival on another.) OMA's New York office and developers Toll Brothers have recently thrown a distinctly modern—yet still respectful—development into that mix.
121 East 22nd is actually L-shaped: It occupies the corner of 23rd Street and Lexington Avenue and stretches across to 22nd Street, enveloping the School of the Future, an 11-story Gothic Revival structure. Reconciling a modern appearance with the neighborhood's was no small challenge, but the building's black precast concrete facade rises to the occasion. "Black was something that let the building disappear [and] emphasize the windows, but still have a distinct presence," said OMA partner Shohei Shigematsu on a recent building tour. Up close, the precast panels actually aren't solidly black. Rather, they have two different textures: the panel's outer edges are a darker, rougher, sandblasted surface while the inner folds—closer to the windows—are a smoother, lighter, acid-etched surface. (The difference can be easily seen and felt up-close, on ground level or a balcony above.) The black panels, notes Shigematsu, also change in hue throughout the day depending on sunlight and shadows.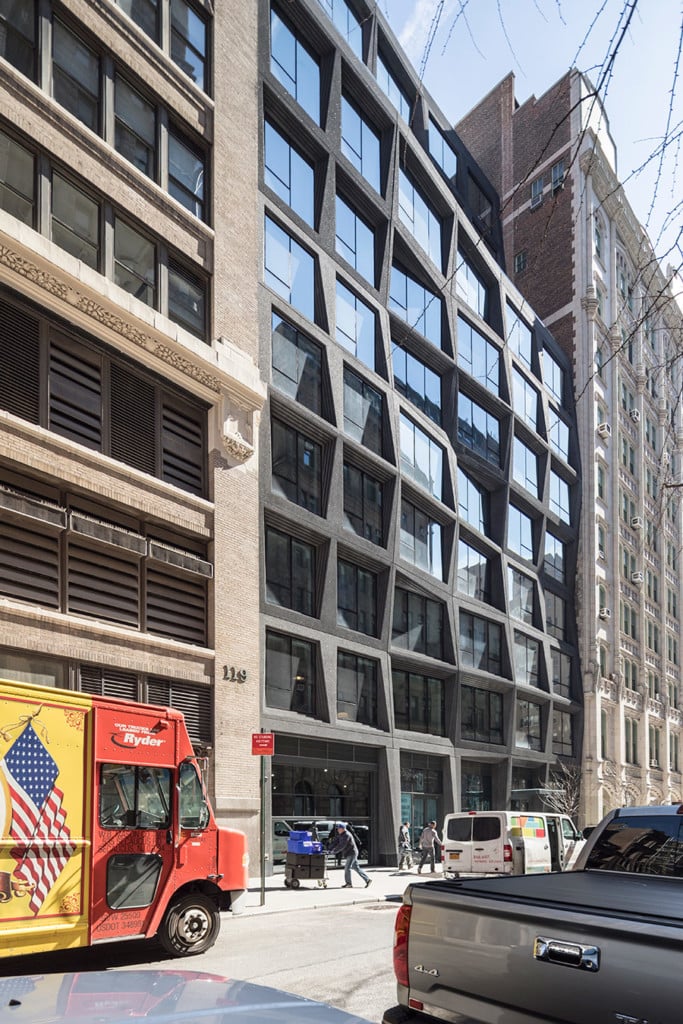 ---
The building's 23rd Street facade features retail spaces, so tenants enter on 22nd Street. From there, they step into a lobby that's covered in floor-to-ceiling travertine and that leads to an internal courtyard. The courtyard was mandated by zoning, but the architects capitalized on the opportunity, digging deep to admit light to below-grade areas, such as the pool. (In fact, the door between the courtyard and pool can telescope closed, creating a true indoor-outdoor experience.) Stairs and hallways enclose the courtyard and connect the lobby and mail room to various amenity spaces, including a screening room, as well as the north tower's elevators.
---
More from Metropolis
---
The residences themselves range from one-bedroom units to a capacious, 3,577-square-foot, five-bedroom unit. The most architecturally distinctive residences are located at the corner of 23rd Street and Lexington, where living rooms showcase the building's dramatic facade undulations. But that's not to say the other units are cookie-cutter. For example, Adam Rolston, partner at local architecture firm INC, which designed the interiors, notes that the units' kitchens feature stepped surfaces, a kind of "call and response" that echoes the stepped surfaces of the facade.
You may also enjoy "The TWA Hotel's Interiors Aim to Recapture Midcentury Glam."
Would you like to comment on this article? Send your thoughts to: [email protected]