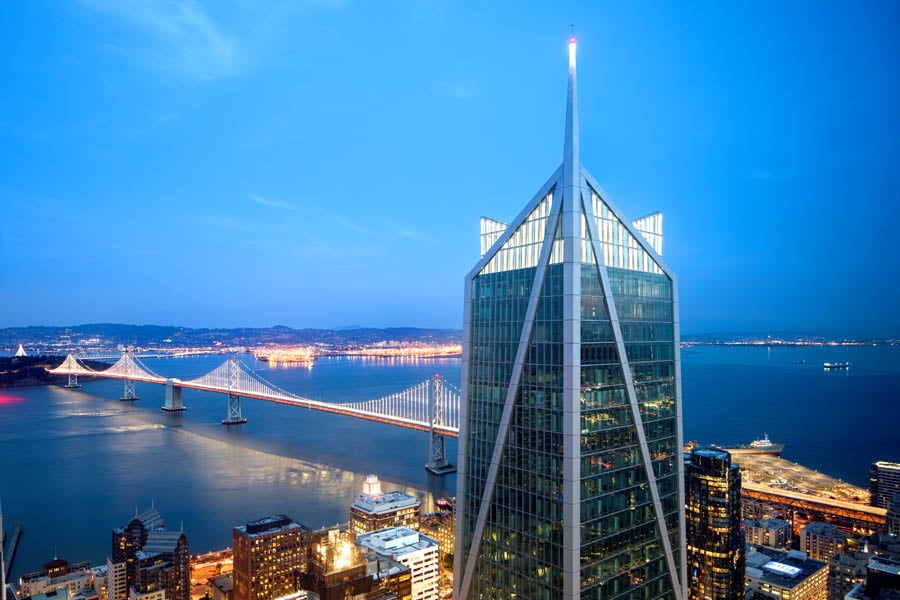 September 20, 2019
San Francisco's 181 Fremont Combines Stability and Sustainability
The city's sleek new high-rise pulls off technical feats while offering of-the-moment residential interiors.
As the third-tallest building in San Francisco, 181 Fremont would undoubtedly stand out on the city's skyline regardless of its facade. But the new 800-foot-tall mixed-use tower has an exposed structure of diagonal beams that sets it apart from its neighbors, most of which are sedately clad in seamless glass. Indeed, the distinctive structure is designed to provide the utmost in earthquake stability as well as energy efficiency. Today, even the ne plus ultra of high-rise living—the building's 55 condominiums range from a $2.9 million, two-bedroom unit to the $46 million penthouse—must grapple with long-term sustainability.
In designing 181 Fremont, Heller Manus Architects referenced SOM's 1970 John Hancock Center in Chicago, whose distinctive cross-bracing helps it deal with lateral movement. Going one better, the building includes shock absorbers within the beams—a system of viscous dampers that further buffers the jolts from earthquakes or strong gusts of wind. Viscous dampers have been used in high-rises in Asia and elsewhere, but are relatively new in the U.S. They help 181 Fremont resist sway, beating the most stringent standards for residential buildings. Nonetheless, it takes a certain chutzpah to design luxury condominiums where the views of the city and bay are, at certain points, blocked by beams five feet thick. But architect Jeffrey Heller responds that form following function is a powerful guiding principle. "There are lots of ways you can decorate a box," he says. "But the exoskeleton increases the strength while reducing the weight of the building, which is better from an engineering perspective." The nipped-in 39th floor—the residents' communal lounge—also disrupts wind forces by breaking up the plane of the building.
Like the John Hancock Center, which was the very first mixed-use high-rise, 181 Fremont makes efficient use of its slender, tapered shape, with offices in the lower two-thirds of the building and residences on the smaller floor plates above. A LEED Platinum–certified tower, it has sawtooth glass walls, in which each window is set at a slight angle and partially shaded by its mullion—a simple idea that results in a 6-percent reduction in solar gain. In a rare move for a skyscraper, it also treats and recycles graywater from both residential and commercial tenants, using it to flush toilets.
---
More from Metropolis
---
At these rarefied price points, posh finishes in the units include gallery-style walls, bathrooms lined with book-matched slabs of marble, and glass-front kitchen cabinetry. But one of the prize amenities for residents of 181 Fremont is outside: It is one of only two buildings that connect directly to downtown's new open space, the 5.4-acre Salesforce Park. Someday, perhaps, it will be possible to walk downstairs from the park to the transit center underneath. There, the residents might catch a train down the Peninsula or high-speed rail to L.A., for one of today's ultimate luxuries— avoiding traffic.
You may also enjoy "How Olson Kundig Renovated and Expanded Its Seattle Office."
Would you like to comment on this article? Send your thoughts to: [email protected]
Editor's note: A previous version of this story stated that 181 Fremont maximizes energy efficiency by using commercial tenants' waste heat to warm water for the residences. This is incorrect; systems do not recapture waste heat from offices for residential hot-water supply. This story was updated on November 15, 2019.