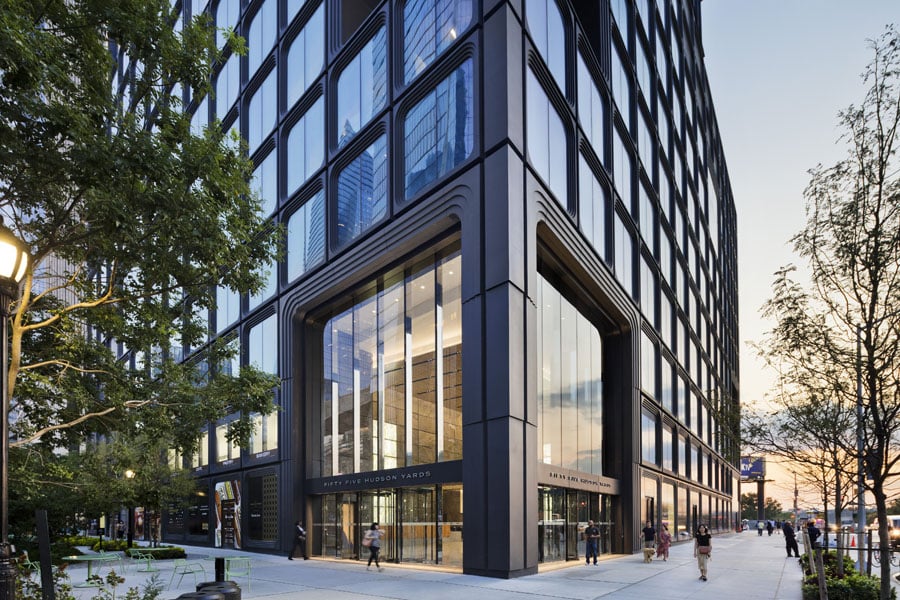 October 31, 2019
KPF's Gleaming New Tower at New York's 55 Hudson Yards
Located over a subway station, the 51-story tower required reconciling some difficult site conditions.
For the past year, New York City's Hudson Yards development has been slowly emerging from its cocoon, after nearly a decade of construction. A 51-story office tower at 55 Hudson Yards, which just welcomed its tenants earlier this year, is the less flamboyant of its neighbors. Designed by the international architecture firm Kohn Pedersen Fox (KPF), its smaller footprint and rational form complement some of the more gestural buildings (hello, Shed!) of Hudson Yards, while exuding its own scale and character. 
Prior to its status as the largest private real-estate development in America, Hudson Yards—so named for its previous life as a rail yard—was largely derelict and devoid of its own architectural history. So rather than turning to a neighborhood vernacular, KPF instead looked to its surrounding districts for context: stately, cast-iron facades of SoHo and the industrial backdrop of the Meatpacking. What resulted was a grid of Rubik's Cube–like windows with matte gunmetal frames breaking up an otherwise all-glass facade.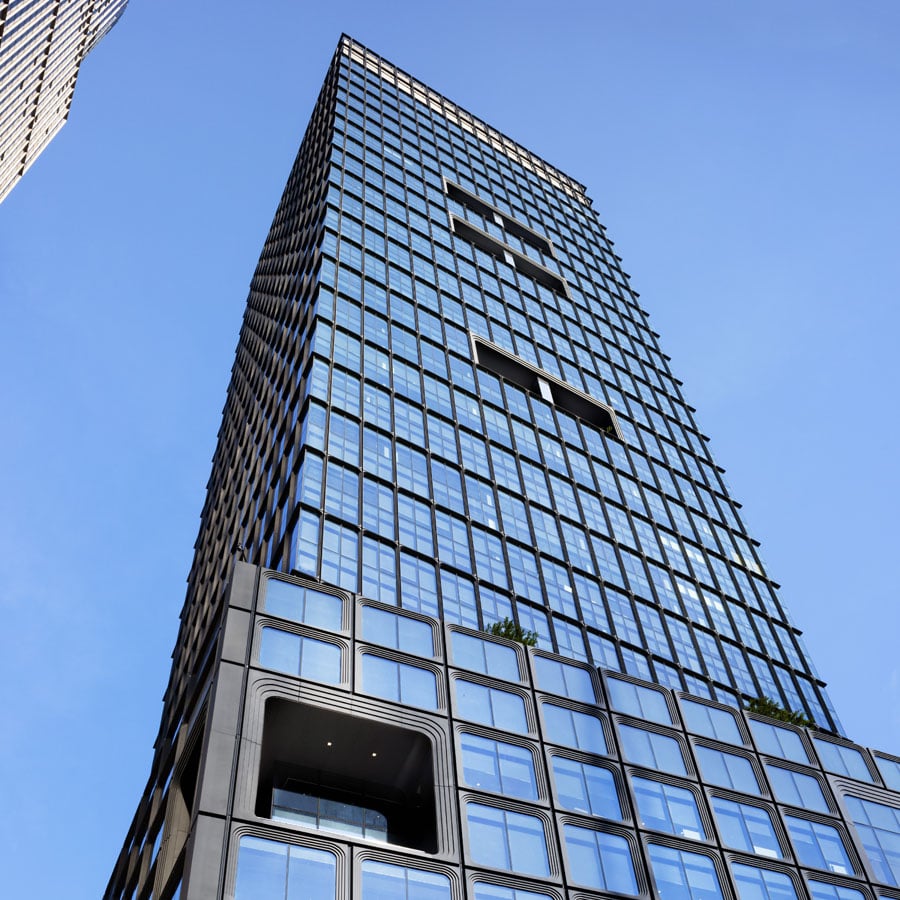 The architects opted for glass with no reflective coating as a way to connect the building with pedestrians outside. Glass also extends to wind-blocking walls on terraces, where tenants can enjoy the outdoors without the neighborhood's characteristic high winds. These terraces also create porosity on the facade, further allowing visual access to activity inside the building. Another notable feature is the lobby entrance at its north-east corner: According to KPF principal Trent Tesch, a corner lobby was the best solution for "giving the building a strong identity on 34th Street" with the adjacent park and train station. 
---
More from Metropolis
---
The lobby features a rugged yet refined seam-face granite wall that complements the tactile quality of the facade. "We didn't want the walls to be some oddly polished material," says Lane Rapson, a senior associate principal at KPF. "But we also wanted to have a level of refinement so they're placed in a rigorous and polished grid. It creates a juxtaposition between the raw material and this rigid structure." To process people through the lobby towards the elevators, the entryways progressively scale down to create a warmer, less cavernous atmosphere.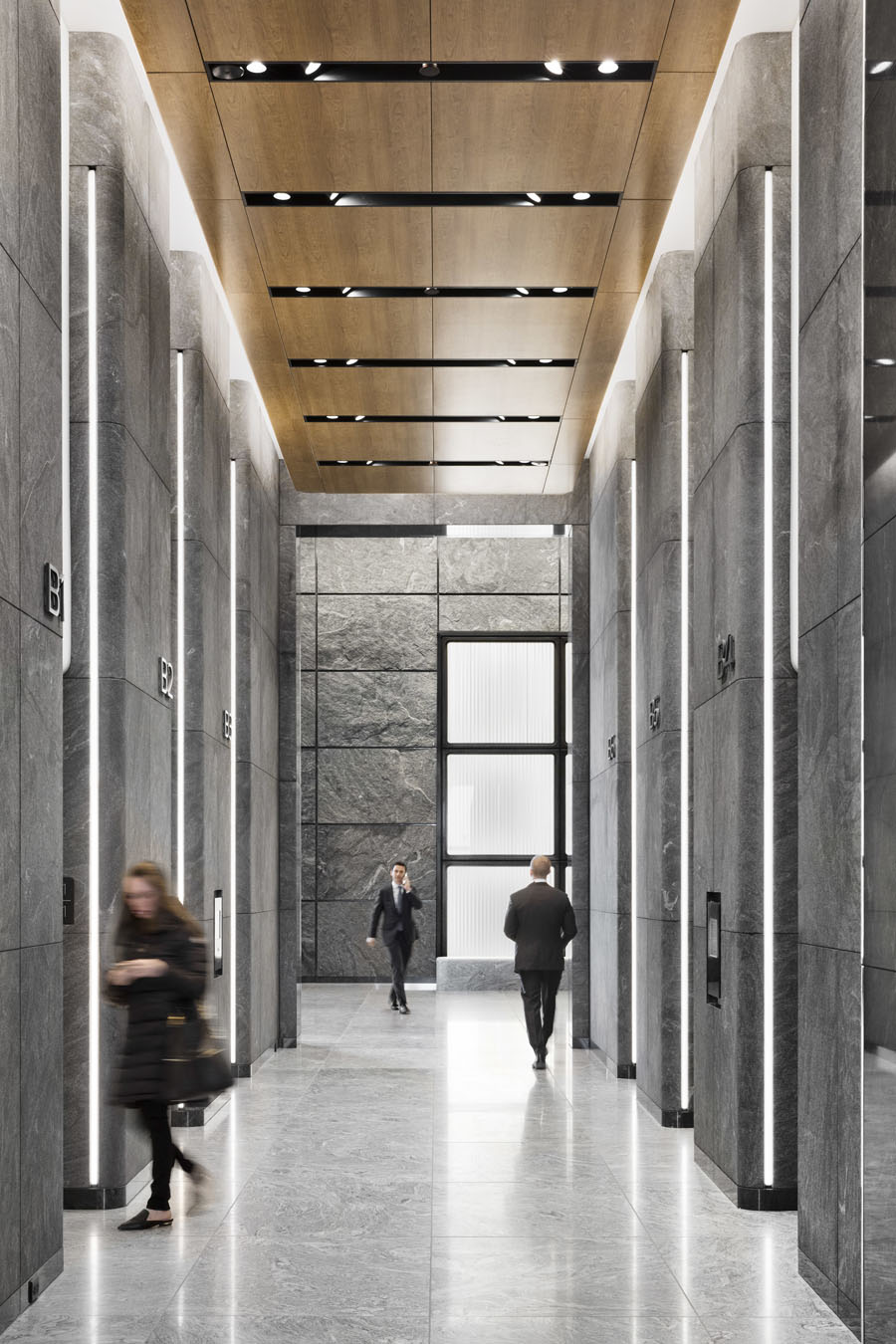 As architects know, projects always come with complications. In this case, 55 Hudson Yards was situated on top of the subway station with an existing vent shaft on its south side. The KPF design team decided to incorporate the vent shaft as a part of its base, requiring a great deal of structural gymnastics over the active subway. The transit station also prevented an even placement of structural columns, creating a slight differences in each piece's proportion. Another inconvenient site condition was a height difference of over a foot between the station's underground roof and the sidewalk. To connect the two platforms, KPF used an orthogonal panel that formed a sloped procession up into the space. The end result is a delicate dance over the structural challenges presented by the underlying station, creating a unique composition with its own quirky character. "We wanted 55 Hudson Yards to have a lot of texture, but still defer the energy to the whole site," remarks Tesch. "So that's where we kept it—a very simple, straightforward building."
You may also enjoy "San Francisco's 181 Fremont Combines Stability and Sustainability"
Would you like to comment on this article? Send your thoughts to: [email protected]