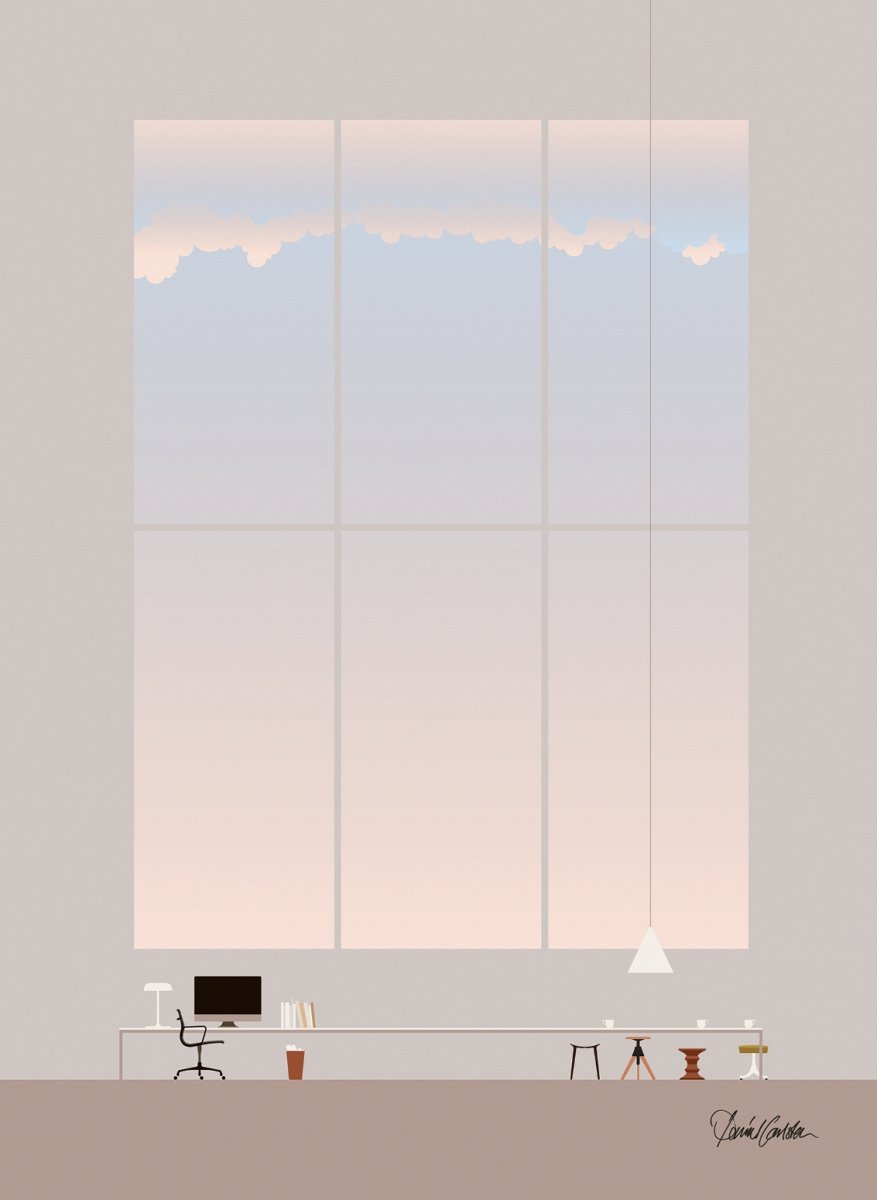 June 14, 2016
8 Artists Envision Their Ideal Workspaces
Herman Miller asked eight artists to reflect on their ideal place to work. They responded not only with words, but with fantastic, whimsical images.
Herman Miller
recently asked eight artists to reflect on their ideal place to work. Each artist not only responded with words, but with fantastic, whimsical images. If you're at
NeoCon
 in Chicago this week, you can see them on display at the
manufacturer's showroom
 through June 15th.
Daniel Carlsten, Workplace
Stockholm, Sweden
I have had this idea of an office with just a very long table, loosely divided into different areas for different purposes. The idea being that one could do all things (sketching, drawing, researching, corresponding, evaluating, proofing, and hosting meetings) around the same simple workstation, without having to clear the table between each activity.
It makes no sense for me to have a conference room, as I have few meetings, and my meetings are usually pretty casual anyhow. I don't like giving presentations, because I feel they always have an element of surprise to them that makes it hard for people to fully relax and be open. I am more productive and at ease in a meeting where we just sit and talk and look at things together as a team, where we can spread things out on a big surface, jump from one subject to another, and add to each other's ideas.
---
More from Metropolis
---
Regarding the huge window, I like a good view but don't want too much distraction. A view of the sky, with all its different colors throughout the day, just seems perfect to me.
---
Emi Ueoka, In Thought
Melbourne, Australia
The thought of my ideal workplace. A clean space with a nice view and fresh flowers. Somewhere I can think, read a book, or enjoy a cup of tea. The Eames Chaise is a cherry on top.
---
Mike Perry, This is Going to be a Fun Drawing to Make
New York City, United States
This was the best project ever. The actual assignment was exciting. I just got so pumped. I'm obviously inspired by my own studio space, but I enjoyed dreaming big. It is fun to get surreal and fantasize about what it could be. Part of the journey is about being outdoors, sitting in front of the ocean and watching the sunset. Enjoying life and being inspired by what is around you is so important.
---
Christoph Niemann, My Perfect Studio
Berlin, Germany
My perfect studio would have a lot of features. Some realistic, some less so. Among the more feasible are: great light, a sofa (naps!), inspiring friends next door, and an unnecessarily large space (bordering on the vulgar). Less realistic, but splendid, would be views of a city, ocean liners, railways, and a basketball court. An assistant that lingers in a side room constantly cleaning up (I'm messy, but like a clean environment). Direct access to an art supply store as well as wireless distribution of electricity (yet to be invented) are optional.
---
Hannah Waldron, Inner Space
London, United Kingdom
The studio for me is both a place to retreat to, but also a place to process the world from. It is a time and space both physical and mental to go deeper into ideas. I love the structure of a spiral because it allows seclusion without being enclosed, and this structure I have imagined would allow glimpses out, and in. Glimpses as thoughts, observations, memories, or interactions. In my ideal studio I would have all my favorite surroundings at once: the sea, the city, the forest, and the trace of something past.
---
Thibaud Herem, Tree
London, United Kingdom
I want to be in a more natural environment, not that I want to live in the countryside, but more like a consideration of the nature within the city, and be more eco-friendly for sure. I like the idea of using recycling paper to draw a tree too.
---
Elena Boils, Dream Studio
London, United Kingdom
This image came together by grouping certain details that I found interesting. For example, I really wanted this image to have a window which had an amazing view. I was inspired by the current studio I work in, since the view is very much its defining feature. The other architectural and decorative elements I found everywhere and anywhere. I like to go through old interior design archives and pick elements that I think would work well in an image. I saw a mezzanine living room which I thought was exactly the kind of thing I would love to have in a workspace. I drew my initial idea from that and the rest followed. Balance was really important and with this image I was hoping to achieve this not only in the composition but also in the colors. I chose colors that contrast yet complement each other, to make the image not only interesting in content but also in aesthetic.
---
Nathaniel Russell, House Plant House
Indianapolis, United States
My inspiration was a desire for solitude and a peaceful setting without being too far from home or the people I love. If I could somehow shrink in size and find a place to work, invisible from outside distractions that may come calling, it could be a kind of house-mouse-studio situation.