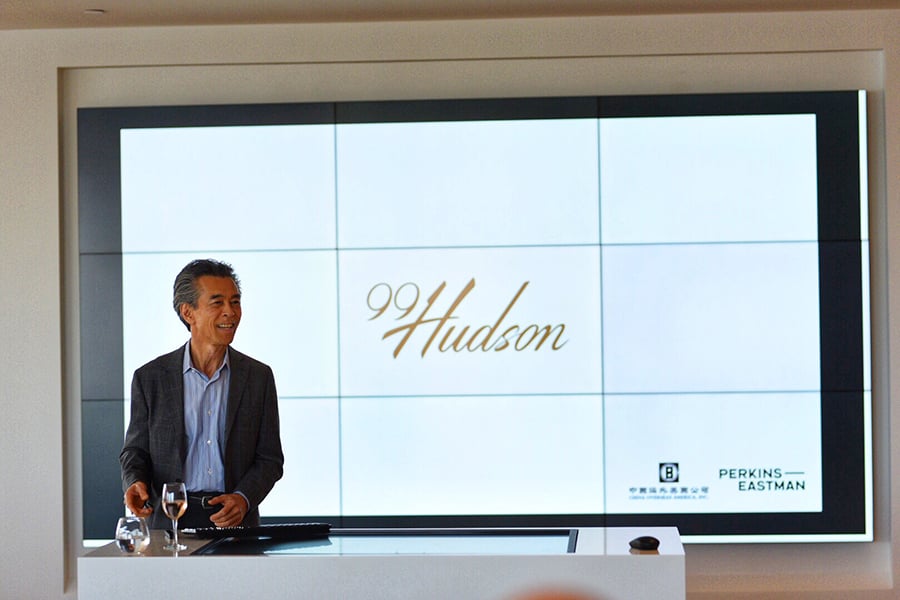 June 29, 2018
Two New Developments Highlight the Major Changes Coming to Jersey City
99 Hudson, a luxury condominium development designed by Perkins Eastman, and Journal Squared, a trio of rental towers by HWKN, showcase the evolution of Jersey City.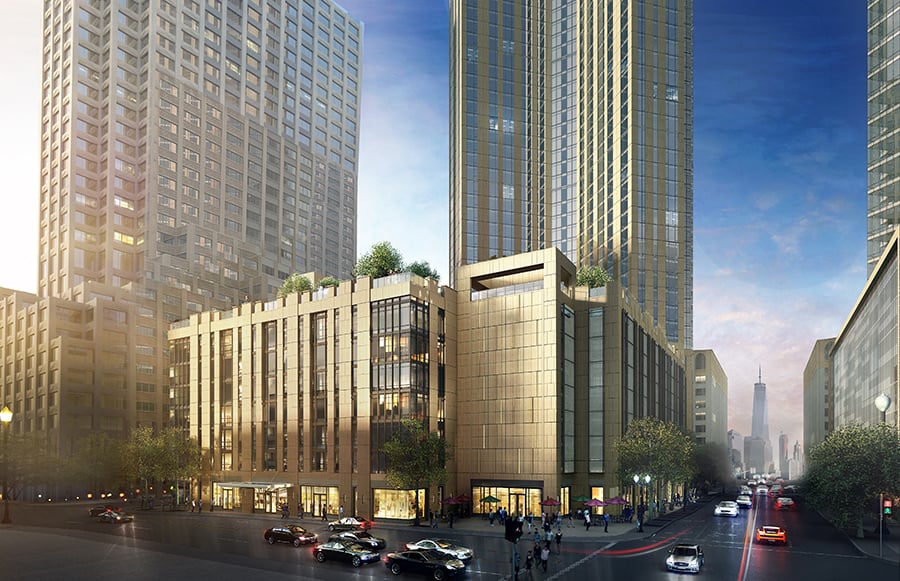 ---
Jersey City is enjoying a brighter wattage in the constellation of New York City's neighborhoods. That newfound prominence is both cultural and literal—not only is the city losing its New Jersey stigma, but Jersey City's towers are reaching higher and higher.
Case in point is 99 Hudson, a luxury 781-unit condominium development that will rise to 888 feet. Its serrated V-shape is designed to maximize views to the Verrazano-Narrows Bridge, George Washington Bridge, and, of course, the Manhattan skyline. While views continue to be critical to residential projects in New York City, they aren't the only factor in a development's success. In a discussion hosted last Tuesday at the 99 Hudson showroom, the tower's lead architect, Ming Wu of Perkins Eastman, noted that 99 Hudson is adapting to changing lifestyles: "The line between living and working is [disappearing]. I think the real estate industry is is scrambling to stay abreast of those changes." While 99 Hudson includes luxe amenities like a playground, pool, gym, and lounge, Wu added that "we build a lot of flexibility into our buildings, particularly into the amenity level, so that they can be reconfigured and change with changing times."
That change was strongly seconded by Matthias Hollwich, cofounder and principal at HWKN, the New York–based firm designing Journal Squared, a multi-phase trio of rental towers rising in Jersey City's Journal Square neighborhood. In addition to the changing live-work dynamic, he noted that, "There's a little paradigm change. [Residents] want to…share experiences with the people within the building but also share experiences with the people in the neighborhood." Journal Squared's first tower includes a catering kitchen, kid's playroom, and sky lounge on its 53rd floor, but the development's website lists neighborhood amenities—"nearby arts, parks, and eats"—first and foremost.
---
More from Metropolis
---
That aspect of Jersey City—street life and public amenities—may be the strongest indicator of the city's maturation. 99 Hudson, says Wu, does its part to improve Jersey City's streetscape by bringing its podium and ground-floor retail right to the sidewalk. "When you see the stores, it's really the ground plane that is essential to the city's health," Wu told the audience. "When we see more buildings where at least the ground floor or the first two floors are tied to the sidewalk, where we no longer see parking lots that come right to the sidewalk…for me that's when Jersey City is really coming into its own."