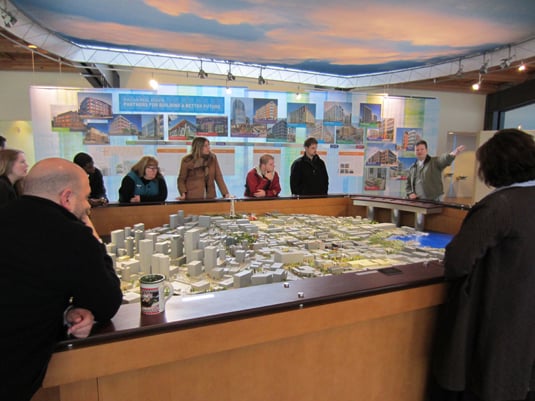 July 25, 2012
Why I Studied Sustainable Real Estate Development
In the winter of 2010, I moved back home to my small hometown on the coast of Washington State, having just spent two years as a Peace Corps Volunteer in Chuprene, a tiny village in Bulgaria. While there I had been mostly insulated from the realities of the recession in the U.S., so I was […]
In the winter of 2010, I moved back home to my small hometown on the coast of Washington State, having just spent two years as a Peace Corps Volunteer in Chuprene, a tiny village in Bulgaria. While there I had been mostly insulated from the realities of the recession in the U.S., so I was shocked to return to a job market similar to that of Eastern Europe. It quickly became clear to me that even with my college degree and international work experience I needed to get more specialized education to be competitive in a tough job market.  I also felt that I needed more practical experience to interest potential employers. While looking for a job during the day and researching graduate programs at night, I came across a new graduate program at Tulane University, called a Master of Sustainable Real Estate Development (MSRED). It appeared to combine the kind of advanced studies with practical experience that would strengthen my resume in both these critical areas.
After a visiting New Orleans and Tulane's campus to meet with MSRED's director, Alexandra Stroud, I confidently enrolled in the inaugural class. The one-year professional graduate degree program focuses on sustainable real estate development by cultivating practical skills in business, economics, community planning, and environmental design. This holistic approach, enhanced by being located within the School of Architecture, recognizes that real estate development is physical and tangible; that it's difficult to understand the nuances and long-term impact of physical property only in a business sense. While Tulane's program does emphasize core business skills, it's presented in concert with the culture and environmental impacts of buildings.  In addition, the city of New Orleans served our laboratory, attracting a diverse group of students to the MSRED program. My classmates came from Fortune 500 companies, event planning, city government, school teaching, and construction and project management with a range of prior academic degrees that included planning and architecture, liberal arts, accounting, and even forestry degrees.
We began with the intensive summer program that introduces key areas of real estate finance, green building design, and the social and community aspects of planning and development. During the following two semesters our coursework included traditional academic classes with a focus on case studies and site visits to real projects, often joined by the developers and/or architects. Although there is much focus on New Orleans and the Gulf Coast, the program also includes field trips to Washington, DC, New York City, and Seattle where we met with government officials, for-profit and nonprofit developers, and other parties critical to implementing innovative real estate projects.
---
More from Metropolis
---
Our course of study culminated in an individual capstone research project as part of our Directed Research class in the spring semester. This class was a great opportunity for us to build up our knowledge and gain practical working experience with practitioners from a wide range of industries associated with real estate development. Although many projects were located in and around New Orleans, we also worked on projects and topics around the country and around the world. The Directed Research topic selection process enabled each of us to choose among 36 projects with different scopes and different real estate issues to address.  Our choices of topics included financing for grocery store development in economically distressed neighborhoods and a regional disaster relief center as part of the U.S. Navy's Base Realignment and Closure (BRAC) process; my selected topic was a health care village infrastructure design and the resulting human and financial benefits of improved outcomes over time.
My client in the health care project was Perkins+Will. I worked directly with Breeze Glazer, the firm's national research knowledge manager for healthcare sustainability. This was a great opportunity to advance my interest in health care development and understand the implications of improved design and development on health care outcomes. During the semester we had weekly check-ins to discuss the topic and collaborate on the direction of the research; and I received professional feedback on the material I produced. Breeze helped me refine research questions, pointed me to relevant and current material, and connected me to other experts working in the field. My day-to-day interaction with these practitioners built my self-confidence in that I could contribute actively to an ongoing discussion among industry experts. This collaborative process, guided by Breeze, was key to the substance of my research paper and helped me step into a role in my first professional real estate job. I was confident of my ability to bring value to my employer immediately. The goal of my interest in health care village infrastructure was to address current real estate issues within the U.S. health care system, and provide knowledge to health care providers and development professionals in order to better understand the role of design and construction within the system. A key aspect of my research included information on energy benchmarking for health care facilities and how important this tool is in making intelligent development decisions.
After graduation, the research project lead to an opportunity with the Environmental Defense Fund (EDF) Climate Corps Fellowship. Today I'm working with the City of New Orleans, leveraging my professional experience and financial expertise gained through the MSRED and the Directed Research class.  EDF selects graduate students from top management (MBA, MPA, March, and Real Estate) programs to develop customized, cost-effective energy savings strategies for their host organizations. I am currently in the middle of this fellowship, working with the City of New Orleans on energy efficiency strategies for municipal buildings and street light infrastructure. Because this is a short-term placement, it was especially important that I could step in and be effective immediately and without much additional oversight or training. By the end of this fellowship, I will have furthered my knowledge in energy efficiency and gained working experience in the development field. Although my current opportunity is not directly health care related, there is no doubt that I was able to land such a position–and to succeed in it–largely because of the practice-based engagement working with Breeze Glazer and Perkins+Will as an integral part of my educational experience at Tulane.
---
Kasey Liedtke is the EDF Climate Corps fellow with the City of New Orleans, providing trained expertise in energy efficiency to develop a strategic plan to save the city money and reduce carbon pollution.  He is the founding vice president of United States Green Building Council (USGBC) student chapter and member of the Tulane Real Estate Club. He served in the Peace Corps as a community organizational volunteer in Bulgaria from 2008-2010 and received his undergraduate degree in Political Science from Washington State University in 2007. Kasey can be contacted at [email protected].
This is the second post in the A Confederacy of Doers series.