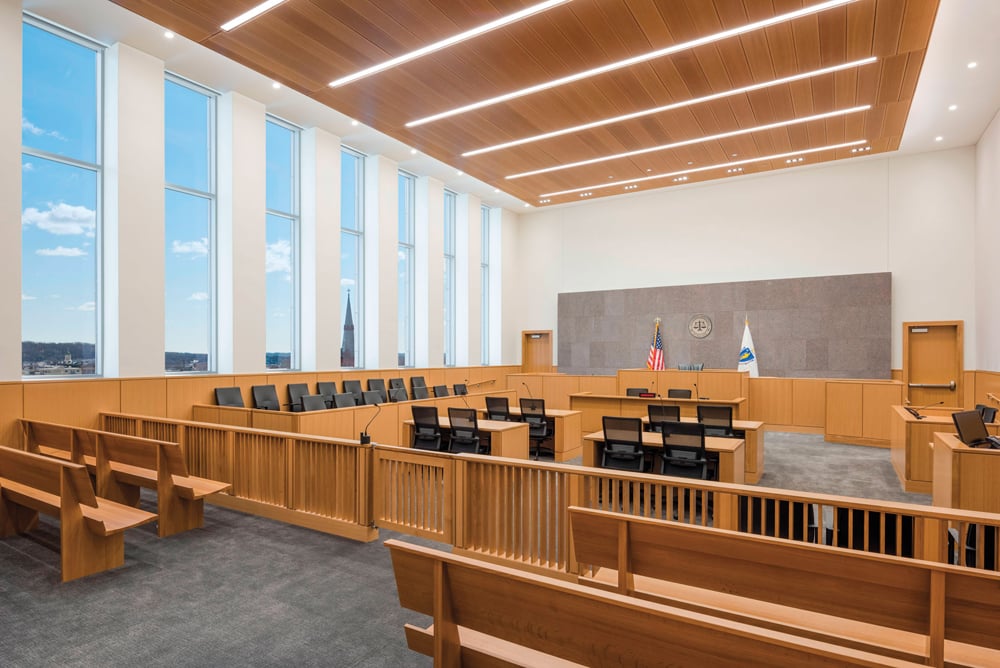 April 5, 2021
A Courthouse by Finegold Alexander Architects Optimizes the Power of Daylighting
In a Massachusetts gateway city, a courthouse pursues the lofty goals of community sensitivity and energy efficiency.
Several years ago, Maurice "Mo" Finegold stepped into the waiting room of a courthouse in Fall River, Massachusetts. He had designed that building in the late 1990s by adapting an abandoned school. "It was a nice space and we'd preserved the original materials," says Finegold, senior principal at Finegold Alexander Architects, a Boston-based architecture firm specializing in courthouses and other public buildings. "But there was little natural light. I saw a family waiting there, clutching each other and looking terrified. I remember thinking we need spaces that give people a sense of hope."
Finegold Alexander's latest courthouse, the Lowell Justice Center in Lowell, Massachusetts, emits both light and hope—for the community and the environment surrounding it. Completed in February 2020, the 265,000-square-foot, seven-story structure is the first state courthouse in the United States to be certified LEED Platinum. A cube bent slightly in the middle, the new volume features many sustainable elements, including an HVAC system with energy recovery wheels, energy-efficient chilled-beam air-distribution devices, and photovoltaic panels on the roof and above the judges' parking lots. Nearby, a new pollutant-filtering rain garden is built on a redeveloped brownfield site.
Located on a steep hill blocks from a commuter rail link and a bus depot, Lowell Justice Center is also equipped with bike racks and ample ramps that make the 25-foot change in grade more universally accessible. A sloping external walkway absorbs the incline without steps. "It was a difficult site," admits Finegold. "It's tight and there's an extraordinary drop-off on one side. But it's also a splendid site with lines of sight in all four directions."
---
More from Metropolis
---
Staff and visitors access the building's 17 courtrooms through a sun-filled, two-story lobby decorated with a glassed-in mural that evokes Lowell's history as a textile manufacturing center. Walls feature quotations about justice written in four languages—English, Khmer, Spanish, and Portuguese—reflecting the city's diverse communities.
"We deliberately wanted to address issues of race and implicit bias in this project," says Jeffrey Garriga, principal, treasurer, and director of IT/BIM at Finegold Alexander. "For many people, coming to a courthouse is very stressful. We focused on creating a well-lit, multilingual, inviting space that everyone could navigate with ease."
The project began in 2001, when the Commonwealth of Massachusetts's Division of Capital Asset Management and Maintenance commissioned Finegold Alexander to perform a certifiable building study to determine whether to consolidate Lowell's three separate courthouses into a single existing building or build a new structure to house them. When the study was completed in 2017, the architects recommended a new, purpose-built facility in the city's Hamilton Canal Innovation District. "We originally wanted to create a net-zero building," says Tony Hsiao, principal and director of design at the firm. "We looked at every option—we even thought of using the canal waters to drive electricity. When that proved unviable, we decided to aim for LEED Platinum."
The long interval between the study and the groundbreaking, while frustrating, also had its benefits. "Courts are generally very conservative as clients," observes Garriga. "They know they will need to fund maintenance for many years and will only use technologies that are tried and tested. Elements like chilled beams and displacement air systems were mostly new when we started the study. By the time we started building, they were part of our everyday vocabulary."
In early 2020, a few weeks before construction was complete, Finegold returned to Lowell to tour the Justice Center. Unlike the waiting room he'd visited in Fall River years before, Lowell's lobbies and courtrooms were airy and aglow with natural light. "When I stepped into the jury deliberation room I almost started to laugh," Finegold recalls. "I was thinking we'd made such a nice space there that no jury will ever vote to convict."
You may also enjoy "Designing for Health and Wellness in Atlanta"
Would you like to comment on this article? Send your thoughts to: [email protected]
---
Register here for Metropolis's Think Tank Thursdays and hear what leading firms across North America are thinking and working on today.