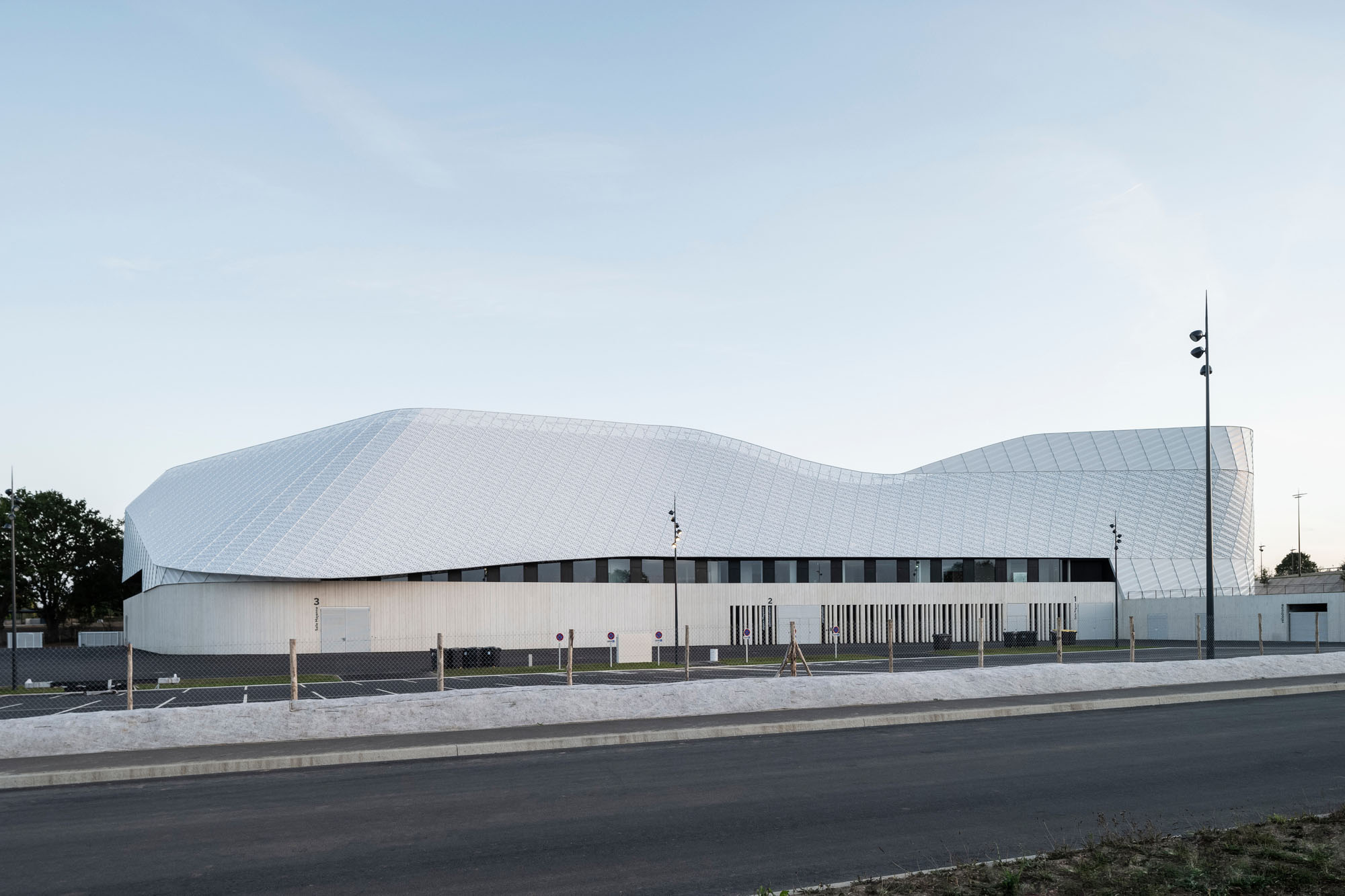 September 26, 2022
A Dramatic Sports Complex Takes Form in France
Covering an area of 162,500 square feet, the recently completed structure is home to a sports and entertainment venue with a capacity of 4,500, a gymnasium with a climbing wall for international competitions, and a voluminous conference hall. A unitary volume tightly wraps itself around all three, creating a shapeshifting sci-fi like "skin" that noticeably changes your perception of the building depending on your viewpoint. Three overlapping and rotating concrete and aluminum ribbons form the quietly dramatic all-white facade. Meanwhile, an adjacent 820-foot outdoor velodrome, used in national contests, curves and dips echoing of the form beside it.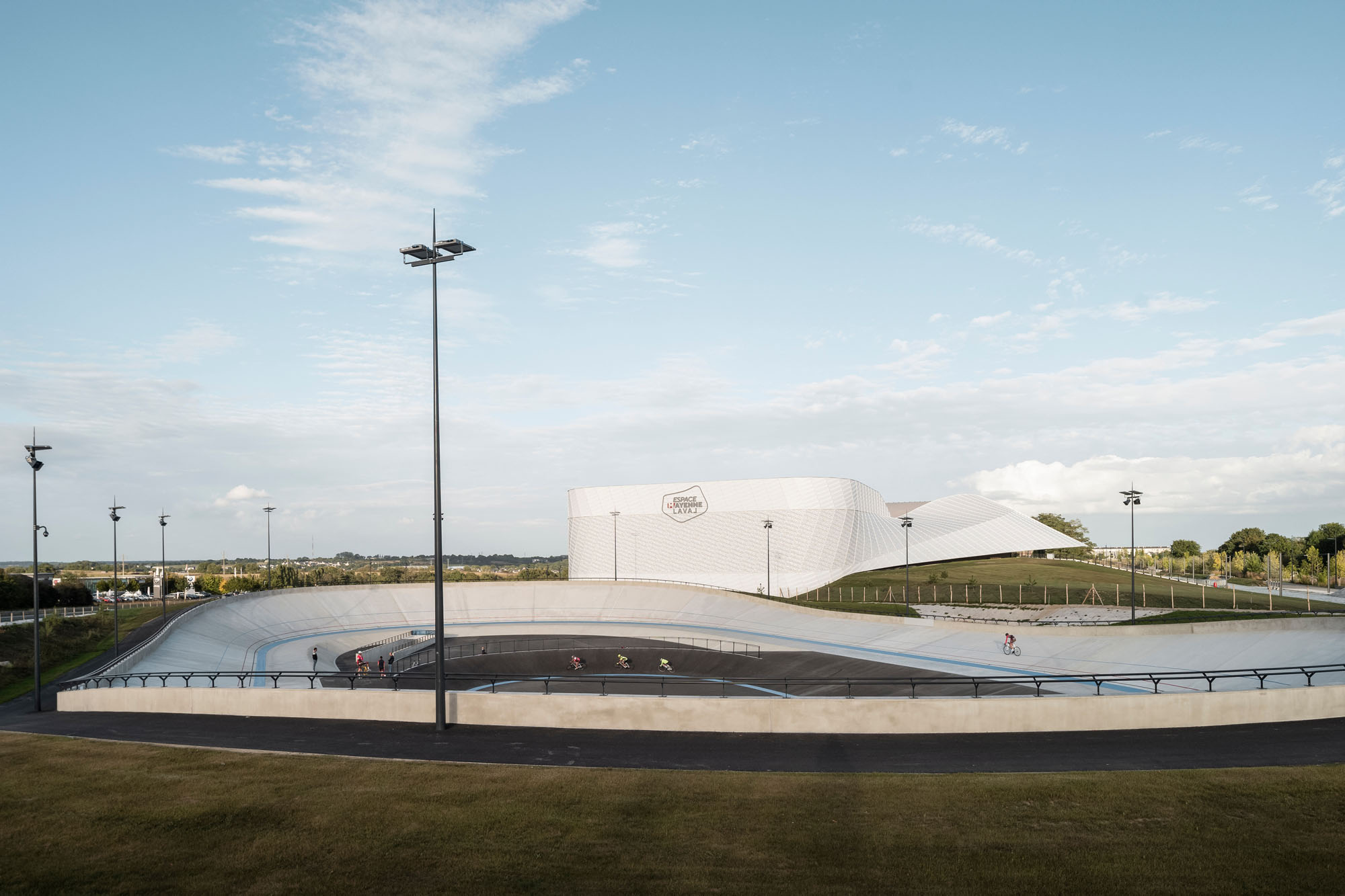 "Our idea was to evoke the sense of fluidity and movement, and its relationship with the body," says Isabel Hérault, co-founder at Hérault Arnod Architectures. "The geometric shape and the use of only a few materials were the result of very economical and rational decisions, but they have created something that feels very organic."
---
More from Metropolis
---
The site—surrounded by a preserved landscape of marshes, ancient woodlands, meadows and old farmland—will be the centerpiece of an emerging neighborhood development, linked by a new pedestrian cycle path that joins a large entrance plaza and open-air theater for special events.
Inside facilities have been designed with maximum flexibility in mind, allowing Espace Mayenne to host everything from concerts and conferences to boxing and basketball.
While sports events require an arena system where the spectators are sitting all around the field of play, shows require audience members to all face the same direction. As such, the main hall has an asymmetrical form, with a large balcony on one side, and space for the installation of a stage on another, reducing the distance between the performers and the public. Undulating walls formed of concrete and wool felt were designed in collaboration with acousticians to maximize sound quality and to add a sense of texture and solidity to the room.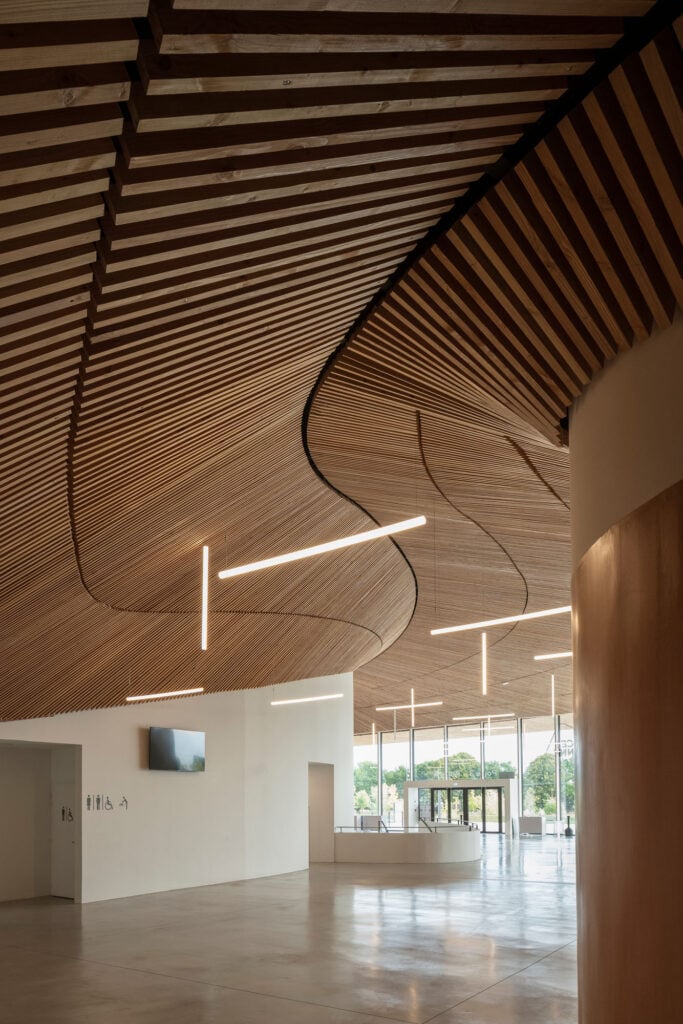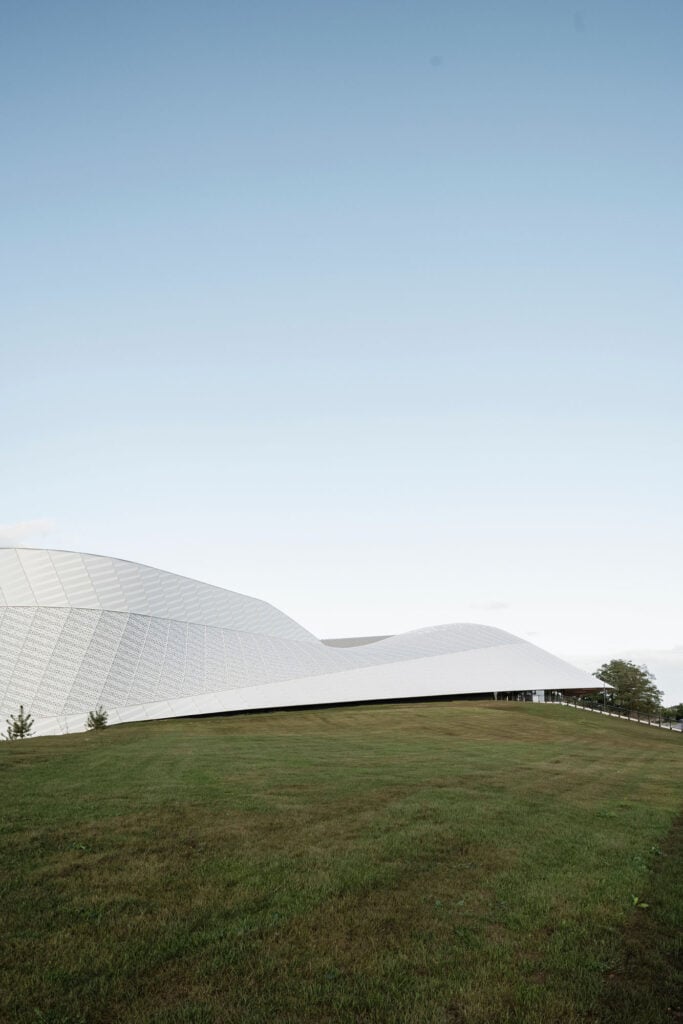 The more traditional gymnasium and conference hall are located as closely together as possible, allowing them to be used together or independently, and are linked by a timber-clad lobby illuminated with suspended lighting; described by Hérault as a "flowing, warm, sensual space". Separate thoroughfares are used by the public and by athletes, artists, and staff, depending on what the venue is being used for on any given day.
"Creating true flexibility through spatial layout, materials and techniques was quite complex," says Hérault. "This type of building has to work like a machine. It must perfectly adapt to the needs of different people going to different things, watching them in different ways, and making different sounds. That was our biggest challenge, but also our biggest opportunity on this project."
Would you like to comment on this article? Send your thoughts to: [email protected]