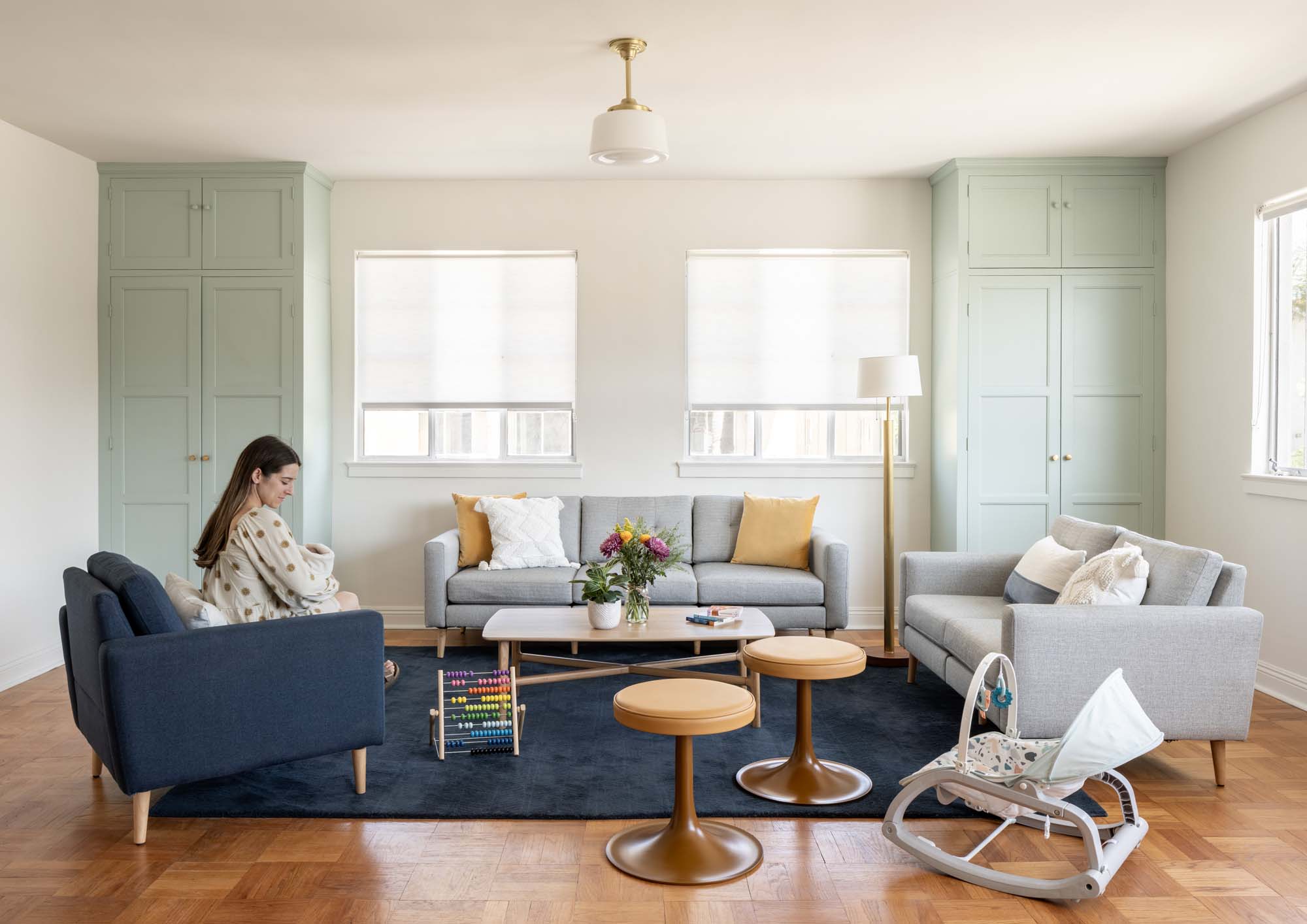 October 6, 2022
A Generous Offer and a Thoughtful Design Yield a Beautiful Place for Healing and Nurturing
"The archdiocese said Harvest Home's program may have the same benefit from a single-occupancy room as the convent did; the bedrooms may work for a mom and a baby," says architect Huay Wee, managing studio director for RIOS, an interdisciplinary design studio based in Los Angeles with offices in the U.S. and London. A developer on Harvest Home's board of directors asked if RIOS would take on a pro-bono conversion of the convent to a 17-bed communal living space for Harvest Home program members.
"It's kind of ironic," observes Wee. "Nuns and single moms actually have very similar needs." Each of the convent's second-floor private bedrooms already had its own sink, a crucial element as anyone who has had to prepare a bottle or contend with a blowout diaper at 2 a.m. knows. The space was already configured to support group meals, gatherings, and laundry on the ground level. And an overgrown central courtyard offered great potential to become an outdoor sanctuary with the privacy that Harvest Home's Venice location lacked.
---
More from Metropolis
---
Working within a very modest budget, RIOS began to envision how to make the 11,000-square-foot convent's interiors feel welcoming to women from a range of backgrounds. "How do you make a space feel accessible, not overly designed?" Wee asked, referring to feedback from program directors and former members who said that anything too precious might alienate new residents.
"It's the role of architects and designers to look at luxury as better design for everyone," says Wee. While Harvest Home's interiors may look more pared-down than some of RIOS's other work, the sentiment is the same: "How do you apply smarter, more generous design goals to give them a better experience of what they have?"
The firm focused on minimal but durable materials, like maple plywood furniture and casegoods in bright but gender-neutral pastel colors. They solicited donations and discounts from vendors, including lighting from Schoolhouse Electric, colorful bathroom tile from Daltile, textured wallpaper from Samantha Santana, and fixtures from Kohler. The convent's original floors were refinished, and sinks were sized for bathing babies. The building's upper floor is designated for bedrooms, a library and meeting space, and a communal bathroom, while the lower floor is designed to serve group needs. The original kitchen and dining spaces were connected by removing a wall section separating a butler's pantry, and the new dining space seats 24 women for nightly communal dinners. In the adjacent chapel, religious elements were removed and French doors were installed for access to the courtyard. While the budget prevented the addition of more doorways, all downstairs spaces are oriented to view the outdoor space, which is still underway. Clergy offices became private offices now used for therapy sessions and program staff.
With final work on the interior courtyard's landscape still unfinished, Wee acknowledges the pros and cons of executing such a project during the past three years. RIOS began work in November 2019 and submitted drawings to the city just before the pandemic struck, waiting more than a year to receive building permits. Supply-chain issues abounded and aspects like landscaping were also slow to get started considering the larger needs at stake. But, she says, "The project also happened during a time when a lot of people were stuck at home, the protests were happening, and there was a lot of political upheaval. I think people just wanted to feel good about something."
Sarah Wilson, Harvest Home's executive director, says residents have felt proud of the new space since moving in this July. "It can be incredibly healing for women to have their own space after living on the streets or in another unsafe situation, so our residents really appreciate having their own bedrooms," she says. The new Pico location has tripled the organization's beds and offers 25% more resources to homeless pregnant women throughout the entire county. Though such a grassroots effort would likely need more serendipity, and funding, to be replicated in the future, the model for this type of housing has proven itself for all involved. "In general, the concept of repurposing spaces for housing for unhoused folks is one that must be expanded," says Wilson. "It is inhumane that we have a crisis of homelessness in our city and vacant real estate at the same time."