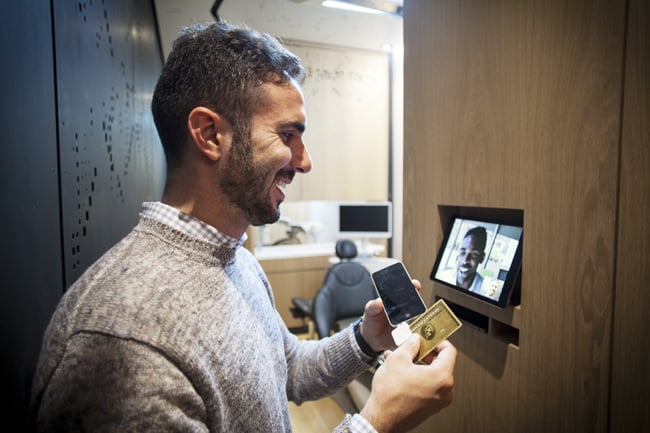 July 5, 2016
A Mobile Dental Office For San Fran's Tech Crowd
Studio Dental, a mobile dental care facility, uses space as efficiently as possible and ensures patient comfort down to every detail.
Images Courtesy Mitch Tobias
Studio Dental, designed by Santa Monica firm Montalba Architects, overcomes considerable spatial limitations to create a mobile, convenient solution to dental care. A vehicle with a compact, 230-square-foot interior, Studio Dental uses space as efficiently as possible, creating enough space for two patients, two doctors, dental equipment, a sterilization room, amd a waiting area, as well as two operatories.
Raised wood floors and Corian ceiling panels over acoustic foam (for sound dampening) not only shield utilities, like water and HVAC, from view, but give the studio the appearance of a luxury office on solid ground. What's more, Studio Dental's design ensures patient comfort down to every detail: skylights let in natural light and black leather upholstered chairs offer views of video screens (affixed to the ceiling,) while perforated Richlite panels create a sleek, calming interior. The traveling facility in fact won an AIA 2016 Small Projects Award for "deftly balanc[ing] the challenging program with a sense of dignity."
Studio Dental even includes a receptionist who greets patients, due to the limitations of space, through a video monitor at the office's entrance. Based out of the San Francisco area, this high-tech medical center on wheels has been especially popular among tech companies, whose employees can easily visit the studio, parked right outside their offices, and quickly pay via card (Studio Dental accepts credit cards—and takes insurance—through a square reader for convenience).
---
More from Metropolis
---