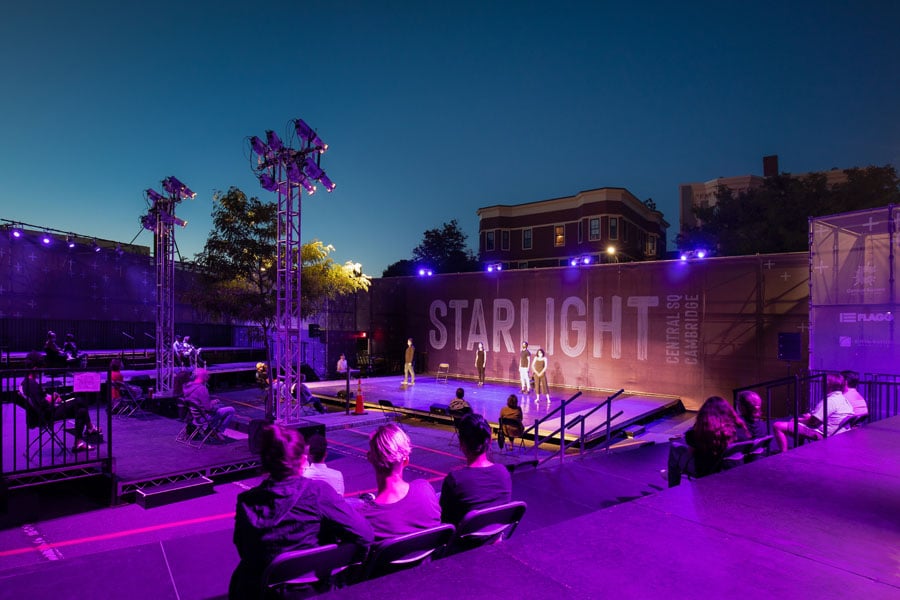 August 31, 2020
A Parking Lot Becomes a Vibrant and Versatile Public Space—For Now
In Cambridge, Massachusetts, Starlight Square serves as an ideal community center in the age of social-distancing.
---
Where once there were cars, now there are people. In the heart of Central Square in Cambridge, Massachusetts, a municipal parking lot has been transformed into a public square. The intervention, dubbed Starlight Square, includes an open-air amphitheater, a courtyard for al fresco dining, and an outdoor community center. It's a temporary intervention with a projected lifespan of 120 days, but, in the midst of a pandemic that has highlighted the disproportionate space cities allocate for cars instead of pedestrians, it's also an impressive model for future public spaces.
Starlight Square is a collaboration between the Central Square Business Improvement District, Boyes-Watson Architects, and creative practice Flagg Street Studio. It is bordered by a simple structure made up of concrete Jersey barriers, CupLock scaffolding, and a PVC scrim with different levels of perforation.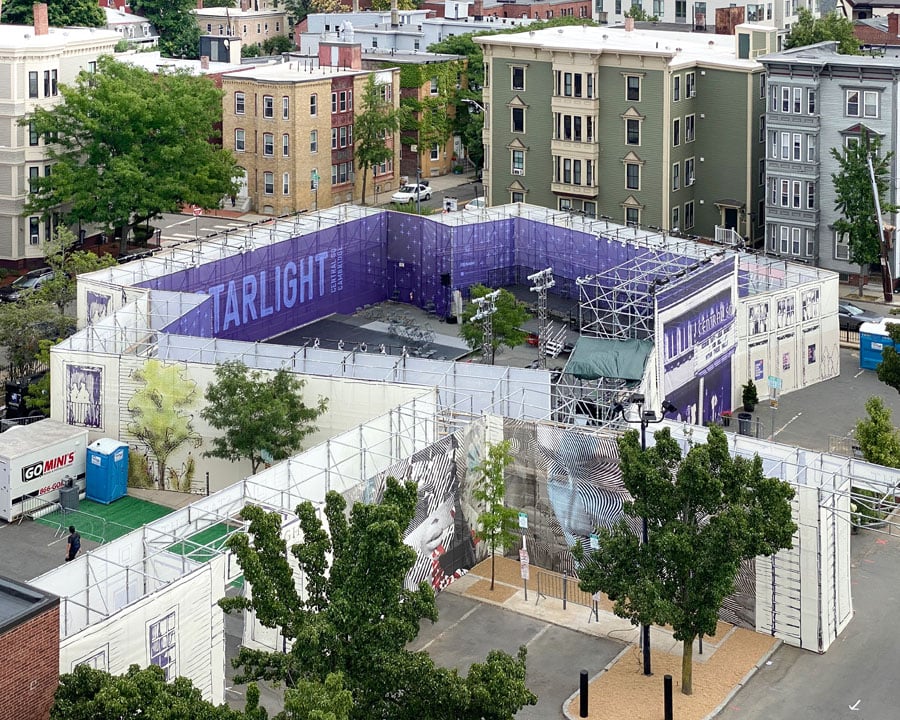 ---
"If you think of Cambridge, there's not a single space that is really what you would call an urban square," says Mark Boyes-Watson, principal at Boyes-Watson Architects. At 18 feet tall—the average height of a two-story building—Starlight's structure blends in with its low-rise neighbors yet provides enough height to give the space gravitas. On one end of the structure, the scrim is printed with the historic photograph of Central Square Theatre–an old Art Deco theater on Massachusetts Avenue. By cutting two openings into the facade, the architects have created a playful illusion of entering Starlight through the frontage of the lost cinema.
---
More from Metropolis
---
"We talked about how much artwork to have and landed on this idea of treating the building as a sketch, acknowledging this temporary, experimental installation," says Boyes-Watson. Alternating between historic photographs, architectural sketches, and artworks curated by Street Theory—a Cambridge- and Brooklyn-based, artist-owned creative agency that uses street art to activate spaces—the scrim is a colorful expression of the community that created Starlight.
---
A version of Starlight was originally proposed to the City of Cambridge one day before the governor of Massachusetts declared a state of emergency. When the pandemic set in, the idea was reimagined to meet the scale of the crisis, prompting the city manager to use his executive authority to remove all zoning restrictions, opening up the space to cultural, hospitality, and educational sectors. For the next four months, the space provides a much-needed shell for local community partners like The Central Square Farmers Market, or the Dance Complex, which has 17 nights of performances planned. "Starlight at its core is what we call a demonstration project," says Flagg Street Studio co-founder, and Mark Boyes-Watson's son, Matthew Boyes-Watson. "And people can react to what it feels like and what it could hold."
When time runs out, the square will return to its original function: a repository for 92 cars in an area that has been a designated Cultural District since 2012. "Cambridge has changed historically. There's a big push for connected bike networks, so we didn't have a big pushback in terms of losing the car parking," says executive director of Central Square Business Improvement District, Michael Monestine. At the onset of the pandemic, traffic volumes, and subsequently, the demand for car parking has significantly dropped, highlighting the untapped potential of these now-vacant lots as public spaces. "The vision of the project starts that conversation," he adds. "Its physical presence has gotten people thinking about the future of [Starlight], and we're ready for that conversation."