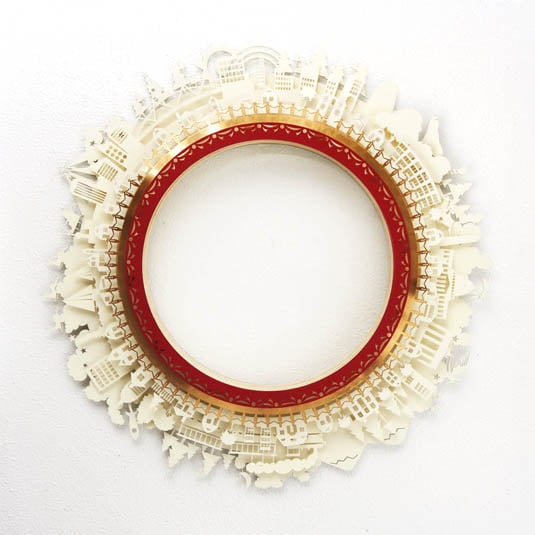 March 23, 2012
A Private Tour of Dining by Design
One highlight of this year's Architectural Digest Home Design Show was DIFFA's Dining by Design. This special exhibition features a smorgasbord of more than 40 dining environments created through a series of collaborations between designers and design brands. These whimsical installations raise funds to support direct care for people living with HIV/AIDS and preventive education for […]
One highlight of this year's Architectural Digest Home Design Show was DIFFA's Dining by Design. This special exhibition features a smorgasbord of more than 40 dining environments created through a series of collaborations between designers and design brands. These whimsical installations raise funds to support direct care for people living with HIV/AIDS and preventive education for those at risk. On March 25, a select group of lucky guests will get to enjoy an extravagant dining experience as the grand finale.
On the opening day, we were lucky enough to receive a private tour of Dining by Design from the very stylish Goil Amornvivat, a partner at Brooklyn's TUG Studio, which designed one of our favorite environments (below). Here is a glimpse of what we saw at this year's show.
Amornvivat stands with the installation TUG created with custom furniture designer Justin Huxol of Tietz–Baccon. Their design depicted playful scenes from around the world, and it was inspired by a wreath (below) TUG created with Whoopi Goldberg for last December's DIFFA holiday auction.
Photo by Magda Biernat
---
More from Metropolis
---
The wreath that inspired the new design
Photo courtesy of TUG
Here, Ralph Lauren uses traditional American textiles, wood, and varying patterns to create a classic lodge feel. And, yes, the fireplace is fake.
Photo by Magda Biernat
Marimekko managed to incorporate what looks like every pattern, color, texture, and product they carry. What could have easily ended up a giant clutter turned out to be a colorful, inviting space to dine.
Photo by Magda Biernat
This installation, created by the firm, Dufner Heighes, celebrates the progress of gay marriage using clever details, like plates for each state where same-sex unions have been legalized and a backdrop made of real-life wedding photos.
Photo by Magda Biernat
A pleasant surprise, tucked in a corner, was the space by Benjamin Moore. It showcased their specialty—color!—through a variety of accents, including a multihued swarm of paper butterflies, which really brought the colors to life.
Photo by Magda Biernat
Dining by Design is on view at the Architectural Digest Home Show, in New York City, until March 25.